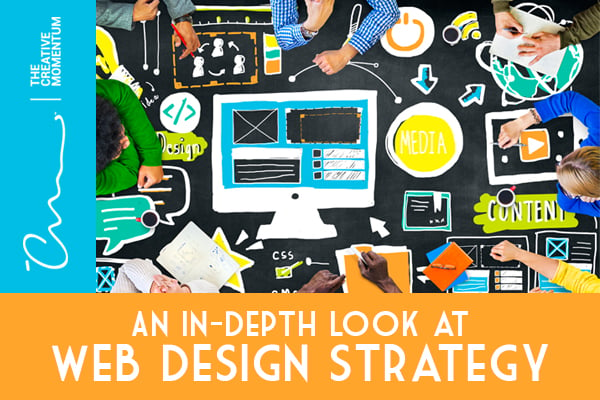 By and large, whether to have or not have a website is no longer a choice for the vast majority of businesses. The real question is: have you leveraged the best web design strategy to support your business and build an effective branding tool?
Any web design team — whether in-house or contracted — should be able to implement a proven design plan. If you're unsure how your web design strategy connects to your overall marketing and branding, we've got you covered. Keep reading to explore web design strategy in depth, and it's role in boosting your business.
---
Centering UX
We can't stress enough that user experience (UX) is critically important in any web design strategy. Prioritize UX because you want a user-friendly site. This includes easy navigation and a layout that's intuitive. A good user experience will encourage casual browsers to spend more time on your site, return often, and convert passive visitors to warm leads.
💡Pro tip: Be sure to address accessibility in order to optimize your website's performance. Adjust for fonts that are too small for someone with visual impairments, or offer alternate language translations if your market to a bilingual market or international audience. Learn more about designing accessible websites.
SEO is Still King
Search engine optimization is still one of the best ways to drive visibility. When done right, SEO improves your page rank and makes it easier for customers to find you. The principle can be fulfilled in a variety of ways. Here are some quick SEO tips to get you started:
Target the proper keywords

Remove irrelevant or duplicate content

Consistently add new, relevant content to your site
The importance and size of SEO as a core component of strategic web design cannot be understated, and as such, we have a lot of great posts on the topic. From 2021 SEO trends, to keyword research, from domain authority to the Best SEO tools, we've got it all covered. Or simply go here to see our full directory of SEO content to dive deeper.
Usability Testing
Usability testing is similar to, and often a part of UX. When performing usability testing, focus on what improves your conversation rate or conversation rate optimization (CRO).
For example, perhaps you are successfully driving traffic from a social media post, but conversion rates are noticeably low for the proceeding desired action of signing up for a newsletter. A usability test can help uncover the reasons behind the low conversion. The issue could be slow page loading, a confusing call to action (CTA) or something else.
Not sure if your site is user-friendly? Usability tests and A/B testing is a great way to find out. Ensure that what you've envisioned is what is actually transpiring for prospects new to your brand and site.
Also remember that Google's latest algorithm, Page Experience, now takes into account structural concerns such as load speeds, whether it's mobile-friendly, and if your page has unstable elements. Any of the above can hurt your page rank and impact how easily consumers can find you through a Google search.
Layout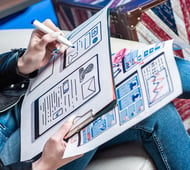 This is another factor that falls under UX and deserves the spotlight. You can have a website that's optimized for SEO and Google's Page Experience algorithm, but if it's designed with horrible color schemes and a font that's impossible to read, all of that work will have been for nothing.
Modern color schemes, headers, and clean fonts are incredibly impactful. Bad design is jarring, and leads to higher bounce rates and lower conversion rates.
As a general rule:
Keep color schemes balanced

Leverage negative space for text-heavy sections
Branding
Your website is often the first way that potential customers will learn about your business, see your brand, and differentiate you from the competition. If your site is lackluster, you're not making much of an impression on your target audience either. Likewise, your website should support any marketing campaigns you implement — especially paid ad campaigns.
Moving from your PPC ad to your website should feel seamless; not disconnected or like a bait and switch. Ensure that the ad's messaging and offering connects to what the visitor will find on the landing page. Use the "About Us" page to humanize your brand by answering the five W's along with "how" of your business. When you do this, you create an emotional connection with your audience, which is increasingly more important to modern consumers.
Content Matters
Finally, we must stress how important word choices are. Everything from the "About Us" page to product or service descriptions, navigation headers, and page copy are all important and helpful for your prospects as they evaluate their choices. CTAs and links should be relevant, specific, and motivate visitors to follow the directive. Here are some tips for writing effective content:
Develop informative and specific product and service descriptions that addresses the FAQs of prospects

Use alternative text for images so search engines understand what is in the image and for those with visual impairments

Light on copywriters? Outsource your content needs to a professional company that can bring your copy to life.
---
Looking at Websites in a New Way
Your website is your calling card— the first thing a visitor sees — and provides the first impression of your brand for many. If you're not well versed in best practices for web design strategy, why not hire the experts? The Creative Momentum has extensive experience building websites that generate powerful lead funnels. We can do the same for you.