Americans with Disabilities Act
The Americans with Disabilities Act (also known as ADA) is a civil rights law passed to regulate companies and organizations to ensure they provide services and accessibility for people living with disabilities. ADA also extends to the world of website design, requiring certain businesses to ensure web content is accessible to those with sensory disabilities or cognitive and physical limitations.
ADA Compliant Web Design Process
Audit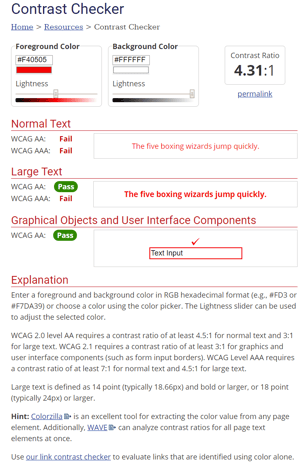 Our third-party partner will conduct a comprehensive audit of your site pages and the functions of each website against the guidelines as defined by WCAG 2.1 A/AA. Audits include review by individuals who have at least one impairment and who use assistive technology as well as automated testing, to determine your compliance with digital accessibility regulations.
Recommendations
Our professional team of ADA compliant web designers will recommend specific action steps to address all errors and issues discovered through the auditing process to be approved by you for remediation.
Remediation
After determining how much of your website should be ADA compliant, our developers will go to work improving your code and related systems to achieve the desired level of ADA compliance required for your specific industry guidelines and needs.
Launch and Support
Our development team will ensure a smooth deployment with little to no downtime. After launch, TCM will continue to support you, with quarterly or annual scans that ensure you stay up to date on any new compliance requirements that may be announced.
ADA Compliance List:
A Compliance
Level A items comprise basic guidelines for website accessibility
Images have alternate text that can be read by screen reader software.
Recorded video content includes captions.
Video or audio-only content is accompanied by text transcript or description.
Headings are presented in logical order (H1-H6).
"b" and "i" tags are replaced with "strong" and "em."
There are no empty links or heading tags.
Automatically-played audio does not occur or can be stopped.
The keyboard can be used to navigate the site.
Keyboard focus is never stuck on one particular page element.
Automatically scrolling or blinking content can be stopped (If Applicable).
No strobe effects or rapidly flashing colors occur on the site.
"Skip navigation" functionality allows keyboard users to quickly access content.
Page titles clearly and succinctly describe page content.
Buttons and links are clearly and logically named.
Elements receiving focus do not change content in a substantial way.
Invalid form input is identified to the user (client + server validation)
Forms have labels and legends that can be read by screen reader software.
There are no major validation errors.

AA Compliance
Level AA is the second level necessary for full ADA compliance and is more advanced than Level A compliance
Live video or audio content includes captions.
Contrast ratio between text and page backgrounds is at least 4.5-to-1.
Text on pages can be resized to 200% while still maintaining form.
Images are not used where text can achieve the same purpose.
Keyboard focus is visible and clear.
Menus and buttons are used consistently regardless of the user's location in the site.
Users are given suggestions on how to solve input errors.
An error prevention technique is used whenever the user is entering sensitive data.
Underlined text that does not provide a link is removed.
Redundant links on the same page are eliminated or minimized.