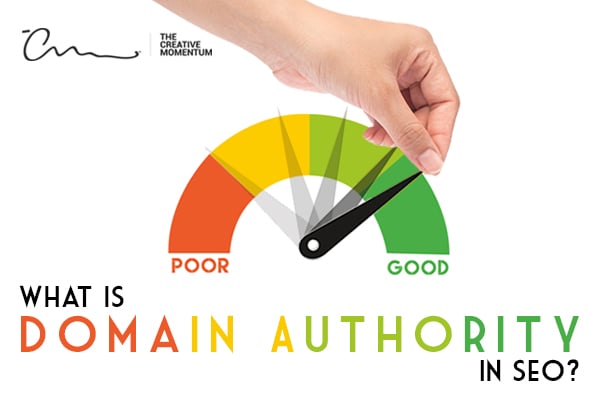 The single-biggest component of digital marketing is arguably search engine optimization (SEO). Consumers turn to search engines like Google, Bing, and Yahoo to research and purchase products and services, so that's where businesses need to show up. The higher your business ranks in search engine results pages - "SERPs" for short - the more traffic to your website and prospects browsing your products and services.
Search engines algorithms are focused on returning results that understand the user's intent, are relevant to their search, and trustworthy. The more trustworthy the website, the higher it will rank. "Domain authority" (DA) is a metric used to determine how reputable a website is. Learn how to check your website's DA in order to build a solid SEO strategy and maximize your online marketing.
---
What Is SEO Domain Authority?
Domain authority is a metric that predicts how likely a website will rank on search engine results pages.
Domain authority evaluates several factors to create a single score that speaks to your site's reputation. These factors include:
the total number of links that lead to your website (backlinks)

the domain authority of the sites linking to your website
The basic idea is that the more sites that point to your website, the more likely it is that your website contains relevant and trustworthy information. The number of links and the quality (DA) of the sites that provide those links will affect your DA score.
Domain authority scores range from one to 100, with 100 being the best. The higher your DA score, the more likely you are to rank in the search engine results. You can use DA scores to compare websites and see which has more "ranking strength."
While Google doesn't expressly use domain authority to rank websites, they use many of the same metrics. So, your website's domain authority might not give you a website's exact ranking strength, but it will give you a decent estimate.
---
What's a "Good" Domain Authority?
Obviously, the goal is to get your DA as high as possible, but there is no "good" score. It all depends on your competition.
Domain authority isn't meant to be an end-all, absolute ranking score; it's best used as a comparative tool. When you perform SEO research, check the DA of competitor sites and see what a "good" score would be for your specific market.
For example, having a DA of 70 might sound really good. But if your competition regularly ranks at 77, 70 isn't all that great. Likewise, a DA of 20 doesn't sound appealing on a scale of 100. But if your competition has a DA of only 12, you are doing great.
Check several competitor sites and find an average domain authority. That'll be your number to beat.
How to Check Your Domain Authority
Checking your website's SEO domain authority is pretty easy. Just copy your website URL into one of the several helpful DA tracking tools on the internet.
The friendly folks at Moz created the DA metric, so most people trust their free domain analysis tool. Just enter your website URL, click "analyze domain," and you can see all the data that impacts your site's ranking power:
Domain authority
Linking root domains
Ranking keywords
Spam score
Since it's free and you don't need to own the URL, this is a great tool to help with competitor research as well. You can plug in as many competitor URLs as you want, and this will calculate the average domain authority for your market and find your "good" DA to beat.
---
Factors that Influence Your Domain Authority
Domain authority is made of dozens of metrics and calculations, so there's usually no single factor that will raise or lower your DA. Instead, it's likely a combination of several things. Here are just a few of the factors that might influence a website's domain authority:
High-authority sites got bigger – Since 100 is the max score, website growth can skew the scaling. If a high-authority site grows, it can decrease the DA of other sites.
Unranked backlinks – Some sites don't contribute to Google ranking. If you get backlinks from any of these sites, it won't impact your DA compared to backlinks from ranked sites.
Lost or added backlinks – The Moz crawlers (or whichever DA analysis tool you use) find more or fewer linking domains than before.
Low domain authority – If you have a low domain authority to begin with, you'll be more severely impacted by scaling fluctuation than high-authority sites.
Timing – Backlink growth takes some time to get noticed. Some links might not have been captured in the web index at the time you run your DA analysis.
Since domain authority can fluctuate so easily, it's a good idea to check regularly. A "good" score one week might not be so good the next. Stay on top of your domain authority (and your competitors') to make sure your website stays on top.
---
Tips to Improve SEO Domain Authority
Domain authority is very hard to influence directly. Since it relies on external factors like backlinks, there's not much you can do yourself—unless you want to contact a bunch of other website owners and ask if they'd be nice enough to include links to your website on their pages.
The best way to improve your domain authority is to focus on your website's SEO overall. Use the best SEO practices to boost your search engine rankings and especially focus on getting more organic (white hat) backlinks from high-authority pages.
Because domain authority is scored on a logarithmic scale, increasing your DA from 20 to 30 is much easier than going from 70 to 80. The higher your website's authority, the harder it is to change—for better or worse.
---
Maximize Your SEO Domain Authority
Domain authority is a complicated subject, but it's essential to any digital marketing strategy. Keep a close watch on the domain authority for your website and competitor websites to make sure your "ranking power" is stronger than that of the competition. The best way to maximize your domain authority is to use best SEO practices with an emphasis on high-quality link building.
If you need help perfecting your digital marketing strategy and boosting your domain authority, we'd love to help. Contact us and tell us about your project. We'd love to help you get to the top of the search results.