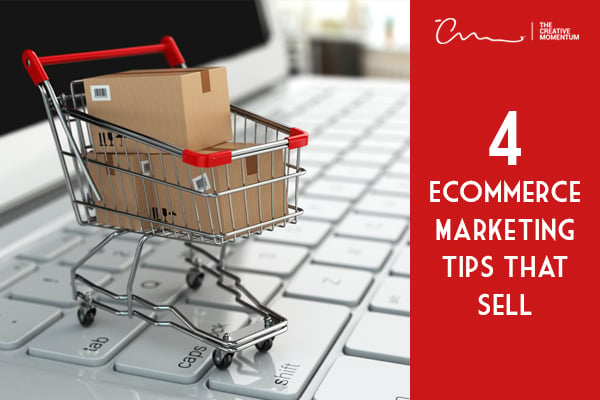 Online shopping as we know it today has now been around for more than 25 years. A guy named Phil in Philadelphia bought a Sting C.D. online way back in 1994, and ecommerce officially began.
Fast forward to today, and marketing your product or service offerings in the digital space is a non-negotiable for most businesses today. You reach more potential customers, get more targeted with advertising, and can use data to refine the shopping experience.
The vast amount of ecommerce stores today means that the ecommerce landscape is more competitive than ever. This means that ecommerce marketing plays a crucial role in helping businesses succeed.
So how can you rise above the fray with your ecommerce marketing strategy? Whether you're just getting started or need to revitalize your efforts, here are some helpful tips and tricks.
---
Marketing Design Best Practices for Ecommerce
We've previously discussed a number of ecommerce web design best practices that will bolster your business.
They'll help you design a user-friendly, successful storefront.
Not all ecommerce stores, websites, or webpages are created with the same goal. The way you design these should be subjective to your industry and offering. Here are a few marketing design pointers to build a solid ecommerce foundation:
Use a clear, simple design
Use proper SEO product tags
Make your website mobile-friendly
Include a search box
Use filters to narrow search results
Put featured products front and center
Use only high-quality images
Include detailed product descriptions
Offer a guest checkout option
Your ecommerce user experience plays a significant part in guiding users toward desired actions to seal the deal. The better crafted your design is, the more intuitive the shopping experience will be. But ecommerce marketing stretches beyond the digital storefront. With more than 250 million online shoppers predicted in the U.S. in 2020, it's important to do as much as you can to position your brand for success online.
---
Tip 1: Revitalize Your E-mail Marketing
According to research conducted by Litmus, companies with strong e-mail marketing campaigns see a return on investment of $42 for every $1 spent. That's an ROI of 4,200%!
E-mail marketing is a very successful strategy for ecommerce businesses for a number of reasons:
High ROI
Relatively low cost
Increased website traffic
Lead generation
Follow a few e-mail marketing tips if you're not sure where to begin. Things like automating e-mails and segmenting target markets can go a long way toward ecommerce success.
Tip 2: Upsell Your Offerings
It's six times more expensive to win a new customer than it is to retain an existing one. This mantra often gets passed around the sales floor to inspire businesses to keep and satisfy existing customers.
Furthermore, according to the book Marketing Metrics, businesses have a 60 to 70% chance of selling to an existing customer. Compare that to the 5 to 20% chance of selling to a new customer.
This boils down to an ecommerce marketing opportunity for businesses to upsell products and services to existing customers. Simply letting people know that you offer a premium version of a product or a more inclusive package of a service is enough to spark a purchase.
Pair your upsell offers with an attractive e-mail marketing campaign, and you're in business.
Tip 3: Utilize Social Media
Not all businesses need a social media presence. Sometimes, a Facebook page or an Instagram account doesn't make sense for your brand or industry. That said, all ecommerce-centric businesses should be taking advantage of social media to help promote products and services.
According to Statista, almost 80% of the population in the United States had a social networking profile in 2019. That's a lot of online real estate over which you can promote and sell your products.
What's more, many social media services recognize the potential for businesses to thrive on their platforms. Some of the most popular platforms like Facebook and Instagram have ways to integrate your ecommerce marketing, making it easy to get started.
Tip 4: Engage Visitors with Live Chat
Customers have grown to expect live chat to be part of the online experience. Way back in 2013, J.D. Power found that 42% of online customers preferred live chat over e-mail or social media. That number has increased over time due to the benefits it provides:
Advance lead generation
Improve conversion rates
Increase upsell potential
Communicate from within the sales funnel
Live chat is a great way to increase the chance of a conversion and to provide real-time customer support.
---
Grow Your Business Through Ecommerce Marketing
Online purchases of things like apparel and accessories are expected to reach $4 trillion in 2020, and there were almost two billion digital buyers worldwide in 2019. As an ecommerce marketer, it's your job to get a piece of that pie.
There's never been a better time to either take your business online or give the ol' digital storefront a new coat of paint. The best way to do both is to make the most of UI/UX design best practices and elevate your ecommerce marketing.
Not every business owner knows how to be a marketing rock star. Don't hesitate to reach out to marketing and design experts if you need a hand.