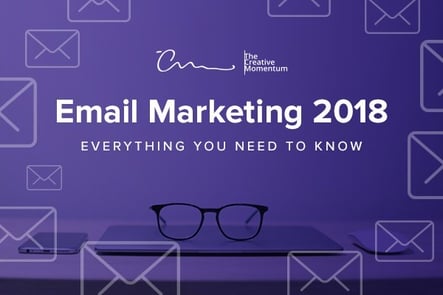 A lot of marketers mistakenly believe email marketing is dead. The reality is quite the opposite. Email remains a strong, reliable and profitable way to grow business. Constant Contact reports that for every $1 spent on an email marketing campaign, the ROI is $38.
With an ROI like that, more marketers should be focused on email. Here are the best ways to ensure 2018 email marketing success.
Slice and dice your database
Segmentation is one of the most important factor in successful email campaigns. And it is certainly the most controllable factor.
Mailchimp reported that segmented lists have an open rate 14.32% higher than non-segmented campaigns.
Here are some ways you can segment an email list:
Time zones – There are email marketing best practices to follow regarding days of the week and time of day we get the best results from our emails. Do not blast your entire list at the same time if there are contacts on it from outside your region and time zone. HubSpot's email marketing platform allows you to automatically adjust the email's send time based on the contact's address.
Implement forms to learn about your users – Using forms on your website and landing pages can give you valuable insight into your buyer personas. From job titles, to industry, to demographic information, you should be using these form fields to dissect your database into micro segments and marketing to them accordingly. Great segmentation allows us to stop sending irrelevant emails.
Send emails to a group of people interested in a particular product or service – Another successful email strategy is to write subject lines that include, "Thank you for your interest in … " or "Because you liked X, you may like Z." Use your marketing automation software to enroll users in a workflow when they express interest in a product or service and set an email to send within 24-48 hours.
Personalization
Because of social media profiling and using forms on our websites, we know exactly who we are marketing to. Or should. Using a Content Management System like HubSpot makes it easy to take the information you have and personalize email content.
According to Statista, the open rate for email with a personalized message was 5% higher than an email without personalization. Greet your recipient by their name, rather than a blanket greeting that applies to everyone.
Additionally, use real email addresses when sending out emails and real sender/reply-to email addresses. You're much more likely to get an email opened from SallySanders@MarketingGenius.com than marketing@boringbusiness.com.
Create fabulous subject lines
Subject lines get emails opened. Some brands can get away with playful subject lines, and if you are one of those brands, run with it. Otherwise, focus on creating a sense of timeliness and urgency or offering someone something they simply cannot refuse, like a free demo or trial.
Use action verbs in subject lines (and in the body of your email). It tells people why you sent them the email in the first place and what you want them to do.
Don't forget the CTA
Never leave off a call-to-action in an email. Design your email to have a clickable button that takes the user to a landing page directly related to the email. It is not advisable to send users to the website. This is another opportunity to market to them on a more targeted level.
Want to know more about email marketing campaigns?
The Creative Momentum manages email campaigns for many of our clients, who see results like a 221% increase in website traffic coming from email and open rates higher than the industry average. Additionally, many of our clients also enjoy a "hands-off" experience, allowing us access to their marketing automation software, where we run the campaign fully with the client's approval. If you use Pardot, Marketo, HubSpot, Constant Contact or MailChimp, we are able to clean and segment your database and send emails directly from your account.