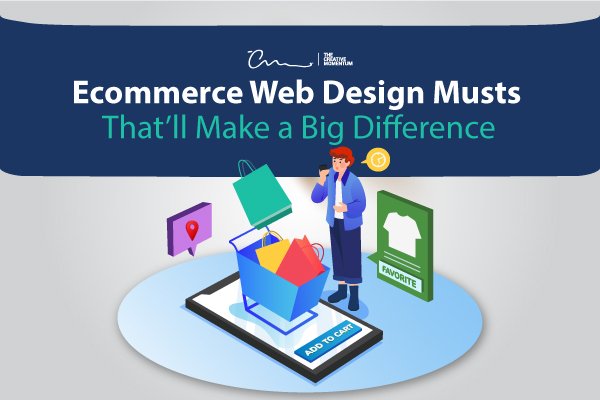 From small garage-based retailers to massive global corporations like Amazon, there's a lot of competition in the ecommerce world. The more competition there is, the better your site needs to be to stand out. If you want to make waves and drive sales, here are a few ecommerce website design musts that'll make a big difference for your business.
1. Use a Clear, Simple Design
Back in the 1960s, the acronym KISS became widely popular. No, not the makeup-clad rock band (that was the 70s anyway). KISS stands for "keep it simple stupid," signifying that the simplest systems typically work the best. It worked for the Navy, it worked for songwriters, and it'll work for your ecommerce site.
Website visitors don't want to work hard to buy a product. Use clear and simple web design with easy navigation and no clutter to encourage online shoppers to stick around and, more importantly, come back in the future. A bad experience on your website will lead to higher bounce rates and more sales for your competitors.
Here are a few things you can do on your website to simplify your design, and improve the user experience:
Obvious navigation – Use a clear navigation menu, obvious search box, and include filters. If your site is hard to navigate, potential customers will give up and not buy your products.
Avoid carousels and sliders – Especially avoid ones that automatically advance. You take away the ability for customers to compare products. Plus, they might forget what they saw if the slide advances too quickly.
De-emphasize newsletters – They're free and clutter up your site. Put them in a less prominent place and focus on items that make money.
Easy-to-find cart – You want people to take the next step and purchase the products, so don't hide the cart! If visitors can't find it, they won't check out.
View all products at once – Make it easy for people to see everything you're selling. If customers have to work to find certain products, you can bet those items will be your worst sellers.
2. Use Proper SEO Product Tags
Just because your ecommerce pages don't look like a "normal" webpage or blog doesn't mean they're exempt from SEO best practices. Ranking well on search engines is essential to attract new users to your website. Use proper tags on your ecommerce pages to boost your site's rank.
For individual product pages:
H1 is for the name of the product
H2 is for subheadings in the product description
For product category pages:
H1 is the category title
H2 is for the names of the products
This will help search engines navigate your website, which will benefit your rankings.
3. Make Your Site Mobile-Friendly
With the rise of the smartphone, more and more people are browsing the internet with a mobile device. At the end of 2019, 51.98% of all online global traffic was from a mobile device. That means if you don't optimize your ecommerce site for mobile, you're excluding over half of your potential customers!
The goal of ecommerce web design is to make it easy for people to browse your website. By making your ecommerce site mobile-friendly, people can visit from any device, from anywhere in the world, at a moment's notice. How many times have you bought something from Amazon from your phone just because it was easy? Capture some of the impulse-buy market! Plus, having a mobile-friendly site will boost SEO as well.
4. Include a Search Box
Another way to make it easy for visitors to navigate your website is to include a search box. That way, if people know exactly what they're looking for, they can go right to it without taking the time and effort to wade through every product and category page.
For extra user friendliness and potential upselling, include an autocomplete or a suggestion feature in your search box. This will help users find what they're looking for faster—and easier—and even allow you to suggest items that might be similar to what they're searching for.
5. Use Product Filters to Narrow Search Results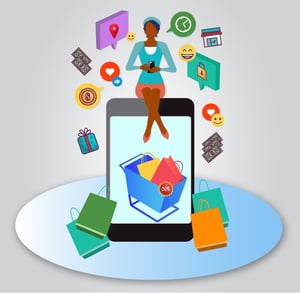 Sometimes, your website visitors might know what they want but not the exact product they need. Offering product filters and categories lets them compare products on your site and/or filter out the ones they know they don't want.
Offer filters based on things like:
Product category
Price range
Brand
Color/style
Material
This list is by no means inclusive. Offer as many filters as you can think of for a specific product. If you're having trouble thinking of filters to add, look at larger retailers that sell similar products—like Amazon—for inspiration.
Also, be sure that shoppers can select multiple filters to narrow their searches down even farther. The faster and easier they can find the product they're looking for, the more likely they are to make a purchase.
6. Put Featured Products Front and Center
How many times have you walked into a store and saw a big promotional display for a discounted item right there at the entrance? You probably threw something in your cart because you couldn't pass up such a great deal, right? Well, the same idea can work for your ecommerce website too.
Include featured products or any promotions right at the top of your home page or on side columns of other pages. It can push website visitors to your top-selling products, even if they weren't necessarily looking for them. This is also a good place to push seasonal or festive products.
7. Use Only High-Quality Images
Although online shopping certainly has its upsides, there are some downsides too—mostly, not being able to see or touch the items in person. When getting pictures of your items for the website, make sure you use only high-quality images. Poor images make customers doubt the product and, more importantly, your brand.
Include multiple images of each product so visitors can see it from many angles. Don't forget to have an image zoom feature so people can see your products in more detail. Adding videos can also be helpful to show your products in action.
8. Include Detailed Product Descriptions
Be as detailed as possible in your product descriptions. Let your customers know everything they would ever want to know to help them along the buyer's journey. The more confident they are about a product, the more likely they are to buy it. If you include only a picture and a title, your visitors will likely leave to find more information and make their purchase elsewhere.
9. Offer a Guest Checkout Option
Forcing shoppers to create a login is like those grocery stores that make you use a member card. Most people already have six member cards in their wallet (and dozens of logins and passwords to remember) and don't want another one. Offering a guest checkout option will make the checkout process easier for people who don't want to give out their information.
Increasing Sales with Ecommerce Web Design
Your ecommerce website is like any store: It needs to be organized in a way that makes it easy for shoppers to find what they're looking for and complete their purchase. The more difficult the process, the more likely your visitors are to leave and shop somewhere else. By using simple designs, easy-to-use navigation tools, and customer-centric features, you'll see a huge difference in your online sales.