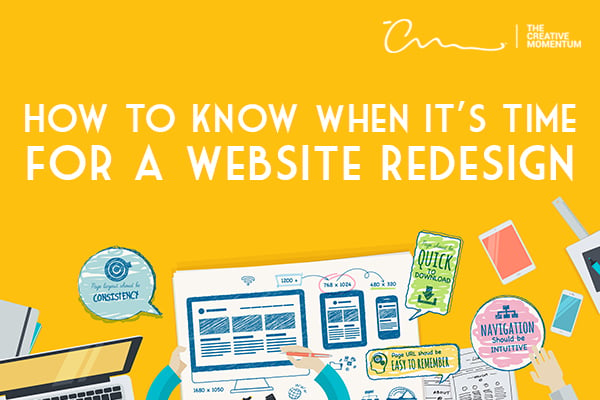 Should we redesign our website?
We hear this question all the time. It's a question that's both feared and embraced by countless CMOs, entrepreneurs and digital marketing teams everywhere, and for good reason.
Sometimes all you need are minor tweaks and refreshes to make your site more functional and relevant. However, web design follows trends, and over time, your site will feel outdated compared to competitors' sites, or it won't offer the same functionality as others do. And this leads to making a determination: edit and update or full refresh?
A high-quality website will always require some level of updating and maintenance, but it's important not to waste valuable time and resources on massive changes that aren't going to make a substantial impact on your traffic. As you evaluate your options, let's take a look at what you should be considering, when it makes sense for a website redesign vs. when it doesn't, and good reasons to pursue a full redesign.
---
Questions to Ask Yourself Before Redesigning a Website
Before you make the jump to a complete website overhaul, there are a few important questions that you should ask yourself first.
1. What business objectives am I hoping to achieve or support?
Are you rolling out new branding? Does your current CMS lack functionality you need? Are you producing new types of content or offering new goods and services?
Your website is there to promote your business. An update or overhaul is going to make the biggest impact when there's actually something new happening with your content and services.
For example, research shows that specific color schemes increase web page recognition by 80 percent. If you're overhauling your products or services, launching your website with a vibrant new color layout can help it stick in your customers' minds.
Ask yourself what your update is going to accomplish for your business and try to time aesthetic and functional changes with shifts in your business strategy.
2. Do I have a clear game plan?
At the end of the day, a website overhaul isn't a cure-all - as a matter of fact, it's far from it! Although 94 percent of people agree that websites with well-designed layouts are more trustworthy, poor marketing metrics, high bounce rates and disappointing sales might have more to do with other aspects of your business. Your website overhaul is one aspect of a larger strategy for improving your business. Make sure that you have a solid plan for moving forward with your brand before you jump straight into an overhaul.
3. Will a Redesign Hurt My SEO?
This is a common, and perhaps the best, question to ask yourself as you consider redesigning your website. Clients hunger for an entirely new website but worry how change will affect their hard-earned SEO value. And they're right to be concerned.
The truth is most websites will experience some disruption in traffic post-launch. How long that might last depends on so many things: are you a large company with thousands of pages? Have you done your homework in advance to ensure that you don't have broken URLs and internal links, or corrupt files, and is your new website following routine SEO best practices (compressing pictures, adding metas, keyword research, creating a robots.txt file to name a few?)
This is why, if you have a website with significant traffic, it's wise to consult web design professionals. By trusting your prized asset to experts who've been down this road many times, you significantly reduce the risk of losing your prized historical SEO juice, and you're best setup to catch more search traffic in the future. Once the dust settles post-launch, your fabulous new website gets an SEO boost from all the work that was done to optimize your site based on important ranking factors.
In short - if you're concerned, you're smart. We highly recommend consulting a web design firm to make sure your account for and maintain your SEO through a website redesign.
4. How will the change affect the user experience?
Before you implement massive changes to things like navigation and UI, it's important to think about your audience and how they use your website. Is a significant percentage of your traffic returning users? If so, they are probably familiar with your layout and finding what they're looking for (think: Amazon). These visitors expect certain features and functions to stay where they remember them.
When you completely shift the core user experience, it can be off-putting to your loyal users. Sometimes, tweaks, adjustments, or completely starting from scratch can really bring your website around, especially when its inception was poorly conceived or rushed. Other times, it's best not to fix what isn't broken. Whenever you're planning an update or overhaul, be sure to consider your existing traffic and website users.
---
When to Update Versus Redesign

As a general rule, new messaging, adding images or sections, or even a simple logo change can be fixed with minor tweaks. Also, are you meeting business goals? If you are meeting your targets, getting plenty of leads and customers and only considering a redesign because you saw something shiny that made you think about your own site - it might be a good idea to stick to the old adage, "don't fix something that isn't broken."
In contrast, if you've completely overhauled the look, feel, and messaging for your business, a full website redesign probably makes the most sense.
It's also important to note that website design trends change over time. Don't get married to a design just because you liked it years ago, or the design process took so long you're hesitant to go through that again. The web development process is much faster today, and for most businesses, their website is the most important marketing asset they maintain.
---
Good Reasons for a Website Redesign

The biggest legitimate reason to justify a website overhaul is poor functionality. Choosing to update your website because of branding or aesthetics is a subjective call. But if your website doesn't work (as defined by many of the reasons below) you're probably quite justified in considering a redesign.

Here are some of the best reasons to move forward on redesigning a website.
1. Poor Load Times
We recently stressed that Google's latest algorithm rollout, Page Experience, will enact even greater punishments for websites that take too long to load. This translates to lower page rank. But even beyond the threat of a Google penalty, a slow website load is a recipe for disaster.
No one wants to wait indefinitely while your website struggles to load each page. If you're not sure if slow load times are plaguing your website, take advantage of Google's PageSpeed Insights test. This simple online tool is a great way to track how your website stacks up against its benchmarks.
Not only will it tell you how quickly your site loads, but the test will outline where your website is failing and will provide best practices to improve load times. Share this with your developers to help better target their efforts.
2. Mobile Compatibility
Mobile browsing is the dominate way people are searching online. So it goes without saying - hopefully - you need a mobile-friendly website.
However, if you've been putting off a web design that's accessible for mobile users, it's time to drop everything and correct that mistake. We recommend leveraging responsive design so your website can automatically adapt your layout to the specifications detected from a user's device.
Best of all, responsive design implementation is easy and doesn't require building out separate layouts for every different type of device a consumer might use.
3. Your Site Isn't User-friendly for Consumers
Even if you have the most visually stunning website, if consumers can't figure out where to go to purchase items or discover more information, then it's not functional. This is a foundational web design UX principle: Your site needs to be user-friendly.
Customers shouldn't struggle to navigate between pages or be forced to take multiple steps to manage simple tasks like signing up for newsletters or accessing shopping carts. If your website is difficult to navigate and use, you're driving business away.
If you find that you have high traffic but your conversion rates are poor, there's a good chance that your website isn't easy to use. Take the time to perform a site audit and request feedback from people not associated with your business. Fresh eyes will highlight key areas in your design that are lacking. Then you can focus your redesign to improve functionality.
4. Your Site Isn't User-friendly for You
Once upon a time, websites required very complex backend systems. As a result, only someone experienced in web design and HTML was able to manage page updates and changes. But these days with the rise of content management systems, simple edits such as adding a new product photo or updating text content on a page are much easier for your average technically-savvy Joe to perform.
On the flip side, if you find yourself fighting with your technology to perform what should be the most basic of edits, it's time to update your website by switching technology platforms. Even if you have no intention of tinkering with the framework of your website, you should be able to make minor adjustments without needing a degree in web development.
5. Your Website isn't ADA Compliant
If your website isn't ADA (American with Disabilities Act)-Compliant, you're opening your business up to legal liability. While still a grey area, it's important to make your website accessible by implementing web design best practices outlined in the Web Content Accessibility Guidelines (WCAG), 2.0 AA.

Besides compliance, you've widened your potential prospect pool. After all, just over a quarter of all American adults have some form of disability — even if it's not visible. Removing unnecessary barriers for anyone interested in your products or services isn't just the right thing to do, it's makes good business sense.
6. Your Website Isn't Secure
Google's Page Experience algorithm penalizes websites for this next understandably serious issue: if you're still relying on a basic HTTP rather than an HTTPS, it's time to focus on your website security. Even for businesses that aren't accepting sensitive information like financials or health records, no business can afford to risk a data breach.
Many browsers no longer allow users to connect to websites that aren't secure, and instead show a "not secure" message. In addition, consumers are less likely to trust a website that lacks an SSL certificate. Take the time to add the necessary upgrades that will give customers peace of mind.
7. Bounce Rate and Conversion Rate

Analytics can also indicate that there's something wrong with your website and it's time to investigate the cause. You might know that high bounce rates or low conversions are a sign that there's a problem, but when should you be concerned? Use these metrics:
A bounce rate higher or lower than the range of 26% to 70%

A conversion rate of lower than two percent
Especially when both of these red flags are paired with high traffic, there's a sign that something is preventing potential customers from taking the next step. When they don't sign up for a newsletter or make a purchase, something is amiss.
---
Still Don't Know? Schedule a Free Consultation.
Redesigning a website is a big task, no matter how small the job. If this article doesn't help you clarify what your next step should be, we welcome you to get in touch. We'd be happy to help discuss what's going on with your website and if it makes sense to redesign or not.