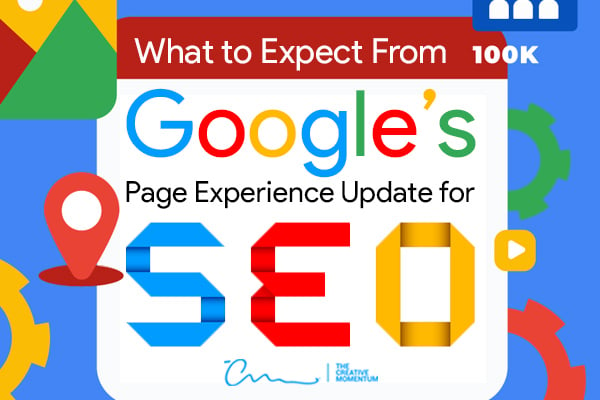 Brace yourself!

Google is tinkering with their algorithm again, and that means more changes for website owners and developers. This time, their focus will be on prioritizing sites that have a great user experience.
---
While user experience is an important aspect that every website should have top of mind, this can mean wildly different things to different people. So, while we know that Google's Page Experience is rolling out some time in 2021, it's important to consider how the new algorithm will impact websites and their ranks. Here's what you need to know so you can prepare your site before the new algorithm arrives.
What is Google's Page Experience?
Google's Page Experience is Google's latest algorithm update being released in 2021 and also a set of criteria that the search engine giant has made available to developers. Google will look for "signals" to determine whether a site has a good page experience. A site that is difficult to interact with, loads slowly, isn't secure, relies on intrusive pop-ups that are hard to minimize, or isn't mobile-friendly will have what's considered a subpar page experience.
Still, even Google promises that a cumulative low page experience signal score isn't a de facto reason to ignore your site in a search query. If your site has quality content and is the most relevant answer in a search query, there's still a good chance that it will get displayed.

But let's be honest. All of the factors that go into Google's Page Experience are things that site owners should already be addressing. So, if any of the above signals are an issue on your site, let's address what can you do to avoid getting branded with a subpar Page Experience score.
---
Page Loads and Stability

Websites that load slowly are more likely to experience page abandonment and higher bounce rates than those that load quickly. This is a core tenet of web development. The formal term for loading performance is largest contentful paint (LCP), and to pass Google's test, all of the content on a page should load within 2.5 seconds from start to finish.
But then there's the first input delay (FID), which references a page's responsiveness. A high FID score means that your pages aren't responsive. This can include graphics that fail to load, buttons that don't work, or media that fails to play. Often the main culprit is too much is trying to load at once, and a browser is overloaded trying to manage all of the commands. Large JavaScript files and plugins can also bog down processes and make pages temporarily unresponsive until everything loads. To meet Google's benchmark, strive for an FID of 100 milliseconds or less.
Cumulative layout shift (CLS) is the third metric that focuses on the stability of your site. If you've ever tried to read an article on your phone and had the page reload, or buttons move just as you're about to press them, these are examples of poor CLS in action. To meet Google's guidelines, push for a CLS score of less than 0.1.
If your site loads slowly, is unresponsive on pages as items load, or performs unexpected layout shifts, you should work with a developer to correct these structural issues. Aside from avoiding a ding from Google's algorithm, there's a good chance you're losing visitors because your site is frustrating to use.
A Mobile-Friendly Site
Everyone's site experience should be seamless whether on a desktop or mobile device. While you might have to slightly alter your site's layout so it's compatible with mobile devices, the functionality shouldn't be much different between the two access points. Your site should still load quickly, buttons and links should work, and users shouldn't feel like they're fighting your site to use it.
Safety First
Safety comes into play in two ways with these Google metrics. First, does your site contain malicious content like malware or deceptive content? Your site isn't trustworthy if you're exposing visitors to viruses and other questionable content. If you suspect that malware or other safe-browsing issues might be lurking in your site, you should work with a developer to correct those issues.
Next, is your page secure? Specifically, Google will give good scores to pages served over HTTPS. This is an easy fix to make, and many web servers and hosting platforms have already made it easy for site owners to switch from HTTP to HTTPS. Regardless of Google Page Experience, it's a good idea to shift to HTTPS if you haven't already.
Intrusive Popups
We've all been on a site where we were bombarded with pop-ups and overlays that were nearly impossible to remove. Did you enjoy fighting with the site to close those interstitials? Then it's safe to assume that your site visitors who have to fight with overlays and popups won't either.
This is especially problematic for mobile device users—where screen space is already limited. Sites that relied on intrusive interstitials were already penalized by Google as early as January 2017. Note that legally-required notices such as age verification and cookie usage as well as top-of-page banner interstitials that don't obscure page content are not graded negatively by Google's algorithm.
---
Be Proactive Ahead of Google's Page Experience
The Page Experience algorithm is coming at some point in 2021, so start preparing now.


Most of these updates are not focusing on new concepts, but increasing their importance and adding specific metrics for web designers and SEOs interested in technically qualifying their websites. If you're concerned that your website might not meet the criteria for Google's Page Experience algorithm, talk with a specialist at The Creative Momentum to prepare for the new rollout.