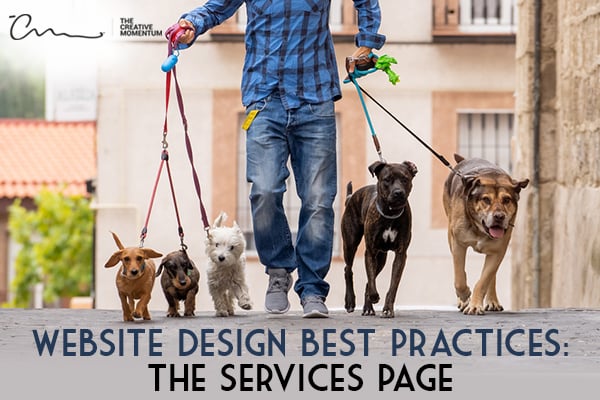 At the core of any business is what it does and what it produces as a result. When it comes to service businesses, clearly defining your output and associated value is even more important.
Selling services is a lot more complex than selling products. Product sales mostly come down to whether customers see value in a specific item. When marketing services, the entire company is under evaluation. Prospects are looking for information that will indicate to them that your company is trustworthy, reliable, and has the requisite expertise they seek. So if you're in the business of providing professional services, you need an excellent services page on your website.
---
Why You Need a Services Page
A separate services page gives you the opportunity to detail what you do, how long you've been doing it, and why customers should trust you to provide the service for them. In addition, looking for a "Services" tab is a convention that your prospects are accustomed to and if they are a highly-qualified lead, they'll be looking for it when they come to your website. Don't disappoint them; make it easy for your customers to find what they're looking for.
Here are a few additional reasons to create a services page on your website.
A Services Page Lets You Illustrate Value
Some companies treat the services page as a list of what they do and nothing more. This is a wasted opportunity and a potential signal to customers to check competitors' websites. A list that provides exactly the same services as another company does not distinguish one from the other. Consequently, businesses need to use service pages to illustrate the value behind the services provided.
A Services Page Lets You Define Your Services
Every industry has its jargon, but even within the field, certain terms could mean different things. When companies define their services, they have a better chance of ensuring there is no confusion. For example, when someone thinks of a personal injury attorney, they often think of an attorney who primarily handles car crash cases—and most do. However, there are others who handle product liability or even aviation accidents. However, some handle product liability or property liability, and others may steer clear of certain types of cases. A services page allows these attorneys - or any service professional - to specify the types of work they DO specialize in.
A Services Page Helps Your SEO
The more information you include on your services page, the better its chances of ranking well in related searches. This doesn't mean you should cram unnecessary information onto your services page. It does mean that the attorney who explains he also handles car crashes, product liability, and class-action lawsuits will outperform the one who provides the same services but only lists personal injury.
---
How to Structure Your Services Page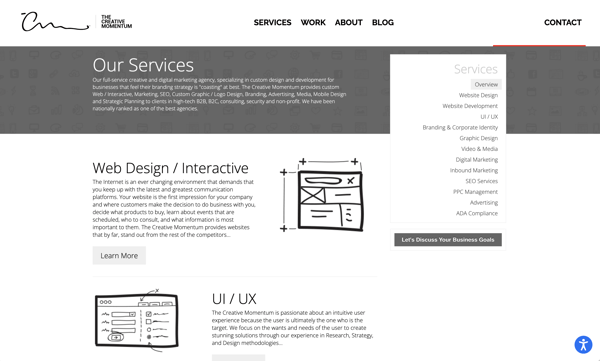 Unlike most other web pages, the services page does not always leave a lot of room for creativity. Most of these pages are text based. Even so, there are a few ways to make yours stand out.
Videos
It can be hard to visualize services, so videos can make a big difference. Whether this is a message from the CEO or snippets from employees at work, it can provide insight into what the customer can expect. A good example is drone shots of a nearly-completed pool or walk-through videos of a gym.
Photos
Sometimes, videos are more than what you need to showcase your services. Videos can also take a longer time to load, so photos might be a better alternative. A good example is the comparison photos at a dentist's office that show patients' teeth before and after braces or dental procedures.
Testimonials
To boost credibility on the services page, some companies include written snippets of testimonials or even a brief video. Others might include badges from Google My Business or Yelp, which show the company's current rating. These are excellent ways to put social proof to work.
Service Subpages
Sometimes, a website has several service pages instead of just one. This is fairly common in STEM industries, such as software development. The service page might only summarize the different services the company perform and hyperlink to other service subpages with more detailed information. Some businesses avoid having a single service page altogether, instead forcing visitors to choose a submenu item from the services tab navigation. This is a good idea as it can help avoid keyword cannibalization.
Check out other common pages in our Website Design Best Practices series!
Website Design Best Practices: How to Create the Best Homepage
Website Design Best Practices: How to Create the About Us Page
Website Design Best Practices: How to Create a Resources Page
Website Design Best Practices: How to Create a Pricing Page
Website Design Best Practices: How to Create a Contact Page
Website Design Best Practices: How to Create an Effective Blog for Your Business
---
What to Include in Your Services Page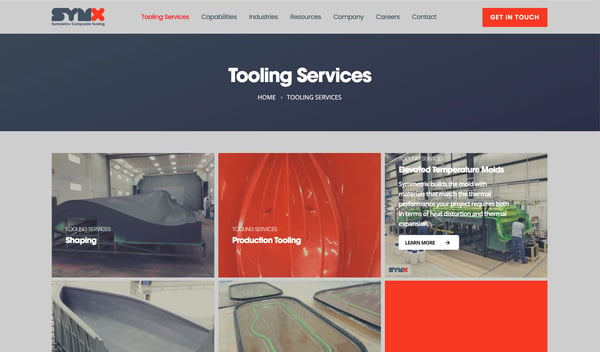 If a website visitor is navigating to your services page, you can rest assured they have some level of interest in what you're offering, or in other words - are likely to be a highly qualified lead. Thus, why the content on this page is crucial. Follow these services page best practices when writing the copy for your website to really shine.
Pain Points
Have you ever noticed that most personal injury ads or service pages start in a similar way? "If you have been injured in a car crash, call…" The reason is that putting a customer's pain points first is important. It's not enough to tell them you can solve the problem. You also need to articulate that you understand the problem. This, in turn, reminds them of why they need your services in the first place.
Benefits
Another important angle to write from is to focus on the way the services benefit buyers instead of focusing on the features. For example, telling real estate agents you use a 4K drone to shoot videos of their properties might not mean as much as explaining that they will receive stunning, crystal clear aerial footage of their properties with no shaking or blurring, and that the videos and images provide unique, 360 degree views of their properties that increase the average sales price by 20%. This is also an excellent place to detail your company's warranties or guarantees.
Qualifications
The "About Us" page is where you detail all the qualifications that make you stand out from the rest. For example, some attorneys might create something that looks very much like a standard resume. While all the details of all your company's qualifications live on the "About Us" page, it's a good idea to link to that page from your services page, along with a brief snippet that highlights your expertise such as years of service, awards, and anything else that builds buyer confidence.
Supporting Documentation
Do you have a portfolio page showing examples of your work? Link to this page from your services to keep customers on your website and explore proof of what you've done. Some companies may also provide link to common forms customers need to fill out. This is becoming more common for medical facilities or even sports facilities that require waiver forms.
---
Need Web Design Professionals to Help Design Your Services Page? Call us.
At The Creative Momentum, we have spent years creating service pages across a range of industries. Our clients have ranged from non-profits to asset management firms. Whatever your business goals, we'll work with you to build a website to support those goals and drives your business toward greater success.