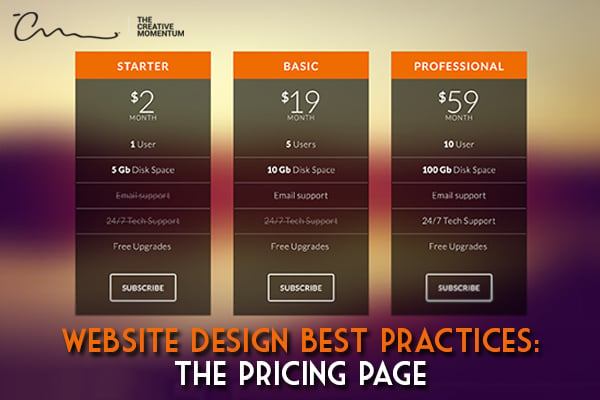 There's been an ongoing debate about whether companies should include prices on their website. In the past, companies designed sales funnels that required customers to ask for a quote. Companies then used price query emails or calls to demonstrate value or upsell before giving numbers.
This strategy doesn't work very well on modern-day consumers. Today's consumers are used to instant information; if they can't immediately find what they're looking for, they move on. For businesses, this shift in buying behavior means practicing price transparency and creating a pricing page on your website. Here are some of the best practices for designing a pricing page for your site.
---
Why You Need a Pricing Web Page
It's important to know that there are still businesses that have excellent reasons for withholding pricing information. Still, sharing prices in one convenient location can reduce your bounce rate and bring several other benefits to the table.
Beat the Competition
Despite some justifiable reasons for withholding prices in service fields, professionals in service areas have found ways to simplify pricing. For example, construction websites have interactive forms that calculate prices as homeowners select different options. Similarly, some commercial landscaping companies provide per-square-foot estimates, just like home builders do.
If the competition is providing the price without the need to submit personal information or schedule a phone call, those competitors might have a better chance of acquiring customers. Why not be that professional so you can beat out the competition?
Uphold Integrity
Modern-day consumers have been demanding greater transparency from organizations for quite some time. Sharing the price of products and services is one of many ways a company can satisfy growing consumer curiosity about how they function.
In fact, one study found that 91% of consumers were demanding price transparency, even in the healthcare industry. Consumers pushed so hard for this, that a new ruling will now force hospitals to share payer-negotiated prices in a way consumers can understand. This will have ripple effects across all industries.
Satisfy Customer Preference
Consumers pushing for more transparency shows the importance of displaying prices. Still, does that really mean consumers will spend more money with the business? Admiring a business, after all, does not necessarily amount to sales.
According to one study cited by Forbes, when t-shirt businesses unpacked and itemized operational costs, customers felt more drawn to the brand and had a higher likelihood of making a purchase. The study also notes that not all costs receive the same warm welcome. For example, customers might not care about transportation costs as much as they do about the cost of raw materials.
Improve Time Management and Build More Qualified Leads
How much time does your team spend answering phone calls or emails related to pricing when consumers are shopping around? How often do these consumers ultimately decide the price is too high and choose a competitor? Pricing transparency frees up your salespeople to field calls from people who are closer to the buying stage.
One Forbes article also points out that, if you provide a premium product or service, it can help you trim the bargain shoppers from your leads, ahead of time. Finally, sharing prices upfront can reduce time spent on negotiating fees.
Check out other common pages in our Website Design Best Practices series!
Website Design Best Practices: How to Create the Best Homepage
Website Design Best Practices: How to Create the About Us Page
Website Design Best Practices: How to Create the Services Page
Website Design Best Practices: How to Create a Resources Page
Website Design Best Practices: How to Create a Contact Page
Website Design Best Practices: How to Create an Effective Blog for Your Business
---
What to I
nclude on Your Pricing Page

The elements of a pricing page will differ based on what the company plans to sell. Even so, there are some common elements found on most pricing web pages.
Pricing Options
Options can mean access to different products, or it could mean variations of one product. When it comes to services, options could also mean paying by the hour or "by piece" rate. It's not uncommon to highlight a specific option, which is usually the mid-range option.
Discounts
No matter how premium a product or service is, customers look forward to discounts. This might include loyalty programs, holiday sales, or discounts for paying annually. Most subscription services offer discounts when customers pay in advance for a set amount of time (i.e. 3 months or 12 months).
Value
The monetary cost of an item is only part of the decision-making process. Consumers also need to know what they receive for the money spent and how that compares to other available options provided by the company. They might also wish to know how the offers compare to competitors' prices.
---
How to Structure the Pricing Page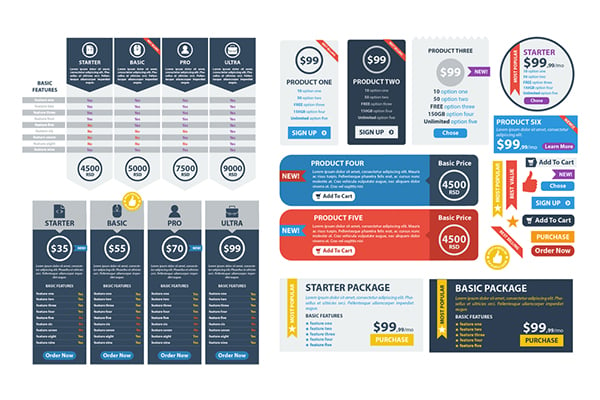 When you create a pricing web page, there are some b
est practices and helpful conventions to follow, no matter your service or business. Let's take a more detailed look.
Pricing Columns
When companies provide packages, the most common way to organize them is by using column comparisons. These detail the differences between each package and the prices associated with each. Sometimes, the final package may exceed the usual offering and has a "Contact Us for a Quote" note in lieu of the price.
Progressive Profiling Forms
Earlier we mentioned that some companies like to use forms to help people price out the services themselves. These forms are often used on car manufacturer websites and prefab home websites. Customers start with a base price, make their selections, and watch as the price changes based on their choices. At the end of the form, they can usually email the final quote to themselves or complete the purchase.
Photos
When companies sell standard products and services, photos with text descriptions are a great ways to organize pricing information. Consumers come across this most often when looking at companies that sell standardized products or services. For example, a company that sells cameras, or a cleaning company that offers standardized service packages.
Shop
When companies sell many different products, instead of a single pricing page, they often opt for a shop tab navigation that leads to different shopping pages. The shopping subpages give details on the different subsets of products. This is much more complex than a regular pricing page and requires more technical skills to produce. The biggest perk is that it allows businesses to automate sales.
---
Your pricing web page is one of the most important additions to your website. This is particularly true when it manifests as an online store. At The Creative Momentum, we have created pricing pages that ranged from simple column comparisons to complex pricing forms and stores. Get a quote for your website today.