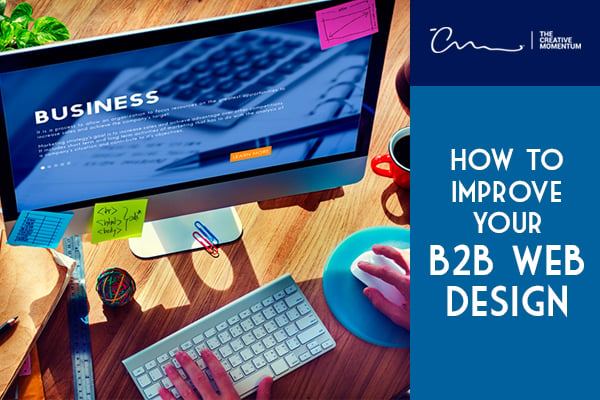 Great websites aren't just for business-to-consumer (B2C) companies. They're equally important for business-to-business (B2B) organizations, too.
According to an industry report, 70% of business decision-makers find content directly on the vendor's website. If you want to increase your B2B sales, it's important to build an engaging website that quickly gives your visitors the information they need. Here are nine tips to improve your B2B web design.
---
1. Keep Your Goal in Mind
Like any good project, when you design your website, you need to have goals in mind. Clear goals will keep you on track and ensure that your design choices work toward these goals.
Before designing your new website (or redesigning your website), think about what you want it to accomplish. Here are some examples of common goals:
Generate leads
Build a marketing database
Enhance customer service
Sell products or services
If your goal is to generate leads, then everything on your website should entice visitors to fill out your lead capture forms. When your entire B2B web design works toward your business goals, you're more likely to achieve success—whatever that may mean to you.
2. Build Your Site for Customers, Not Your Business
Businesses want to learn information about your products and services, but they're not on your website to listen to you brag. Too many businesses think their website is an outlet to talk about themselves and their products. While that is important (to an extent), it's not the purpose of your website
Your website isn't for your business. It's for your customers. Design it that way.
Include customer-focused design, copy, and features that speak to the needs of your customers. For example, you might offer the best business accounting software there is, but just saying that isn't going to get you customers. Instead, think about the problems your customers face and how your system helps them overcome these. Here's an example:
Don't say: We offer the best accounting software on the market.
Do say: Our accounting software helps businesses stay organized and saves time managing thousands of invoices.
The second sentence speaks to the specific needs of the consumer. Consumers don't care that your product is the best. They only care if it solves their problems. Design your website with your customers' needs in mind, and they'll have no reason to head to a competitor site.
3. Keep Design Simple
You want customers to find information about your products and services, so make it easy for them. Keep good B2B web design practices in mind when you create your site:
Simple navigation menus
Plenty of whitespace
Clean design (no clutter)
Clear visual hierarchy
There might be a lot of information you want to tell your customers, but take it easy on their eyes. The more clutter and options there are, the more they'll get lost or distracted, long before they convert.
Keep your website design clean and simple to nudge customers down the sales funnel.
4. Make Your Site Mobile Friendly
For a long time, mobile-friendly website design was a concern only for B2C companies. That is no longer true.
Today, over 50% of B2B queries are done using a smartphone, and that number is expected to grow to 70% in the next few years!
Mobile-friendliness is no longer an option for B2B websites. It's a necessity. Build your website to look and function for mobile devices. This ensures that decision-makers have a positive experience right from their handheld device—which is where most B2B website traffic comes from.
5. Reduce Load Times
Business moves fast, and nobody likes to wait. Decision-makers don't have time to wait around for your website to load, so make sure they don't have to.
According to research, website conversion rates drop by 4.42% with each extra second of load time. This means, if your website takes forever to load, you won't have any visitors left by the time the page finally appears.
The key to decreasing page load times is to limit the unnecessary items. The more clutter on a page, the longer it takes to load. Here's how to reduce your website load times:
Compress and optimize images
Limit redirects
Cache your website pages
Remove unnecessary plugins
Eliminate high-resolution videos and images
Every second counts, so get your page load speeds as fast as they can be if you want B2B customers to remain on the site.
6. Include Relevant Offers Wherever You Can
Lead generation is a top priority for most B2B businesses, but if you rely solely on your "Contact Us" page to get leads, you're missing out on a lot of opportunity.
Going to a contact page takes an extra click, which is more than many website visitors are willing to do. Instead, include relevant offers and lead nurturing forms throughout your website to target specific audiences:
Request a quote
Try a free sample
Register for a webinar
Request access to premium content
Subscribe to an email newsletter
Make sure to target your offers to attract specific audiences. For example, a prospect who's just looking for some ideas probably isn't ready to make a purchase. If you hit her with a "request a quote" call to action (CTA), she's going to skip right over it. Instead, attach an offer for premium content or an email subscription for more information that fits her stage of the buyer's journey.
Long story short: pepper relevant offers and CTAs throughout your website so your prospects can easily convert when they're ready, without having to find the "Contact Us" page.
7. Create Top-of-the-Funnel Content (That's Free)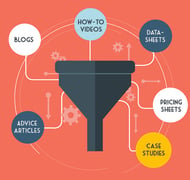 Content offers are great for lead generation, but you need more than that to get customers to stay on your page. If someone visits your site for the first time and gets bombarded with contact forms before he even sees any content, he's going to leave the site.
In addition to lead-capturing premium content, you also need plenty of free top-of-the-funnel content to help potential customers in the early stages of the buyer's journey:
Knowledgebase articles
Blogs
How-to videos
Datasheets
Pricing sheets
Case studies
Just make sure you put a CTA at the bottom of all your free content to lead visitors to the next stage of the journey. The goal is to capture their contact information, so you can continue to build rapport with that prospect and ideally, nurture them further down the sales funnel.
8. Use SEO Best Practices
While a majority of research takes place directly on the vendor's website, 67% of B2B decision-makers begin the research process with a simple internet search. If you want your website to show up front and center, you need to focus on search engine optimization (SEO).
Search engine optimization is how "friendly" your website is to search engines. The more likely your website is to rank for specific search keywords and long-tail keywords, the better. Obviously, the higher up in the search results, the better.
Think about the types of things your ideal customers search for online and the specific keywords they use. Then, create content specifically for those searches. Create relevant content so search engine crawlers will put your website at the top of the results for those searches.
9. Measure Your B2B Website Using KPIs
You can't measure improvements unless you have something to measure. This is where key performance indicators (KPIs) come in. Here are some common KPIs to help you understand and track your website performance:
Conversion rate – How many people follow through with your CTA? This could be the number of sales, lead captures, newsletter signups, or e-book downloads.


Qualified leads generated – This is the number of people who filled out a lead form that might actually become a customer. For example, if your company sells construction equipment, and a 14-year-old student fills out a form, that student wouldn't count as a qualified lead because he or she is not in the construction industry or in a decision-making position.


Sales conversion rate – The number of people who actually made a purchase. This is the same as regular conversion rate, except it doesn't count the downloads or subscriptions, only sales.


Time before purchase – How long it takes a website visitor to make a purchase. If it takes a bunch of website visits over months to make a decision, it might be an indicator that you need to work on your marketing messages.


Customer satisfaction – Sometimes the best way to learn about the success of your B2B web design is to ask the users. Include a survey after a purchase and ask customers what they thought of your website.
Track different KPIs regularly to see how your website performance changes over time. If you notice some indicators dipping, maybe it's time to change up your design. Make sure to measure your KPIs prior to implementing changes, as well as continuously after changes are made. Otherwise, you'll never know if your newly implemented strategies worked.
---
Need More Help? Hire B2B Web Design Consultants
If you need help optimizing your B2B website beyond these tips, we're here to help. We've designed many B2B websites, and would love to help you with yours. Contact us today and tell us about your business.