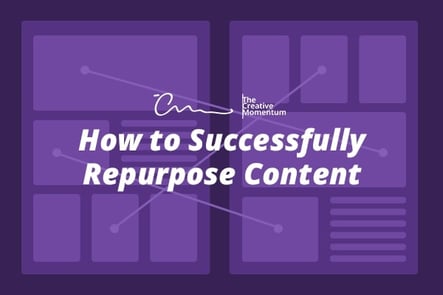 Content creation is one of the most time-consuming pieces of an inbound marketing campaign. Even before the content begins to take shape, topics are generated and floated for approvals. Research must be done. And, in the case of whitepapers, eBooks and infographics, a design team is involved.
So, if all of this time goes into creating just one piece of content, why do so many marketers use that content only once? Fear of redundancy. We worry our content will come off as stale, or someone will think, "Don't they have anything else to post?"
But there are strategies to make your content grow roots and to repurpose it successfully.
Change the Format
If you write a blog and can tether it to other blogs on the same subject, consider putting them together in an eBook or whitepaper. Or, reverse it by parceling out a piece of premium content into 4 or 5 blog posts with a link to download the full piece of content. This strategy introduces subject matter that your audience wants to read.
Change the Medium
When you complete a piece of written content, consider tackling the same topic on a podcast. Recycle your written material and feel free to plagiarize yourself (if the ideas were good!).
"But … they'll know I already posted it!"
No, they won't. If you think about a podcast listener, hearing rather than reading is the format they chose. It is very difficult to get your target audience to transition from the written word to auditory learning. They simply do not change mediums.
So, the people who enjoy your podcast are probably not reading your blog. And vice versa. Considering that almost half of the US population enjoys podcasts, it is not a medium inbound marketers should ignore.
Try infographics and other visual content options as well. Most content pieces can be altered for visual consumption.
Post it Again
Blogging and social media may go hand in hand, but your audience is not on social media all at the same time. Social media platforms, especially Twitter, are not "sticky" channels, where content stays visible. Get in the rhythm of posting your most successful piece of content in intervals. If you use a scheduling tool like HubSpot, HootSuite or Sprout Social, go ahead and schedule a post on social media for every few days or weeks. Simply tweak the post copy a bit.
LinkedIn articles are a good way to increase the stickiness of your marketing content. Rather than write a post, select "Write an Article." You can post an entire blog alongside an image to increase engagement. We have done this with several of our blogs, and the LinkedIn article performed better than our posts linking to the blog on our website.
Keep Content Evergreen
When writing content for marketing, avoid time stamping it. Rather than refer to a Google update from "last week," try saying, "Google released a new update in August of 2018." This will head off the need to update content later.
Also avoid trending cultural references. What makes sense today may be stale several months down the road.
Using these tips, marketers can repurpose content successfully. Creating content pieces is hard work, so use that finished product as frequently as it makes sense for your business.