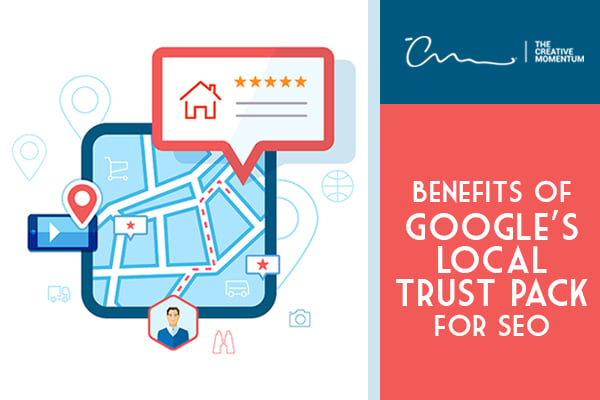 "Shop local" is a movement that encourages buying locally to increase regional economic activity and improve the collective wellbeing of one's community. One way businesses can capitalize on this concept is making sure they are ranking in local search results.
Local Service Ads (LSA) are an exciting rollout from Google Ads that focuses on attracting local leads for businesses that rely on nearby customers. What you may not realize is that in order to get the most out of LSA, you'll need to use Google's Local Trust Pack.
If LSA and Google's Local Trust Pack sound new to you, you're not alone. So, let's dig deeper into this new digital business verification system that can build trust with your target audience.
---

What is a Google Local Service Ad (LSA)?
LSAs leverage the Google algorithm to ensure that your business displays when shoppers in your geo-targeted locations search for relevant keywords.
These ads help consumers find relevant results. These ads are deployed only when a user enters a location-specific query such as "plumbers near me."
Along with regular text-only ads that display at the top of the search results, shoppers will also see up to three highlighted business listings at the top of the page, depending on the device used for the search. The listings:
Include review ratings

Feature green checkmarks that either say Google Guaranteed or Google Screened.
To be clear, those business listings that appear with checkmarks next to them are still ads, but they're more robust and targeted.
---
Why are Google's Local Service Ads Effective?
Google's LSAs are particularly effective for two reasons.
Ads only appear for search queries targeting your service area.

One of the nice features of LSA is that your business won't appear if it's not relevant to a query. For example, if you're not a plumber near a customer's location and you haven't designated that service area, your listing won't appear. This is important because you don't have to worry about your LSA budget being wasted on irrelevant searches.
LSA build further confidence

with your target audience.

Once visitors click on one of the LSA ads, they're taken to an interstitial page that outlines key details about your business. This can include an overview of services, hours of operation, contact details, and customer reviews. All of this increases the chance that people performing a specific search for a service near them will choose your business over the competition's.
---

Which Businesses Benefit Most from Google's Local Service Ads?
Without a doubt, local service industries benefit the most from LSA. As a rule, the ad feature is available only to service providers as opposed to being open to businesses selling goods. Industries that have the most success tend to be home repair businesses and contractors. But LSAs also work for professional services such as event planners, photographers, tutors, and lawyers.
---
What is Google Local Trust Pack?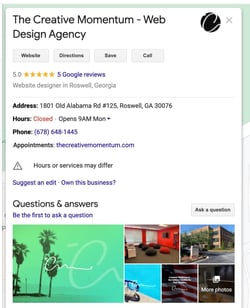 To understand Google Local Trust Pack, you need to be somewhat familiar with Google My Business (GMB) (example, right). GMB is a service that allows business owners to create a directory listing on Google where they can provide more details about their business, provide contact information, business images, and even aggregate customer reviews.
While GMB is still a critical component for businesses, Local Trust Pack builds on it by further vetting businesses — especially those that want to leverage the benefits of LSA.
Local Trust Pack requires that businesses wishing to use LSA must undergo background checks to prove that they are a real business with proof of insurance, licenses, certifications, or other key credentials. Once approved, depending on the service category, a business is either listed as Google Guaranteed or Google Screened. Typically, Google Guaranteed is reserved for home services businesses while Google Screened indicates that a business is a professional service provider. For Google Guaranteed businesses, Google provides a maximum of a $2,000 money-back guarantee if a customer is dissatisfied with the work.
---
How the Google Local Trust Pack Benefits Your Business
Similar to aggregate search sites like Home Advisor or Angie's List, getting a Google Guaranteed or Google Screened green checkmark next to your business provides peace of mind for the consumer. This shows that Google is literally putting their money where their mouth is.

Local Trust Pack is Good for Your Google Ads Budget
Beyond building trust, Local Trust Pack maximizes your advertising budget. As opposed to other ad services from Google that are pay-per-click, LSA offers a pay-per-lead model. This means that you pay only when a customer contacts you. And if you end up with a spam lead or a mismatch, you can dispute the charge and get refunded.

Leverage Voice Search Responses
Voice is the future and accounts for 20% of all searches. With more people relying on smart assistants and voice search, anything that helps you rank in voice search is going to be important. LSA is designed to integrate naturally with Google Assistant and ensures that more than 400 million devices can connect with your business.
Less Legwork for Businesses
Managing keywords and ad copy is the bane of most business owners. LSA takes the pain out of running digital ads because your ads display using information from your business profile. So, as long as you provide relevant information when you first set up your LSA account, you can "set it and forget it."
---
Get the Most out of Google's Local Service Ads and the Local Trust Pack
To leverage this new hyper-local search advertising solution, you need to ensure that your business information is accurate. Along with general customer reviews, services offered, and locations served, Google relies on additional information to determine which trusted business listings are displayed. So, you'll want to pay attention to the following metrics:
Hours of operation

Answer rate

Conversation quality

Total booked transactions

Archived calls
Keep in mind that LSA and the Google Local Trust Pack are not connected with GMB. So, your first step is to set up an LSA account. Along with the information listed above, be clear about the services you offer and the locations where you want to generate leads.
If managing ad campaigns is something you want to do but don't have the time, let us take this chore off your plate so you can focus on your core business tasks.