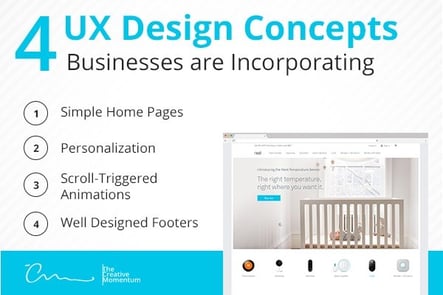 User Experience (UX) design is a principle that involves improving each viewer's browsing experience by enhancing the accessibility and usability of your page. It's not a new concept—we've reviewed it in previous blogs—but there are still businesses that don't fully understand its importance and why they need it.
Here are four of the most noteworthy ways businesses are incorporating this trend into their web design.
1. Simple Home Pages
Minimalism is in right now, and the best place to apply the practice is right on your home page. More companies are realizing how they can improve the quality of the UX by actually removing elements from their home pages. By removing unnecessary clutter, you reduce the visual load you put on your visitors, which helps your most crucial on-site elements (navigation, services, CTAs) stand out.
And it's not just about the UX. Studies on website aesthetics show that users prefer simple web design, and they judge websites with low visual complexity as more aesthetically pleasing. It's a win-win.
2. Personalization
Marketers and web designers have been tuned into the importance of personalization for a while now, but at long last, the importance of personalization is entering the mainstream. And this personalization is crucial for maintaining a positive UX. A 2013 personalization study by Janrain found that 74 percent of consumers get frustrated when website content appears that has nothing to do with their interests. This applies to your ads, promotions, pop-ups, CTAs, and more.
Integrate this type of personalization into your web design strategy by joining your market segmentation and keyword strategies with the content you publish on-site. It's all about leading the right users to the right page—and then delivering what they expect when they arrive.
3. Scroll-Triggered Animations
Businesses used to worry that animations would increase their page load times and bounce rates. But these days, our fast internet connections make this a non-issue. Thus, animation use is increasing, scroll-triggered animations in particular. These animations activate as users travel down the page, and they draw attention to specific elements, concepts, or data points that reinforce your company's value proposition.
But like any home page element, use these animations with care. Any home page element you include should be in service of the UX, a point that Nielsen Norman notes in their review of how scroll-triggered animations affect the user experience. Make sure you have a good reason for using them, and don't let the style overwhelm the actual substance of your home page.
4. Well Designed Footers
If we had to pick one home page element that's been neglected the most over the course of website design, it would be the humble footer. In the past, businesses treated the footer as a dumping ground for their necessary-yet-boring site elements—copyright notices, disclosures, and so on. These days, businesses are learning how to use the footer to support the UX, improve navigation, and even increase conversions.
Check out the footers on Nest and Apple for great examples. Yes, both feature the necessary boilerplate, but they also include comprehensive navigation links, service overviews, calls-to-action—all without cluttering the page. This is a great way to provide these elements to your viewers without taking up the valuable real estate that lies above the fold.
The Rise of UX Design
We could spend all day talking about UX design—and really, the above examples are only the beginning. Assess your own website and ask yourself whether you're designing for yourself or for your users. Consumer expectations are higher than ever, and you can't afford to let them down.