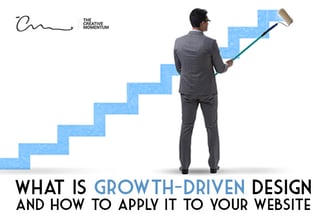 For most businesses, a website is there to support key objectives. Your website should:
Inform customers of product or service offerings and provide information about your company.

Serve as a source of influence that converts a casual browser into a warm lead or interested buyer.

Act as an extension of your brand; providing an excellent browsing experience and creating a positive impression.
To do this well, old methods of web design can be retooled. What do we mean?
Rather than treat a website as a static tool that you only tinker with when new products or services launch, you could adopt a more agile or fluid approach to your web design. This approach is known as growth-driven design (GDD), and it relies on quantitative data to tailor build strategies rather than guess at them.
Let's learn about growth driven design, why it's preferable to other types of web design practices, and how to apply it to your website or website redesign.
---
What is Growth Driven Design (GDD)
Growth Driven Design (GDD) is a website design strategy that minimizes the risks of traditional web design by using data and continuous learning to systematically improve your website's launch and long-term maintenance.
The idea of re-imagining strategies for website development can seem daunting, but the reality is that GDD streamlines the experience and leverages actual analytics (quantitative data based on user behavior) to make informed decisions.
In this way, your website is a living project that grows and adapts to meet not only your business objectives but your customers' needs. GDD is usually achieved in three stages, which are described below.
This strategy shortens the time between conception and going live. However, it means that you need to be ready to pivot and be adaptable as real-time analytics determine whether or not you need to make adjustments to your web design. Let's review the stages of growth driven design.


Growth Driven Design vs. Traditional Design
The traditional approach to web design is the standard that business owners think of when a website redesign is on the table. Either an in-house or outsourced web design team conducts an analysis of your current website, changes are proposed and incorporated into a fresh web design, and a new website launches and goes unchanged for a few years until the next redesign.
Unfortunately, according to Hubspot, only 49% of website redesign projects finish and launch on time, and it's usually the traditional web design mentality that's responsible for delays.
The traditional approach is a high-risk budget drain that requires a significant up-front time commitment. By comparison, growth driven design challenges traditional assumptions to help companies minimize risk and initial website launch expenses, expedite launch, and stay continuously updated.
---
Stages of Growth Driven Design
1. The Strategy Phase: What Do You Want to Achieve?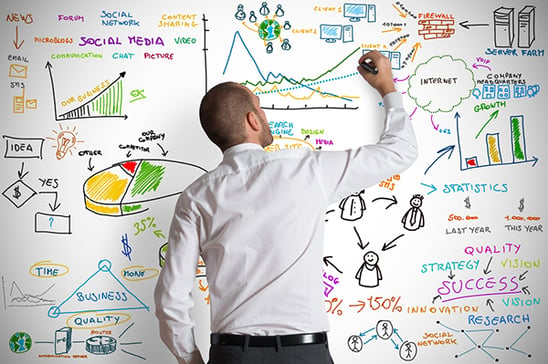 Before you start picking web design themes or hiring a copywriting team, you need to think about what you want to achieve with your website.
This can include not only essential information such as an "About Us" page but also incorporate key functionalities that you want your business website to have. Keep your target audience's needs front and center. For example, if you have a plethora of content you plan to organize and offer as part of a lead generation and nurturing campaign, that information needs to be listed in your objectives.
Then go beyond website functionality and think about other overall business goals that you want to reach with this website. Do you hope to boost sales, expand into a specific region or market, or simply drive more traffic to your website? For best results, make these over-arching goals more specific such as "increase website traffic by 50% by the end of the fiscal year."
As you write this wish list of goals, rank them by priority. Failure to do so could have you chasing web design strategies that, while nice, aren't essential. Let analytics drive your decisions.
If you're spending lengthy amounts of time educating and explaining how your products and services solve problems or you're struggling to grow website traffic and this is evident in the data, then make it a web design priority to organize and offer a robust content library. Similarly, if your goal is to increase sales by 20% per month and your 'About Us" page isn't central to driving sales, don't make this a page redesign priority.
Additionally, research your buyer personas to gather user behavior data. This is when your design and marketing teams create diverse buyer personas by researching how visitors currently use your website. Tactics like journey mapping and following the user through a sales funnel are good ways to form accurate assumptions about different buyer persona goals and conversion preferences.


2. The Launch Pad Phase - The "Doing" Phase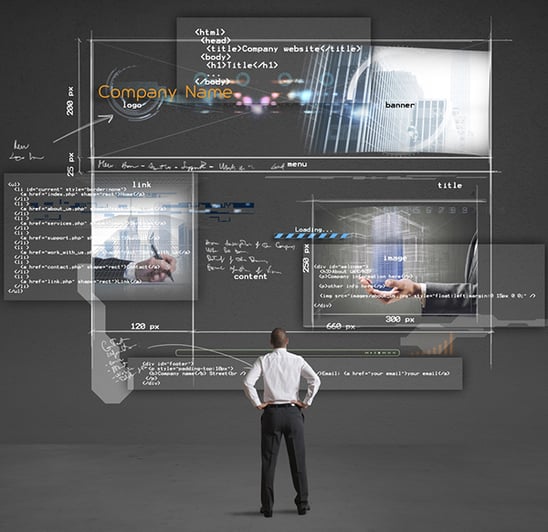 This is the "doing" stage. You take the information you've compiled from the strategy phase and begin to build your website. Incorporate only the most important features you prioritized while strategizing your goals.

In this phase, experts recommend including no more than 20% of your wish list. It's good practice to create a month-to-month development plan. The general objective should be to plan and build assets that improve upon your current website in ways that can be measured for impact.
Developers use the phrase launch pad website because, during this time, the goal isn't perfection. The goal is to create a functional, user-friendly website that allows you to determine what weak spots, if any, exist. You're not married to anything on this website and the web design because you know that depending on what the analytics show, you'll make adjustments as needed.
Keep in mind however that even though this website is a work in progress, you still want to present your business's brand in the best possible light. Be mindful of user experience principles such as:
Color theory

Font size

Competing design elements

Walls of text

Load times

Mobile-friendly responsive design
3. The Continuous Improvement Phase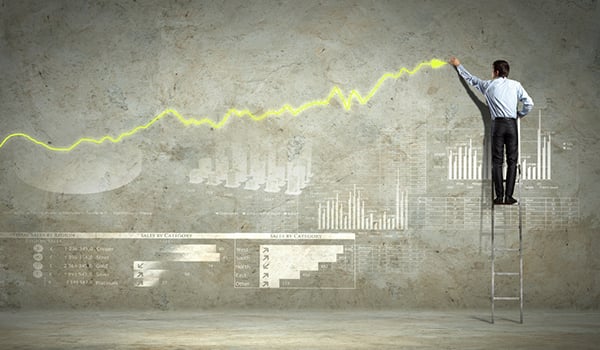 As the name implies, when you reach the continuous improvement phase, you will always be in this phase. You continue making adjustments when the data dictates that you should. Immediately after the launch pad website is active, your initial goals are to watch the analytics and determine if any of the current features are effective or should be edited for maximum impact. Be sure to give yourself enough time to monitor behavior - one month is the bare minimum in most cases, unless there is a glaring error or glitch.
Only after those top-tier priority items perform properly do you begin to address and incorporate the other wish-list entries. You don't have to add them all at once because you're going to let the analytics guide your web design plans. Gradually add new features or functions, watch the data, and make adjustments as needed.
---
Why Growth Driven Design is Preferable to Traditional Web Design Strategies
Compared to other classic web design planning processes, you'd never launch a website that wasn't 100% perfect. And for this reason, many people view web development and web design projects as a pain and a time suck. In many cases, it can take months or even a year to create the "perfect" website due to how many challenges are inherent in the process.

Traditional Website Redesign Challenges
A traditional website redesign begins with a thorough analysis and planning phase. Next, a team of designers implement a range of changes that span the entire site, and a brand new, completely redesigned website is launched. These changes are made in hopes that they'll stand up to digital marketing and visitor expectations as time passes, because a new site often won't be updated again until another website redesign is proposed.
Traditional website redesigns:
Are high risk

Require a large up-front cost

Require significant time and resource commitments

Often run late and over-budget

Have unpredictable results

Use a one-and-done mentality

Leads to a weaker website over time
Why Growth Driven Design Offers a Better Alternative
A growth driven website redesign begins with the same type of analysis and planning phase as a traditional redesign, but the GDD approach allows room for incremental changes and budgeting as the year progresses. An initial launch pad site—a new website that's better than your current site but not perfect—serves as the foundation on which changes and data-driven improvements (based on buyer persona behavior) are made on a month-to-month basis.
Growth driven website redesigns:
Minimize risk

Launch quickly and continuously improve

Launch on-time and on-budget

Are an investment spread over time

Implement data-driven changes

See month-over-month improvements

Lead to a stronger website over time
The traditional process includes constant backend tinkering and even focus-group or test-case reviews before rolling out a landing page. Traditionally, you wouldn't launch a website redesign so soon. Because of the time requirements associated with traditional website builds, no one would want to go back into months of strategy and design immediately after a launch. So, in terms of time and budget, GDD is a faster way to go from ideation to reality without the pain and drama. And this is especially true if you're a small business with a limited budget.
The agility that GDD offers allows you to stay relevant and to make course corrections quickly and as needed. You rely on real-time data compiled within the last few weeks to determine whether certain elements on your website are performing well. In contrast, with traditional web design, you might rely on much older data sets and make decisions based on now-irrelevant factors.
Are there any Drawbacks of Growth Driven Design?
Growth driven design is a more predictable strategy in terms of budgeting, but the increased long term cost associated with GDD (given the nature of incremental changes over time) may be a perceived downside. Expect to spend twenty percent more for a growth-driven website redesign project than you would a traditional website redesign, but you can also expect more than twenty percent back in terms of value and results.
---
Shorten the Time to Launch Your Website Using Growth Driven Design
First impressions of a company website are crucial. Research on user attention shows that visual appeal can be assessed in as little as 50 milliseconds, meaning that viewers will form an almost instantaneous assessment of your website upon arrival.
Given all the benefits of Growth Driven Design, there's no reason to rely on outmoded design strategies. While GDD does require that you listen to the data rather than focus solely on what you want, it's designed to boost web performance over time and turn your website into a lead and sales machine that creates the best possible impression on new visitors.
Good GDD creates a happy balance between new features while maintaining top priorities from the strategy stage that appeared in the initial launch. Learning how to implement GDD can be hard if you're unfamiliar, but The Creative Momentum knows how to bring your online vision to life and implement agile adjustments to keep your website relevant to your business goals.