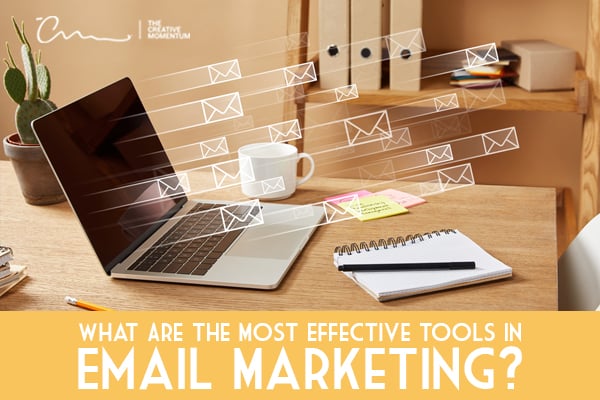 Email might be one of the oldest internet platforms, but that doesn't mean it's obsolete. Email generates incredible returns on investment, bringing back an average of $38 for every dollar spent.

You read that right: 3,800% ROI. But you're going to see those numbers only if you properly manage your email marketing campaigns.
A successful email campaign is the result of a carefully thought out plan that may include segmentation, A/B testing and drip campaigns amongst many other variables.
Luckily, there are plenty of tools available to help you manage all that information to get you the 3,800% ROI you deserve. Here are some of our favorites.
---
HubSpot
When you Google "best email marketing tools," HubSpot almost always lands in the top spot. It's considered the best all-in-one tool for inbound email marketing.
The simple drag-and-drop editor lets even the least tech-savvy person create a responsive email quickly. The editor lets you easily add calls to action, images, colors, fonts, and logos.
Once you send the emails, HubSpot keeps track of everything. You can view open rates, conversions, and most popular content, so you know which strategies are working.
HubSpot also features one of the best A/B testing tools available, so you can see which emails performed better and why. Use this information to boost your campaigns for more sales and higher ROI.
All these incredible features come with a budget-friendly price tag of FREE! HubSpot allows marketers to send up to 2,000 emails per month at no charge. If you go beyond that, upgrade packages start at just $50 per month.
What to know:
Wide range of features
Free to use up to 2,000 emails per month
Customizable drag-and-drop templates
In-depth analytics for traffic and conversion rates
Constant Contact
Constant Contact is the veteran of the email marketing world. It's been around over 20 years and helps businesses of all sizes perfect their email campaigns.
Where Constant Contact separates itself from the pack is with simplicity. It's incredibly easy to start new email campaigns with hundreds of pre-built templates and a user-friendly drag-and-drop editor for customization. Since 81% of people prefer to open emails with their smartphones, all Constant Contact templates are mobile-optimized.
To make email campaign management even simpler, Constant Contact features handy automation tools like customized welcome messages for new subscribers and drip campaigns based on subscriber actions.
Constant Contact also provides in-depth analytics for click-through rates and interactions at the subscriber level to give you detailed information to use in future campaigns.
All these features integrate well with other software like Shopify, WordPress, QuickBooks, Gmail, and more for a seamless experience. Get started making incredible emails right away with a 60-day free trial.
What to know:
Hundreds of pre-built templates
Simple drag-and-drop editor
Detailed insights for each subscriber
Automation tools
Platform integrations
60-day free trial

Mailchimp
Mailchimp is a popular email marketing tool for startups. New businesses love it because it's free to start and can scale with their needs.
Price is a major benefit for Mailchimp. It's free for up to 2,000 subscribers, which is why so many low-budget startups choose this option. By the time they grow their business, it's easy to support the reasonable paid packages Mailchimp offers.
If you're unsure how to build your email campaigns, Mailchimp is backed by 24/7 expert support, a directory of trusted pros, and an extensive resource database to help you get started. It's a platform designed for beginners and built to scale with their needs.
What to know:
24/7 expert support
250+ app integrations
Free up to 2,000 subscribers
Sendinblue
Sendinblue is a favorite email marketing tool for solo companies and startups for its incredible free plan with unlimited contacts and up to 300 emails per day. Not many email marketing tools offer such a great deal!
It's simple to create customized emails with a drag-and-drop builder, and the automation features will make campaign management a breeze.
And Sendinblue can do much more than just manage email campaigns. It can integrate with SMS, Facebook, chat, and retargeting ad campaigns to reach consumers across multiple channels.


What to know:
Free to start
Unlimited contacts
Drag-and-drop editor
Cross-platform campaign management
GetResponse
If you're looking for something a bit more than just an email marketing tool, GetResponse might be for you. It offers all the standard email customizations and analytics with a powerful additional feature: an automated sales funnel.
GetResponse uses a unique feature called Autofunnel, which creates automated sales funnels that follow the buyer's journey. Create landing pages, online ads, website popups, and eCommerce integrations that work with your email campaigns to maximize conversion rates.
Once you build your automated funnel, users are guided through the sales process according to your strategy, which makes it easy to manage your inbound campaigns.

What to know:
Automated sales funnel (with templates)
Cross-platform integration
200+ email templates
24/7 support
ConvertKit
ConvertKit, an email marketing tool designed for eCommerce businesses, allows users to create automated sales funnels at an affordable price. It features over 70 third-party integrations, so you can link email campaigns with your websites, landing pages, and eCommerce platform to guide consumers toward the sale. It's entirely conversion focused.
While ConvertKit does come with a few templates to help you get started, the templates are rather plain, and the builder could be better. This tool is best used for sending quick, clean, sales-driver emails to your customers. If you're looking for ultra-customizable emails with tons of features and templates, this might not be the platform for you.
What it lacks in templates and features, ConvertKit makes up for in price. Under 1,000 subscribers will cost you only $29 per month. With a powerful automated sales funnel included, that's hard to pass up.

What to know:
70+ third-party integrations
Automated sales funnel
Price starting at $29/month
MailerLite
For simplicity and affordability, it's hard to beat MailerLite. As the name suggests, MailerLite is light. It doesn't have the extra features and functionalities that some of the other email marketing tools on this list have. It sticks with the essentials to create simple and straightforward email campaigns on any budget.
MailerLite might be basic, but it offers enough features to create effective campaigns. You'll have access to a user-friendly drag-and-drop editor, subscriber segmentation, A/B testing, and some integrations.
If your subscriber list is under 1,000, you can use MailerLite for free and send up to 12,000 emails per month. If that's not enough, premium plans start at just $10 per month and allow unlimited sending to your entire subscriber list.
If you're looking for a basic, budget-friendly email marketing tool, MailerLite is a solid option.
What to know:
Free for under 12,000 emails per month
Premium plans start at $10 per month
Basic features
---
Getting Started with Email Marketing
Email marketing is a powerful way to guide users down the sales funnel and keep your brand top-of-mind. Choose the email marketing tool that best suits your needs and get started on your journey to more conversions. With proper email campaign management, you'll see a 3,800% ROI in no time.