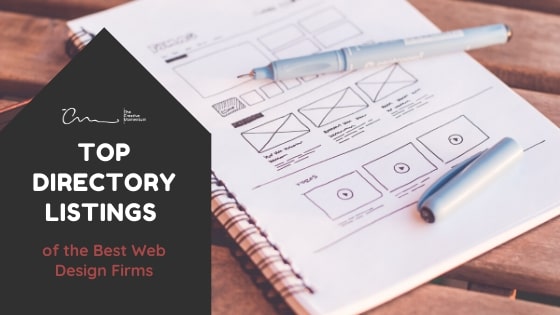 The old saying "it's hard to find good help these days" may, in fact, have first been uttered by a struggling site owner looking for the best web design company.
And trust us when we say that we understand! It's not easy to find a web design firm that's capable of meeting your project goals while staying within your budget, which is why we'd like to take a moment to review a few of our favorite web design directories that can help companies find an agency that suits their needs.
Clutch is first on our list for a reason. It's one of our favorite directories. It has just about everything you could ever want from a web design directory and boasts 46,181 firms and a slew of cool comparison features that make it super easy to review your choices.
Web Design Company Profiles
Clutch features a nice, orderly layout with individualized cards that detail key metrics for various web design companies:
Name/tagline
Primary testimonial
Company data (business size, pricing, location)
Service focus
Contact details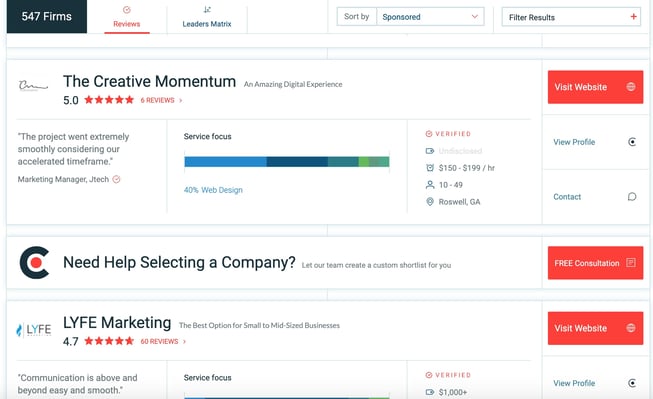 All you have to do is scroll down, and you can get an easy sense of how companies compare. It's a user-friendly layout that comes complete with the search and filtering tools you'd expect from a directory of the best web design firms.
If you want to learn more about a given company, you can click to view the company's full profile that details everything you'd ever want to know about the designers, from their location to their work portfolio to a detailed breakdown of past projects. We particularly enjoy that last part. Project summaries tied to customer testimonials is a great way to showcase the abilities of a web design firm, and it makes it super easy for viewers to get a sense of what the firm is all about.
Data Visualization Tools
Another thing we love about Clutch's directory is the fun data visualizations in their comparisons. Although simple, these charts offer a different perspective on how different firms stack up against each other and why a firm might be better suited to one company over another.
The first of these is the colorful bars they map out for each company's main services. This is a nice way to get a broad overview of what the design firm spends most of its time on—and whether their work history aligns with your own company's needs.
Another fun visualization that sets Clutch apart is the Leaders Matrix. This graph compares various web design firms on their services against their ability to deliver those services and sorts results into four categories based on their capabilities: Market Leaders, Proven, Emerging, and Niche. Naturally, most of Clutch's top-rated companies fall into the Market Leader side of things, but a tool like this can be a big help for companies that aren't familiar with what distinguishes one web design firm from another.
Credentials and Verification
One last thing we'd like to note about Clutch is its verification layout. Within each company profile, readers can view business entity details, formation dates, jurisdictions of formation, and even payment/legal filing details, when available.
This might seem like just legal boilerplate, but credibility is an important part of web design firm selection. By outlining these details, Clutch provides visibility into its listed companies and offers readers some assurance that the companies they (may) work with are trusted, legitimate entities that can be counted on. Web design quality aside, this credibility is one benefit that's hard to overstate.
Next on our list, we have GoodFirms. Like Clutch, GoodFirms works as an all-in-one resource for finding the best web design firms. It features powerful search tools and a collection of over 11,000 companies in its compendium.
Web Design Company Descriptions
The site's UI is built around large blocks for top-listed web design companies and describes the company's features, service pricing, size, and location. Within each of these blocks, readers can click through to see work reviews, examples of past work in the portfolio, or the company website itself. One nice thing about this layout is that all descriptions are organized clearly in a single column on a single page. You won't have to worry about clicking next … next … next … as you browse. Everything's right there in plain view.
Of course, this doesn't mean much without a supporting system of search to back it up. Fortunately, GoodFirms has this in spades.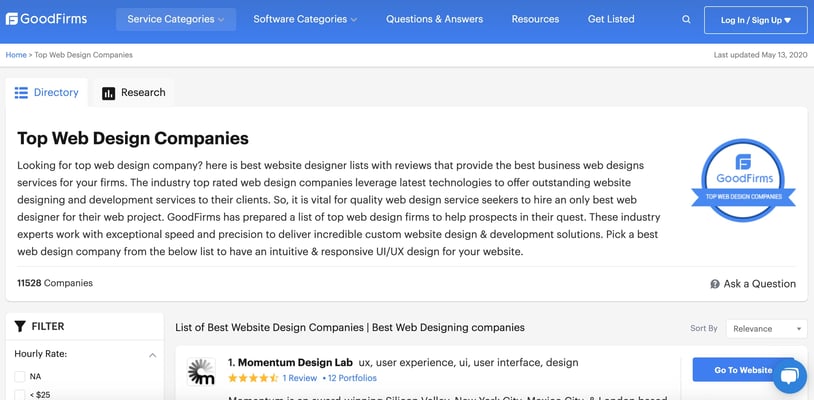 Powerful Search Tools
When you visit GoodFirms, one of the first things you'll notice is the filter slider on the left side of the page. This is one of the best things about this site—the helpful search and filtering tools that make it easy to find what you need. The top-level filtering criteria are related to pricing and the web design firm's hourly rate. This is a great starting point, as web design and development costs are often one of the biggest deciding factors in firm selection.
It's not all about price, though. Keep scrolling, and you'll find filter options related to company size and location, the latter of which is quite impressive. The site boasts over 100 different countries to choose from, and while not all of these countries may feature substantial numbers of web design firms, it's a great tool for company selection.
While many businesses are fine working with overseas companies, there are plenty of legitimate reasons to look for companies closer to home. With GoodFirms' search features, companies can sort by the specific criteria they need to ensure that all results are relevant.
Data and Research
Naturally, GoodFirms comes complete with data and analytics related to each web design company's service offerings. The directory sorts these into six categories:
Overall review score
Portfolio ratings
Market penetration
Industry experience
Web UI and UX
Web creativity
Each of the best web design firms is ranked from one to 10 for each of these categories and then assigned an overall value (out of 60). What better way is there to make comparisons? While some of these criteria may be subjective (we aren't entirely sure how Web Creativity is assessed, for example) the overall framework is an important tool to assess firms side by side.
Armed with this data and the helpful search tools, companies can use GoodFirms to make quick, customized searches for design companies and compare each company's metrics against one another. It's a simple system of assessment that we believe is important for any company to consider before outsourcing, whether they're looking for design, development, UX optimization, and more.
Third on our list is 10BestDesignFirms. Industry veterans may be familiar with this one, as they've been around the block a few times. Nevertheless, they've stood the test of time as a great resource for locating the best web design companies near you.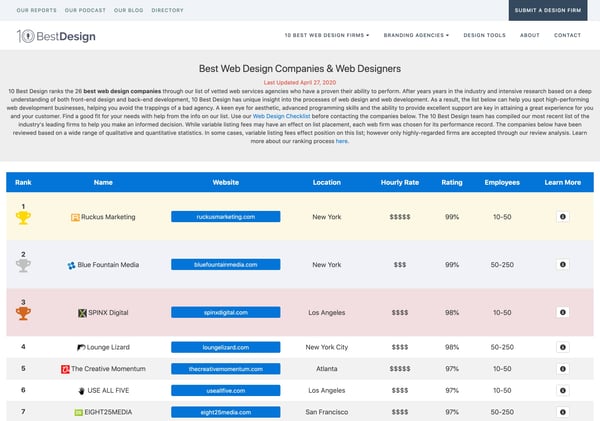 Descriptions and Layout
One thing you may notice right off the bat is how clean and simple the layout is. Compared to, say, GoodFirms, 10BestDesignFirms takes a more minimal approach to its presentation. On the primary directory page, readers will see a list of the highest-rated and best web design firms, organized in an easy-to-view list format.
Within, readers can view basic company details, general pricing, general ratings, and company size. If you're curious about a given company, there's a button that'll take you to a more detailed company profile, complete with location and contact information.
Simple and Functional
10BestDesignFirms lives true to its name. It's not a collection of all possible web design firm options; it's a careful cultivation of the best. As such, this means that search functionality and the overall scope of which agencies you'll find are limited. Despite that, it's a great resource for companies to dip their toe into the waters and get a feel for how top-performing web design companies stack up. It's a layout that prioritizes simplicity and functionality in its design, which can be a breath of fresh air when compared against other directories' cluttered layouts.
Next, we have Upcity. As the name suggests, this directory bills itself as an all-in-one marketplace for service providers with an emphasis on region-specific searches. If you're looking for a directory that can list out the best web design firms in your town, look no further.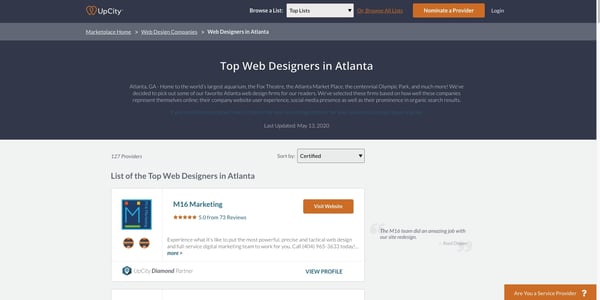 Company Descriptions
Like others on this list, Upcity lists its web design companies in a card format that details the company information, a brief description, and a general rating. Unlike the others, though, Upcity keeps these details to a minimum. If you want more detailed information about a given provider, you'll need to click through to the company's profile page. Of course, when you do, you'll be treated to a great collection of company details that should tell you everything you need to know about the provider:
Summary of business details (employees, revenue, location, etc.)
Customer reviews
Services and products
Examples of past work
In other words, Upcity keeps the information to a minimum until you click through, at which point, you're free to explore the company in depth at your leisure.
Category Search Tools
Upcity's search and filtering tools offer a great middle ground compared to the other directories on this list. They're more extensive than 10BestDesignFirms but perhaps less comprehensive than GoodFirms or Clutch.
Upcity offers several search categories in its layout, including options to search by name, number of reviews, overall review score, Upcity rating, or certification. (This is all in addition to the top-level regional search tools that let you select certain cities.) We enjoy these search features—particularly the option to search by total number of reviews.
We've all had the experience of searching for the highest rated option in a list and receiving top-rated contenders, each of which with only one or two reviews. Not the best outcome. A 5-star rating across 1,000 customers means a heck of a lot more than a 5-star review from a single user. Upcity offers a way around this and guarantees that rankings have enough data behind them to be viable assessment tools.
Detailed Testimonials
Another aspect that sets Upcity apart is the intense, detailed customer testimonials they provide. After viewing a company's profile page, readers can scroll down and read extensive summaries of various customers' experiences. These include a basic 5-star rating system, descriptions of the services rendered, the budget allocated to the project, and a 10-point ranking system that scores the company on its industry knowledge and communication skills.
That last point is key. As industry veterans know, communication is one of the most important aspects of web design. More often than not, projects experience bottlenecks, not due to development snags but because of poor communication between provider and customer. It's normal for web design projects to be extended by weeks (or even months) when communication is lacking, so it's great that Upcity makes this aspect a priority in its rankings. This option may be particularly helpful for customers who have been burned by poor web design experiences in the past.
Last on our list is DesignRush. This directory offers a little bit of everything: a card-based view that details basic company information, easy-to-find information on pricing, general company overviews, and outbound links to full company profiles.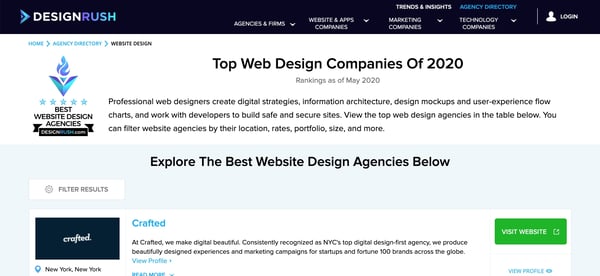 Web Design Profile Details
One thing we particularly enjoy about DesignRush is the in-depth web design firm profiles that readers can view by clicking through from the main page. In each company's profile, you'll get all the basic information you could ever want but presented in a unique way. The details are laid out to be easily readable and include accompanying images, even going so far as to work in unique design layouts or various services. Compared to most other options on this list, this framework really lets the company shine because it allows it to present itself in a more detailed way that's more similar to a landing page than a directory page proper.
Going even farther down on the page, readers can find information on the company's portfolio, examples of past work, and even bios (if available) on key team members. This is a level of detail that can go a long way in getting to know a company before committing, and it's one that's hard to find in your average web design directory.
Finding the Best Web Design Firms for Your Project
The proliferation of web design companies on the market is both a blessing and a curse. You have more options than ever—but how can you be sure you're making the right choice?
We hope the above rundown gives you some food for thought about which platforms can provide these key details. There are plenty of web design companies out there capable of meeting your goals. You just need to do your research and make sure you're connecting to the ones whose services and experiences align with your own.