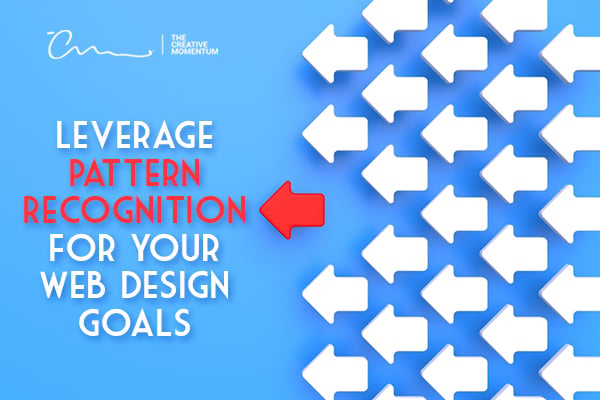 Website design is a multi-faceted area that pulls from several disciplines. These include search engine optimization, visual design, computer programming, marketing, and even a bit of psychology. Pattern recognition can be used to combine all of these crucial elements into one, cohesive focus point. The trick is to resist the desire to reinvent the wheel in the name of creativity. While unique patterns have their place, in website design, familiarity delivers much better results.
---
What Is Pattern Recognition?
If you walked through a dark residential neighborhood at night and saw only the faint shape of buildings, you would know they are houses. You don't need to see the front porch light on or a light in the bedroom window. You already know by the shape of the silhouettes that these are residences. This is because the human brain has evolved to recognize patterns. Pattern recognition plays out in many aspects of our lives, such as when visiting a website.
For example, most people expect the navigation bar to be on the top right for a mobile website and near the top of the page for a desktop one. They also expect rectangular boxes for clickable targets and underlined, bolded letters for links. When designers and business owners stick to these designs, it reduces the risk of confusion.
---
What Are Your Web Design Goals?
A website is a must-have when building or growing a business. Because of this, some business owners treat it as another item to tick off their corporate to-do list. Instead of taking this approach, spend some time deciding what the website design goals are. Ideally, the website goals align perfectly with the business goals.
For example, if a coffee shop wants to encourage more sales, there are a number of ways it can use a website to boost the bottom line:
Make it easy to order takeout or delivery via the website or an accompanying app.
Encourage app downloads to receive or redeem coupons or points toward free cups.
Use web push notifications to remind buyers to stop by for their morning coffee.
Use web push notifications to inform buyers of what's on sale for the day or week.
Make it easy for buyers to find coffee store branches near their current locations.
All of these features boost a business's bottom line by building loyal and engaged customers. What more could it possibly ask for?
---
How Does Pattern Design Help With Web Design Goals?
When it comes to business, it's easier to leverage the natural flow than to re-channel it. Creatives and entrepreneurs who love a challenge may find this disturbing, but it takes a lot of time and money to go against the grain. It's best to align web design with established patterns, just as it's easier to float downstream instead of swimming upstream.
Using Pattern Design Leads to a Better Experience
You might not be conscious of the patterns you recognize when using a website, but you'll notice when they're missing. Your customers will too. When everything falls into place and into the expected positions, there is less confusion and higher conversion rates. This is especially true for people using smaller screens.
Using Pattern Design Improves Accessibility
People with impairments are used to navigating their way through an ableist world. Even so, companies can make a big difference in their lives by building on established patterns to improve accessibility. For example, left-to-right alignments are better for people with dyslexia and accommodate the way most people read.
Using Pattern Design Leads to Better Results
Good web design requires more than just creating a beautiful and user-friendly website. It should also contribute to the bottom line in the form of sales. When designers leverage pattern recognition, they reduce bounce rates and increase CTA click-through rates. Consequently, higher conversion rates is a solid indicator that you achieved your web design goals.
---
How Can Designers Leverage Patterns in Website Design?
Because patterns are subconscious associations we make over time, it can be difficult to identify them. An experienced professional can make the job much easier. Designers and marketers have experience in how websites work and how they generate leads. Consequently, they can work backward to determine what patterns to prioritize for your website.
Map the User Experience
When a professional builds a website, he or she maps out the natural progression customers take toward conversion. Consider the coffee shop example.Most people who visit the website are there to purchase something, so the home page might showcase what's on the menu and an "Order Now" CTA. Companies with more complex sales funnels might need a different approach.
Make Closing Pop-Ups Easy
One of the most disruptive elements on a website is the pop-up box. It rarely matters what it says. More often than not, people want to close it. Adding "Close" or "Cancel" as an alternative to the popup's call to action is an excellent idea. Another expected closing option is a large "X" at the top right-hand corner of the box. If customers can't figure out how to close the pop-up, they will leave the website.
Highlight Clickable Items
Physical buttons are easy to identify on keypads and inside a vehicle. Websites that mimic this with their clickable items might experience higher click-through rates on those items. Older websites use 3D effects. More modern websites use shapes and colors to denote the purpose of the box.
Test the Website
Before you publish the new website, get some feedback. Let customers or pilot testers use different versions of the website to determine which design would best suit their needs. Ideally, these final versions for testing have very few differences. For example, you might experiment with different button colors or put the navigation button at the top versus the left-hand side.
---
The Bottom Line
So how is pattern recognition useful for web design goals? The simplest answer is: you're giving people what they want by providing what they expect. Make yourself unique and exceed their expectations in product or service quality. At The Creative Momentum, we help our clients design websites that their customers love and that feed their bottom line. Find out what we can do for you.