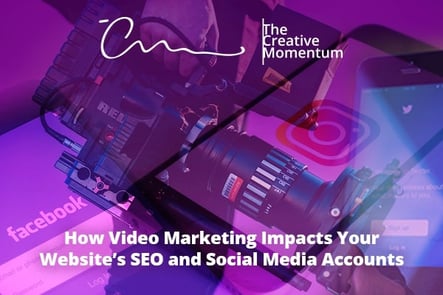 Cisco forecasts that by 2021, video will drive 82% of all internet traffic. Marketers must accept this disruptor and prepare for it. People love video because it's a "quick win." We can consume content without reading an entire blog. We can see products we are evaluating for purchase and watch them in use. People are spending more than an hour every week watching video on social media.
So the question is: How can I use video marketing to benefit my business?
How can I use videos on my website?
Video marketing is one of the best ways to drive traffic to your website. Google loves it, too! Businesses that include videos on their website have a higher engagement rate, meaning users stay on the page longer, so search engines decide the content on the page must be relevant and it positively affects your ranking.
How can I use videos on my social media profiles?
You don't need a YouTube channel to distribute videos. Social media is adapting to accommodate video marketing, across the board. The same Cisco study forecasts 13% of all traffic will be LIVE video. So Facebook Live must be onto something. Facebook also allows you to change your cover photo to a video that plays when users visit your profile.
Create short video snippets for Twitter, no more than 30 seconds or so. Yes, you can creatively fit some great information into 30 seconds! Just consider the social media channel you're using, remembering Twitter is known for its brevity. Longer video can be posted on LinkedIn or Facebook.
How can I use videos to drive traffic to my website?
We are living in an "entertain me" era. If you create videos that people love, they will keep watching. Videos are a storytelling medium.
Use videos on social media to tease content you post on your website. Post a 30-second video to Twitter and go into a deeper dive on your website. Post videos about your company's employees, things your business values and product demonstrations.
If your business is service-oriented, create videos with members of each department. Round up a sales rep to spend 2 minutes discussing needs they see in other customers and how those clients have overcome challenges. Or sit down with the CEO to discuss leadership strategies.
Whether you are creative, witty, humorous or strategic, adopt video marketing tactics sooner rather than later. Video is being called a marketing industry disruptor, so get ahead of the curve! We would love to talk through your marketing goals, so contact us today to learn how one of our award-winning explainer videos might be the right place to start.