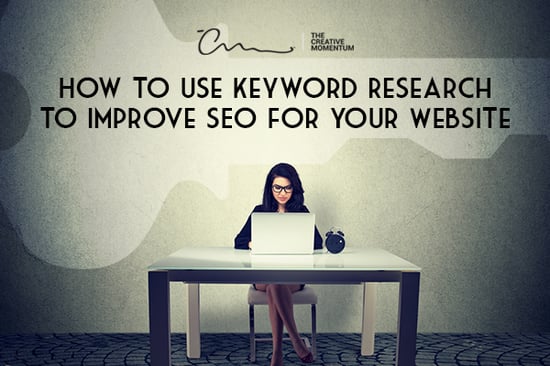 Maybe you're in the process of designing your business website. Or, maybe you've decided to launch a blog. Whatever the reason, you know that you want to create high-quality content that's going to help influence visitors to take action.
Whether your business offers a service or a physical product, having a keyword planner and well-crafted copy are important SEO tools that help to drive qualified traffic to you — serving as a lead generation tool. But to achieve that goal, you need to be intentional with your content development strategy. And that starts with proper keyword research, completing a keyword planner and implementation.
---
What Is Keyword Research?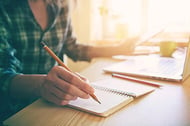 Approach content development as if you were writing a term paper in school. The first thing your teacher told you to do was to research a viable topic. When planning your website content, you need to do the same thing. Think about the topics you wish to tackle and take it one step further by performing keyword research.
Applying keyword research into a keyword planner simply means that you're determining which words are the most important words or phrases used in search results related to your topic or industry.
For example, pretend you own a business that provides commercial HVAC services. In most cases, your target customer is a building facilities manager. This individual is focused on keeping essential background services operating smoothly and is most likely going to search for a service provider that's reliable and experienced.
As part of your content strategy, you'll want to make sure keywords such as "commercial HVAC management" and "HVAC services for multi-use facilities" are spread throughout your website pages in a natural way. For further content, such as blogs or videos, you might want to discuss why routine maintenance is important, the basics of installing an HVAC system in a commercial building, or ways to optimize high capacity HVAC systems and save money.
All of these topics are relevant to your industry while also appealing to your target customer and should be incorporated into your keyword planner.
The Benefits of Keyword Research
If your goal is to drive more traffic to your website through long-form content, then keyword research is an absolute must. Rather than guessing at what search terms not only align with your business goals but are most likely to be used, engaging in keyword research ensures that you're using the right words or phrases.
Specifically, you're aiming for words and phrases that offer high visibility with minimal competition. With our example of the commercial HVAC business, you might want to leverage localization to modify keywords that may be too general such as "HVAC" or "commercial HVAC." So if your business is based in Indianapolis, adding the city to the keyword phrase may boost your results. This can be beneficial for two reasons:
Whereas "commercial HVAC" is fairly generic and may pull results from more authoritative websites nationwide, "Indianapolis commercial HVAC" will produce fewer results. That means less competition for visibility, giving you a better chance of appearing higher in search results. As we said above, even adding the word "management" to the end of "commercial HVAC" will help.



Anyone searching for "Indianapolis commercial HVAC" is most likely local to your area. And in most cases, if someone is actively searching for that topic, they're most likely to be a motivated potential lead. So, with the right content, you could convert them from a visitor into a customer.
Keep in mind these rules are not black and white: you don't need to add keyword modifiers in your keyword planner such as Indianapolis or management every time you mention HVAC or commercial HVAC. Search engines are fairly robust and will pick up on other clues from your overall website, for example, if you list your location on your website or maintain a Google My Business directory listing.
---
Putting Keyword Research Into Practice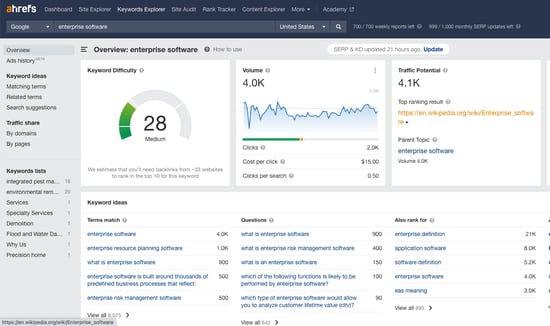 Ahref's keyword explorer: One of the best tools for performing keyword research is ahrefs, who crawls more internet pages than everyone other than Google
Developing an SEO strategy typically requires that you're going to need a dedicated individual or team who oversees the process. Good SEO doesn't happen overnight, and more importantly, it needs to be maintained. Every time you create new content, you need to follow the below process to yield the best results.


Research Your Keywords
There are plenty of keyword research tools and keyword planners, but if you're concerned about accuracy, you can't go wrong with Google's keyword planner and research tool. While keyword planner is a Google Ads feature – meaning you'll have to set up an account – it possesses the most accurate data about keywords and their search volume, making it incredibly useful for planning a coherent content strategy. You simply enter your initial keywords and see how it ranks in terms of competitiveness, and alternatives that might offer better results.
Don't Forget Voice Search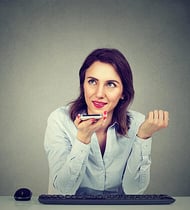 Voice search is here to stay thanks to voice assistants like Siri, Cortana, Alexa and even Google. And while it's very convenient for consumers, voice search can throw a curveball at content development. Unlike text searches, people tend to be wordy when performing voice searches. The text query "Indianapolis commercial HVAC" can transform into "are there commercial HVAC services near me in Indianapolis" when submitted as a voice query.
Thankfully, Google does a great job at sifting through voice queries and aggregating search results so that similar content is displayed for both text and voice search results.
Does this mean that you need to somehow force the awkward (and long) phrase into your content? Not necessarily. But you might want to include long-tail keywords such as "commercial HVAC services in Indianapolis" into your keyword planner. Let's review a great example of this strategy in action.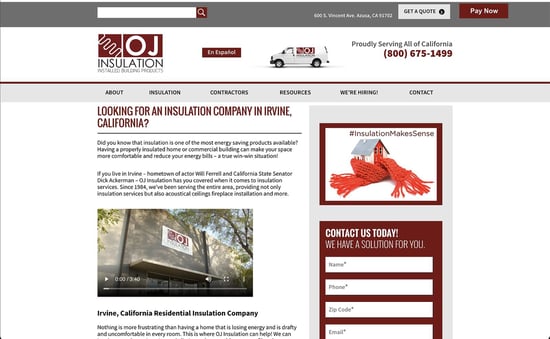 When searching for "insulation services," from geolocation of Irvine, CA this website (screenshot of landing page above) is the second result under "People also ask" Google suggested related search queries. Here's how they incorporated the relevant long-tail keywords into the keyword planner :
The sites URL is: https://www.ojinc.com/

insulation-contractors-irvine-california

The pages's title is "Irvine, California (CA) Insulation Contractors | Home & Commercial Insulation Company,"
It's meta description is "Looking for an insulation company for your home or commercial building in the Irvine, California area? Contact OJ Insulation today to learn how we can help you start saving money!"
"Insulation company in Irvine, CA", "insulation company," and "Irvine, CA" is sprinkled throughout the page in a natural fashion.
While this may not work so well every time, this is a great example of how to create content that appeals to those more specific long-tail keyword searches.
Alternatively, consider incorporating frequently asked questions on your blog posts or product pages. For example, if you perform a search for "Indianapolis commercial HVAC", the search results may return with the Google suggested queries mentioned above, titled "People also ask". These questions are excellent to incorporate into your website and can boost your rank in search results because you are helping your target audience answer their questions! If you craft the right copy, your website rank and be a featured snipped right on the results page to answer one of those questions. Likewise, at the bottom of the page, you'll find "Related Searches" which can also serve as smart keywords to include in your keyword planner and content or digital strategy.
Be Relevant and Mind Your Keyword Density
In the wild west days of internet marketing where anything could work as long as it attracted eyeballs, many websites leveraged black hat SEO tactics to boost page rank. This included random paragraphs of keywords at the bottom of a page, or even inserting keywords with invisible font (i.e. white font on a white background) into seemingly empty spaces throughout a webpage. While it worked at the time, Google and other search engines have long since banned such practices.
This means that your keyword placement needs to be intentional and make sense. Keyword insertions need to flow with the overall text and appear natural. More importantly, you need to balance your keyword usage against the overall word count. This is known as keyword density.
A general rule of thumb is to maintain a target density of one to two percent per every 100 words — or one to two keywords per 100-word segment. Meanwhile, most experts agree that for blog posts, you should aim for at least 300 words to be viewed as relevant by algorithms. So, with a 300-word benchmark, this means that you should have roughly three to six keywords throughout the copy.
And don't forget that you can break up your text with headers. This makes your content more scannable and therefore, user-friendly, and also serves as a perfect location for keyword insertion. Compared to the core body text, search engines prioritize headers.
---
Putting Your Content to Work for You
Good content ensures that your website is search engine-friendly and more discoverable with relevant search queries. While it doesn't have to be a complex strategy, content development is an ongoing process and it's best to create a plan with intention, nurture it, and maintain it just like you would any other aspect of your business. All of this should be taken into account when using a keyword planner.
The Creative Momentum has experienced content creators that can optimize your website with effective keyword research to yield the best results for your business.