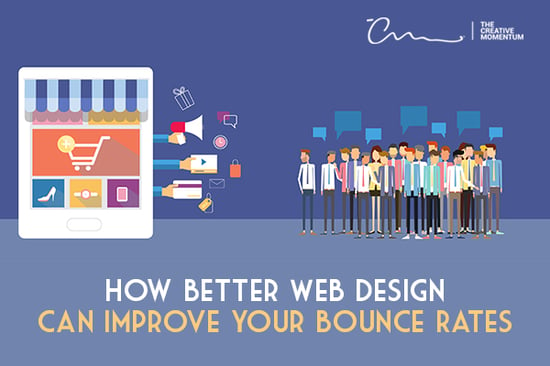 If you seem to be getting consistent website traffic, but that traffic doesn't seem to be taking any actions or clicking on your CTAs, it's most likely a bounce rate issue. If you're not familiar with the term bounce rate, it refers to the rate at which a website visitor "bounces off" your site's page without navigating to another page, converting into a lead, or becoming a customer. They come in, take a look around, and leave.
Your website is the most important part of your digital marketing strategy, and if you have a bounce rate issue from your website traffic , you'll need to make some web design improvements because the current design is somehow missing the mark, whether it's page load speed or another reason. According to Nagesh Lingayat in his article 16 Great Web Design Tips to Improve Bounce Rate, "A number of web design issues can lead to a high bounce rate, including confusing website layouts, outdated aesthetics, or even just slow load times."
Here are some of the most important ways web design improvements you can use to decrease your bounce rates and create a better experience for your website traffic.
---
Content that is Relevant to User Intent Keeps Visitors Around
How many times have you been lured to a website expecting information about one thing and found yourself reading about something entirely different? This is a frustrating experience to say the least. If you're not providing relevant information on your site—the information a visitor is looking for—then they will quickly bounce. Assess your website content and make sure it's relevant to your market. Give them many reasons to stay.
Target Relevant Keywords to Create Relevant Content
So how can you craft relevant content that considers user intent? Using thorough keyword research. We all know the importance of keywords in any digital marketing campaign. Keywords are equally important when developing website content. Don't make the mistake of writing content to target high-volume keywords just to attract that website traffic. Instead, ask yourself this: why are you developing this page, who is it for, and what search queries are you targeting? An effective keyword strategy utilizes all three types of keywords:
High-value
High-competition
Long-tailed
Another thing to remember: It isn't just about SEO. Yes, you want to use specific keywords to meet the expectations of the search engines, but you can't do it to the detriment of readability and the user experience. Keep your users in mind, and give them what they've searched for.
Faster Page Load Speed is Important for Attention Spans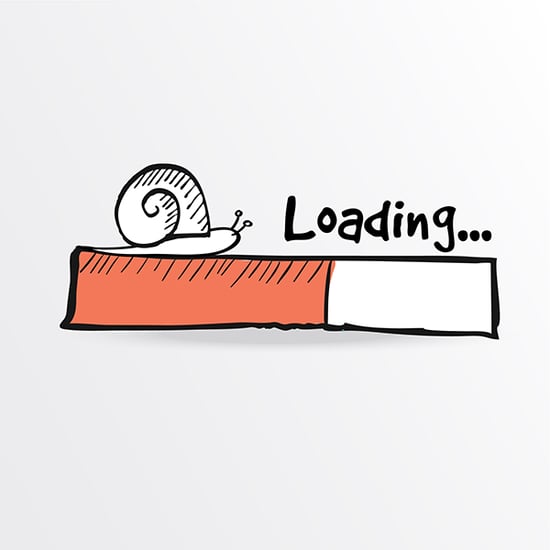 Page load speed is a well-known contributor to the bounce. In fact, research compiled on Kissmetrics shows that up to 40 percent of users will leave a website if it takes more than three seconds for a page to load. So if you're racking your brains for why visitors aren't engaging with your website, take a beat to consider maybe they haven't waited around to see it in the first place and that your page load speed needs improvement! Digital everything continues to shorten attention spans and unfortunately page load speed is the virtual equivalent to being stuck in traffic or waiting in line.
Here are a few tips to increase your site's load time ( page load speed ):
Compress image files
Get rid of plugins you don't use or need
Remove unnecessary characters in your code
Use a web host that provides faster load times
Faster load times will keep your website visitors engaged and on your site. Page load speed has also been shown to be important for SEO because it is one of the key determining factors for Google's algorithm as well as other search engines.
Use Visuals to Captivate Visitors

Humans are visual creatures. From food to clothes to gadgets, we're always looking for something appealing. One of the most important features of your website is its visual appeal. Is your site eye-catching? If it's not, it may be time for some changes. Think about using bold fonts, large text sizes, a pleasing color palette, etc. Show your visitors what's important on your site with clear visual cues.
Something else to think about regarding the visual experience is your font or fonts. It's a good idea to stick with sans serif fonts (sans serif fonts are those without the feet at the ends of letters) like Helvetica and Arial for headlines. These fonts make headlines easier to read. However, serif fonts are better for large blocks of text because those little feet carry the eye to the next letter. Notice that most books are printed in serif fonts. Limit your entire site to just two or three different fonts.
The more visually appealing your website is to users, the more likely they will hang around and see what you have to offer.
Keep Things Simple So Users Get What or Where They Want Quickly
Remember the saying "Keep it Simple, Stupid"? Do that. Nothing frustrates a website visitor more than a complicated navigation system. Ideally, each page should have a quick and easy way for visitors to get back to your homepage. In addition, every page should have a footer at the bottom and a navigation menu at the top. Keep it simple and don't make it easy for your visitors to get lost. Getting lost is a sure-fire way for visitors to simply give up and can decrease your website traffic.
Reviews Build Trust that Makes Visitors Stay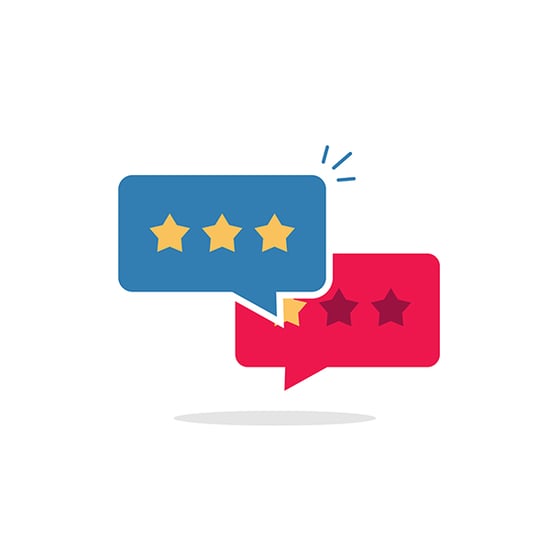 Trust is a big thing these days. And let's face it, we've become a cynical group of humans.
One of the most important things you need to do for users is prove to them that they can trust you, and your product or service. And what better way to do that than show them real, honest reviews or testimonials from previous or other current customers? Think about it—90% of online shoppers report reading reviews before they make a buying decision.
Create a separate page with testimonials or reviews to humanize your brand so your site visitors see your business as one they can trust.
Don't Make Them Hunt for Contact Info
This may seem a no brainer, but it's surprising how many companies don't take advantage of using a contact page on their websites. Many businesses simply put their contact information on the bottom of their site and leave it up to the customer to find some way to contact them if absolutely necessary. Big mistake.
Your contact page is one of the most important pages on your site. If users can easily find a way to contact you, they'll be more inclined to do so. If they can't find a way to get in touch, they may turn to your competition. Use your contact page as a call-to-action that explains to visitors why they should contact you and how you can help them. Let your visitors know that you're here to help them, and gain their trust. They'll be much less likely to bounce.
---
Are You Ready to Address Your Bounce Rate?
There are a variety of ways to enhance your website via content, appearance, and technical structure in order to keep users engaged. Remember that a high bounce rate isn't always a bad thing. In fact, a bounce rate around 50 percent from your website traffic is considered normal.

On the other hand, if you're struggling to reach the midline, or you're interested in reaching the top echelons of bounce rates for specific pages, we'd love to help you get there. Get started with a free quote.