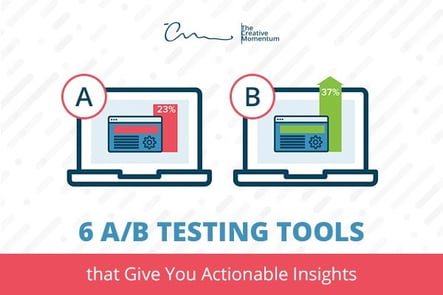 The idea of A/B testing should be SEO 101 for smart marketers. A big part of playing the marketing game and winning is finding out which pieces of your campaign are a perfect fit for the big-picture conversion puzzle. Fortunately, modern A/B testing tools come equipped with features and functions that help turn data into actionable insights.
Here are a few tools you should keep in your A/B testing toolbox.
1. Optimizely
Optimizely is a platform that prides itself on being able to refine every important campaign component working toward your marketing goals. An essential thread holding it all together for the platform is A/B testing competency and integration as part of the user conversion process.
2. Hotjar
Hotjar calls their A/B testing "split testing," but the concept is the same and the insights gained from the tool are worth the jargon jumble. Hotjar likes to utilize heatmaps and visual representations to help analyze user behavior, and the visual feedback is a unique way to warm up to campaign and page elements that customers are connecting with most.
An additional useful feature Hotjar offers is the ability to integrate with similar tools to give users a more well-rounded and actionable look at the A/B testing big picture.
3. Crazy Egg
Crazy Egg is also pretty fond of the idea of heatmaps and visual data insights, but the platform focuses more on the A/B testing aspect than Hotjar. While other tools made it easy to integrate with dedicated testing platforms, Crazy Egg went ahead and built its own A/B testing tool that you can try for free. The company boasts being faster and easier to use than the competition, and the focus on continuous optimization through quick and simple campaign element substitution is an attractive marketing solution.
4. Google Analytics Content Experiments
What can't Google's comprehensive suite of marketing and advertising tools do? It seems like the company continues to pump out useful tools and features aimed at specific marketing challenges. Content Experiments is a feature within Google Analytics that takes aim at A/B testing and actionable reporting. It's just another little perk that makes Analytics worth the deep dive.
5. Unbounce
Unbounce is a company that focuses on landing page success, and a big part of their strategy relies on actionable A/B testing capabilities. A strong, goal-driven landing page doesn't happen by accident, and Unbounce takes the guesswork and difficulty out of comparing landing page elements through effective A/B testing. Assigning traffic to asset variants, deciding which elements to test, and understanding the data to drive conversions are all part of the Unbounce philosophy.
6. Kissmetrics
Kissmetrics has become a familiar name in the content marketing game, so it's no surprise that their testing tools are intuitive and accessible.
The Kissmetrics A/B Test Report—which is just one of their marketing suite testing tools—makes it easy to organize and analyze data beyond a simple summary. Features, like changing a conversion event, visualizing your improvement history, and comparing multiple variants, are part of the platform package, and users can even implement data pulled from A/B testing tools like Optimizely and Unbounce.
Never Stop Filling Your A/B Testing Toolbox
The great thing about A/B testing, whether for marketing campaigns or website design, is that testing out a new testing tool is usually easy and stress-free. If one's not providing the insights you need, find a tool that works better for you. Combine different platforms to optimize your experience, and never stop filling your A/B testing toolbox with useful new tools.