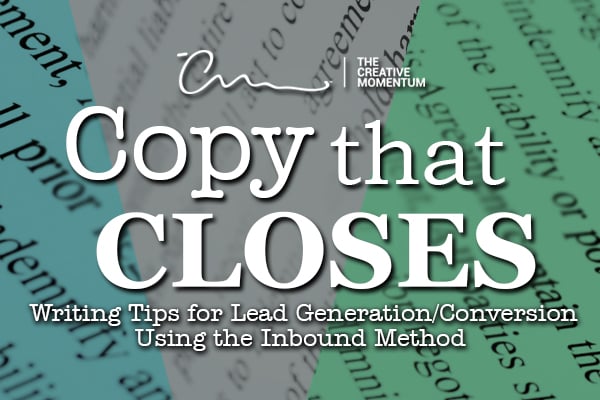 For inbound marketing, content is king. It attracts customers to your website and leads them through the sales funnel at their own pace. However, with billions of pages and trillions of words on the internet competing for attention, it's easy to get lost in the pack.
The solution: write exceptional copy.
Creating the right copy, for the right channel, at the right time, is the difference between following a dingy, overgrown trail that is hard to follow versus traveling a well-lit highway with plenty of signage and a GPS in case you get lost.
So get ready to cut down the weeds and call in the pavers. Here are some tips to help you create copy that closes.
---
Before You Start Writing, Do Your Research (Follow These Two Steps).
The most important part of creating online copy isn't grammar, punctuation, or a decent sense of humor; it's about knowing your audience. Writing long, flowing sentences that drip with metaphors and superfluous imagery is fun, but if your audience is just looking for some quick information, it might send them to a competitor who's more straightforward.

1. Develop Detailed Buyer Personas
Buyer personas are an important part of inbound marketing. They're fictional representations of your ideal customers based on real demographic data. These are the people you're writing for, and they play a crucial role in every stage of content creation.
Any time you create content, consult your buyer personas. Pick one and write specifically for him or her: which includes using words like "you" and "your." It'll help make your copy more engaging for the intended audience and lead them further down the sales funnel.
2. Know Your Buyer's Journey
If your copy is a path, the stages of the buyer's journey are the stepping stones that customers hop across to get to their final destination: the "buy now" button. The typical buyer's journey is split into three stages:
Awareness
Consideration
Decision
When writing copy, keep the buyer's journey in mind. What's the goal of your piece? If you're writing for users in the awareness stage, it doesn't make sense to push for a purchase. They're not ready yet. Instead, answer their questions and lead them into the consideration phase by offering a list of solutions that could solve their problems.
Each stage of the buyer's journey requires a different tone and content approach. Understand how your customers follow the sales funnel to create engaging copy that appeals to users in the different stages.
---
How to Write for Different Digital Channels
If you want to create copy that closes, pretend the copy/paste function doesn't exist. Every platform requires a different approach to the type of copy you create and how it's shared. A 1,500-word blog post looks great on a website but would scare people away on Facebook. Silly jokes work well on Twitter but might look unprofessional in an email campaign.
Take the time to create unique content for each marketing platform. Use proper content writing practices to keep your copy concise and full of action.
Website Copy
Website copy—including blogs—needs to be scannable. Make it easy for users to find the information they're looking for without reading every word. Here are some writing tips to make your copy scannable.
Include clear subheadings (and lots of them).
Use plenty of bulleted and numbered lists.
Keep paragraphs short.
Use simple and concise language; nobody has time to read all those words.
Stay away from overly complex words and vocabulary: write how you talk.
Every webpage you write should have a goal. Are you describing a specific product or convincing customers that your services are better than those of a competitor? Pick a goal and stick with it. It'll make your copy easier to follow.
Email Campaigns
There are two goals of an email campaign. The first is to lead customers down the sales funnel. The second, and arguably most important, is getting people to open the email in the first place.
The most important part of an email is the subject line. It's your email's first impression, and it needs to dress for the occasion. Around 35% of email recipients open or delete an email based solely on the subject line. Your email subject has one job: tell subscribers exactly what to expect in the email, as concisely as possible. If you need some ideas, here's a list of 164 email subject lines to boost your open rates.
Also, don't forget about the preview text. Aside from the subject line, this is the only other copy your subscribers might see without opening the email. Just like the subject line, if it's not appealing, your email will remain unread.
Finally, match your CTA to the subject line. If your subject line says, "10% off today only," you better make sure you have a big, clear button that says "Save 10% Now" for recipients to easily click.
The email body itself should be similar to web copy. Keep the writing simple and concise, write short paragraphs, have a single goal, and personalize your emails for specific buyer personas.
Social Media
Social media is a great way to generate leads and engage directly with customers, but it can also be tricky for writers. Each platform has its own set of rules, and if not followed, can significantly impact your performance.
💡Don't copy/paste across platforms. Always write unique posts.
Facebook: Maintain a casual, positive tone (there's already enough negativity on social media). Longer posts are okay if there's a purpose. Try to start a conversation with phrases like "tell us what you think."
Instagram: Since this is mostly a visual platform, captions are the only copy you'll need. Keep them short and sweet, include a call to action, and use plenty of hashtags.
Twitter: Keep it short; you have only 280 characters to get your point across. Keep your goal in mind and minimize the fluff. Make everything light and casual and show off your brand's personality.
LinkedIn: This is the most formal social media, but that doesn't mean your copy needs to be stiff. Keep it casual, while still professional. Show off your industry knowledge and build your network
.
Create a Clear Call to Action (CTA)
At the end of any good piece of copy, there's a call to action (CTA) telling readers what to do next. It's the little sign on the side of the road that tells them where they should go next.
Here are some tips for writing a strong call to action.
Make your offer clear.
Use action verbs.
Keep it short and sweet.
The goal of a CTA is to get users to do something. It could be to download a white paper, subscribe to your emails, or contact a salesperson. Whatever it is, it needs to make logical sense and correlate with your marketing funnel. An overly aggressive sales push in an awareness-stage piece might turn some readers off. Remember to keep your buyer personas and buyer's journey in mind when writing your CTAs.
Now that you understand how to write copy that closes, build your path! Write for your buyer personas, know your buyer's journey, create unique content, and always point the way to the next step with a CTA. If you make the path easy to follow, you'll be on your way to generating more leads and conversions.