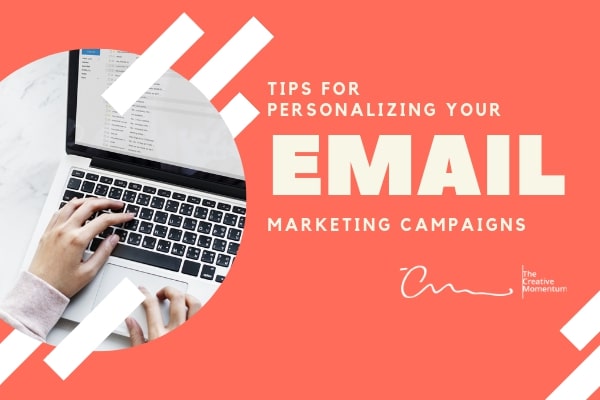 Regardless of the industry, email remains one of the most powerful inbound marketing tactics. There are few other options that consistently allow marketers to cater specific, tested, and customized messages to individuals and businesses that could benefit from your services. With the advent of CRM (customer relationship management) systems, which provide valuable analytics, marketers can cater to hyper-specific customer niches. The opportunity to deliver the exact message to the right person at the right time is easier than ever.
Using the resources available to you and your marketing team, personalizing the content of your email marketing campaigns is vital. Here are some tips that you can utilize to personalize your emails and improve your clickthrough rates across the board.
More than Just a Name
One of the simplest ways to personalize a marketing email is to use the recipient's name in it. In fact, using the recipient's first name in your subject line can increase open rates by as much as 20%! Any other relevant details you have about them can also be included - provided you use them sporadically and organically.
For example, if your company operates in the B2B space and you know what companies your email recipients work for, incorporating their company names into your email is a great way to improve open rates. A useful piece of personal information you can include in B2C emails is your customer's current subscription level. For example, if a customer has a basic account but is engaging with your business in a way that might benefit from a premium account, take the opportunity to point that out.
Targeted Subject Lines That Hook
A common mistake marketers make in their email marketing campaigns is only using personalized details in the body of the email. The average office worker receives 120 emails per day, and if you want your marketing material to stand out in that deluge, it needs to grab their attention.
Utilize A/B testing to learn which subject lines generate the best responses with different customer segments, and then integrate relevant personal details in the subject line for maximum effect.
Segment Based on Engagement
One of the most effective ways to personalize your email marketing campaign is to be responsive to customer activity. By putting customers with different levels of engagement into separate marketing campaigns, you are more likely to interact with them at a crucial moment in their purchasing process. You can also increase the success rate of loyalty programs by providing benefits at the correct times.
This is a useful strategy for interacting with leads that seem to have gone cold as well. You won't win over any customers by sending them messages about products they have demonstrated no interest in. However, you might win back a former customer with an email that reintroduces your company and services some months after you last heard from them.
Personalized Imagery
Including imagery that is personalized to your customers is another effective way to improve your email marketing campaign. Any data you have available can help you send personalized imagery, from purchase history, gender, location, and even weather patterns based on location.
Uber has demonstrated excellent use of geo-targeted email marketing. The company sent an email to Boston residents right before a blizzard hit the city offering advice on how to safely secure transportation during the weather event.
Travel sites commonly employ location-based targeted marketing both by recommending trips that are in the vicinity of customers as well as trips that a customer has previously looked up using the site's service.
Acknowledge Cross-Platform Activity
If you have data about a customer's engagement with your service outside of your email marketing campaign, then include it in your email. Both your offline and online marketing efforts present opportunities to increase customer engagement, so make sure you're providing information for your email campaign.
If you have physical retail locations, you can use store data about your customers' purchasing history to tailor offers to them. If you have an active social media presence, find a way to integrate this with your inbound marketing campaign. Acknowledging the way a customer has interacted with your business outside of an email that shows up in their inbox is a great way to increase the possibility of your marketing material being read.
Revisit the Abandoned Cart
The amount of revenue lost in abandoned carts is staggering. Some estimates put it as high as $4 trillion dollars. Another interesting phenomenon is that cart abandonment increases depending on what type of device is used by the customer to browse an online store. For desktops, the rate is about 70%, tablets 80% and mobile devices it is 85%.
If this tells us anything, it is that the easier it is to be interrupted on a device, the more likely an item is to be abandoned in a cart. An email sent within an hour of an item has a high likelihood of being opened and recapturing the sale.
You can also provide personalized recommendations based on abandoned items. If a customer placed an item in her cart, she must have had some interest in owning it or something similar. Sometimes all it takes is a nudge in the right direction to secure a sale.
Help Your Customers Look to the Future
While many of the options available to your marketing team based on CRM analytics are generated from the customer's pervious behavior, that doesn't mean you can't invite your customer to look forward with you as well.
Emails that invite your customer to participate in surveys or access content that may not necessarily lead to a sale may help you gather important data about future trends. Being able to predict what your company and marketing team should invest in next can reap benefits that may not be clear now. It may also give you a pathway to close a sale with the customer you are providing a personalized email to now.
Email marketing's effectiveness remains high and shows no signs of becoming any less important soon. Learn about the ways you can get the most out of contacting your customers and more at The Creative Momentum's blog.