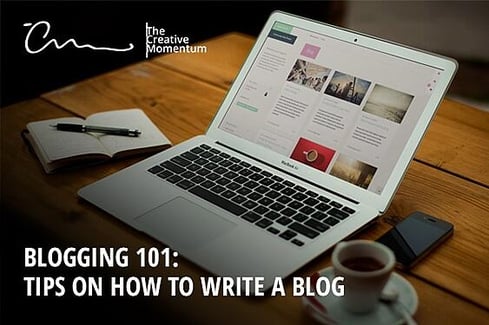 If you want people to find your business in search engine results, you have to blog. There are no shortcuts. There are no magic answers. You cannot avoid it.
But my website only sells whisks. How can I possibly write more than a blog or two about whisks?!
Don't worry. You are not alone in your thinking. But we can turn your website into a serious blogging machine. Welcome to Blogging 101.
Become a Thought Leader in Your Industry
Just because you feel limited by your product or service doesn't mean you are. Being a thought leader means proving you are the best business for the job. Prove it by discussing multiple topics buzzing around your industry, even if they do not include the product you sell.
Blue Apron is an excellent example of a company whose blog rocks. As a meal delivery service, sure, they could stick to writing FAQ's on how the food is packaged and delivered or just simply post the recipes and call it a day. But why settle for ordinary?
Blue Apron's blogging section is a buffet of cooking materials they recommend. Their blog appeals to new chefs by only showing the basic must-haves for cooking and then to experienced chefs by introducing them to new or niche products. Their Food Stories section contains blogs written about tomato or cranberry farming. They tell real stories of real people. There are history lessons, hands-on videos and recipes they don't even include in the boxes they sell to consumers.
Why would they give away a recipe they don't even sell? Why promote a baking sheet? Why the history lessons? It makes them an expert because it proves they know something about everything in their field.
Show off what you know. People will believe you.
Overcoming Writer's Block
If authoring great content was never your career goal, fear is completely normal. Professional writer and motivational speaker Elizabeth Gilbert, author of Eat Pray Love, recommends putting anything on the page. Get your fingers moving. There is nothing worse than staring at a white screen and not knowing where to start. Just start. Even if you write the opposite of what you want to say, you will at least be able to go back and offer the flip version because there will already be vocabulary.
Consider the following tips:
Organize Your Blog Post Correctly to Get Started
We learned it in elementary school and it still applies – create an outline. It works wonders if you are stuck!
Write a rough version of your headline.
The introduction should be short. 60% of readers stop at the headline. If you launch into two full paragraphs, the 40% still standing will close the page.
Branch out into possible subheaders which help organize your blog (and are great for SEO! #winning). Did you find the subheaders in this post?
Within the subheaders, think through whether anything there could be organized into bullet points. Bullet points are blogging gold.

Medium

found

readers only give you 7 minutes to make your point.

Each bullet point should be easy to scan and no more 2 or 3 sentences.
Conclusions should not be much longer than your introduction. Do not recap word for word what you have already written. Offer an opinion on where your industry is going or ask a question for readers to respond to in the comments section. People LOVE to interact with blogs they find interesting.
Know Your Audience
At the end of the day, the perfect blog is tailored to its readers. Think about a question someone would type into Google and then write a blog to answer the question. The entire point of blogging is to meet your audience where they are, come alongside them and give them the information they're asking for organically.
Keep in mind the most successful posts have no fewer than 400 words. A good target goal is 1,500 words if your industry is extremely technical. If you feel like you could go on beyond that, consider breaking the post into multiple blogs. The most successfully trafficked websites have more than 50 blogs posted, so more is not a bad thing as long as the posts are great!
If you are feeling particularly verbose on a subject, turn it into a whitepaper or an eBook. In fact, I just cut an entire page out of this post and pasted it into another document. I'll turn it into a whitepaper someday. And that kind of premium content does wonders for an inbound marketing campaign.
Did this blog help you get started on your own post? Tell me in the comments! I would love to know if there are questions I left unanswered or places we can expand on in future posts. The Creative Momentum loves partnering with clients to create and curate quality content. Contact us to learn more about our inbound marketing services and how strategic content can breathe new life into your marketing efforts.