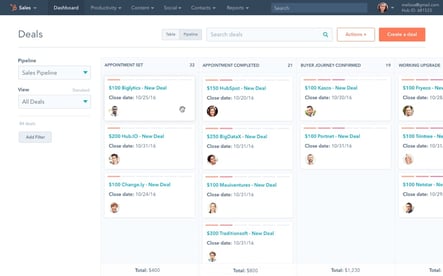 Keeping track of your customer relationships in excel or with paper and pen is only efficient while a business is small. Eventually, and hopefully, your company will grow to a point where your needs soar beyond these simple tools. Lack of follow-up with a customer leaves them frustrated and puts the deal at risk. This should not happen because of a disorganized, scattered, antiquated method.
Customer Relationship Management (CRM) is a central database which keeps contacts organized, easy to manage and simple to use for targeted marketing. There are several systems available, however Hubspot's award-winning CRM is in a class by itself. And here is why:
Completely free, regardless of how large your database becomes
A lot of software is available for free to start, but as a company's needs become more sophisticated, so does the price. High subscription fees are simply unaffordable for small- to mid-sized businesses and a stumbling block to getting started with a CRM.
Integrates seamlessly with other contact methods
Hubspot's CRM can link into anywhere your sales process is happening -- email, social media and more. It logs phone calls and If you exchange an email with a customer, it is automatically updated in the database so you can keep making contacts and closing deals. No busy-work or routine note-taking necessary.
Tracks every step of the buyer's process
No matter where you are in the customer relationship, Hubspot's CRM is right behind you. Drag and drop a contact from one part of the pipeline into another in a single screen view. A daily dashboard displays how many contacts are in each part of the pipeline, tracks them against deadlines and keeps your daily to-do list organized and at-a-glance.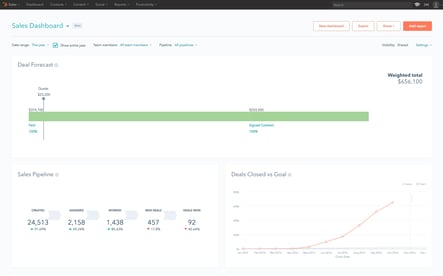 Increases efficiency in the sales process
Shockingly, 31% of a sales representative's time is spent creating or looking for content. Hubspot has a solution for that -- a content library where your entire sales force can access and share up-to-date sales documents.
Hubspot's CRM even tracks when a customer opens your document, notifying you with a message on your desktop. And then, within the library, reports are generated on which content customers respond to most so you can utilize that content fully.
Another benefit to Hubspot's CRM is its mobile capabilities. If you have a traveling sales force, sometimes flipping open a laptop to update a CRM is burdensome. Hubspot is available on tablets and smartphones, keeping valuable information at your fingertips.
In summary, there was a desire for a modern CRM that molds to many platforms and user's needs. Hubspot's CRM is the best solution.
The Creative Momentum builds beautiful websites that work flawlessly and combines them with Hubspot's marketing tools to bring clients the best online presence a business could offer. If you are ready to design a new site, refresh an old one or dive into the world of inbound marketing, contact us at +1 678.648.1445 or by filling out the form here.