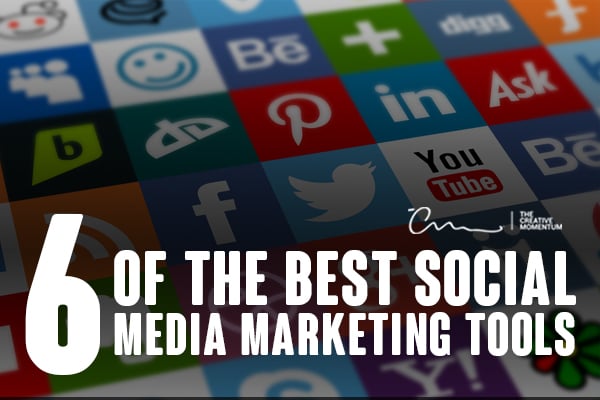 It's not just a good idea anymore; social media is a necessity for modern businesses. It's a great way to interact directly with your customers, and it's a powerful research tool to keep up with the latest industry trends. It can even be used to track your business's reputation online.
There are over 3 billion social media users worldwide, which is nearly half the world's population. Effective marketing is all about reaching your customers where they spend their time. And they're spending their time on social media.
In 2019, 90.4% of Millennials, 77.5% of Gen Xers, and 48.2% of Baby Boomers used social media regularly, and most Millennials logged an average of 2.5 hours of social media every single day!
So, you know where your audience spends time, but how do you reach them? There are so many social media platforms that creating a strategy for each one can take a lot of time—which many marketing managers don't have.
Using social media marketing tools is a great way to simplify the process. They can streamline and automate processes to make social media campaign management easy. If you're ready for social media marketing without the hassle, here are some of the best tools available today.
---
1. Hootsuite
Hootsuite is a favorite for social media marketers because it combines all the social platforms into a single, easy-to-use dashboard.
What Is Hootsuite Used For?
Hootsuite gives you an easy way to schedule and manage posts, see all your comments and messages, and track metrics all in one place. Marketing teams can even use Hootsuite to assign tasks and collaborate. It's the ultimate social media management software.
Manage over 35 social platforms simultaneously, including Facebook, Twitter, Instagram, YouTube, and Reddit
Large database of resources
In-depth analytics
Hootsuite also offers subscribers access to lessons and resources to make even beginner marketers social media gurus in no time.
Bottom line: Hootsuite is ideal for companies with extensive social presences as it contains more in-depth social management tools than the other entries in this list.
How Much Does Hootsuite Cost?
You can try Hootsuite free for 30 days. After that, paid versions are available in the following plans:
$29/month (Professional)
$129/month (Team)
$599/month (Business)
Custom Pricing for Enterprises
Considering all the time and effort you'll save combining all your social platforms into a single dashboard, Its easy to see that Hootsuite quickly pays for itself.
---
2. Buffer
Buffer is another all-in-one social media marketing tool designed for usability and simplicity. Like Hootsuite, Buffer gives you a way to manage all platforms from a single, user-friendly dashboard.
What Is Buffer Used For?
Buffer simplifies social media management by letting you upload photos and videos, access analytics, reply to posts, and create posting schedules.
Manage multiple social media platforms from a single dashboard
Use Chrome extension to share content from the pages you visit
Track analytics
Respond to posts in real-time
Shorten URL links
One of the coolest things about Buffer is that it comes with a Chrome extension. You can add articles and content from the websites you visit with a click of a button. All the content goes to your Buffer queue, which can be shared to your various platforms. Buffer is not quite as extensive as something like Hootsuite, but it comes at a more affordable price point - making it a more viable option for many companies.
Bottom line: Buffer is best for companies with both social management needs and limited budgets.
How Much Does Buffer Cost?
Buffer has several different pricing plans, depending on which services you choose:
Publication
$15/month (Basic)
$65/month (Pro)
$99/month (Premium)
Analysis
$35/month (Pro)
$50/month (Premium)
Plus, all services are testable in a free 14-day trial to help you get acquainted with the services before committing.
---
3. Buzzsumo
If you want to do anything well, you need to do your research. That's where Buzzsumo comes in.
What Is Buzzsumo Used For?
Buzzsumo scours the internet for the most popular and sharable content, even if it's not your own. You can break down shareability based on platform or content type, check out backlinks, and even view who the content sharers are.
The Buzzsumo dashboard can be set up to send you alerts for various things around the internet like keywords, brand names, author names, links, domains, or just about anything else you want to know. It'll help keep you in the know about what's trending, so you can produce content that people won't be able to resist.
In-depth research
Identify the most popular content
Real-time alerts
Competitor insights and tracking
Bottom line: Buzzsumo is a social media and digital marketing tool designed for research.
How Much Does Buzzsumo Cost?
You can start researching for 30 days risk-free. After that, plans start at $99 per month or $79 if you pay annually. While that might be more expensive than some of the other social media marketing tools on the list, the level of research you can do with the platform is unmatched.
---
4. Missinglettr
Do you dread constantly coming up with new content to share on social media? If so, Missinglettr is for you.
What Is Missinglettr Used For?
Missinglettr is an impressive automation platform that uses your existing blogs to create a year's worth of social media posts instantly! It scans content you already have on your website and generates bite-sized pieces of information to promote on social media.
Once it has the lovely little morsels of information, Missinglettr can share posts to all your social channels over a set period of time, so you don't even need to think about it.
Automatically generate content from existing blog posts
Reduce time spent on content creation
Schedule posts in advance
Bottom line: Missinglettr saves tons of time and energy coming up with new posts and sharing to all your various platforms. It's a lifesaver for small or one-person social media marketing teams.
How Much Does MissingLettr Cost?
Missinglettr features several affordable plan options for businesses of any size:
100% free Basic plan (limited to one profile)
$9/month (Solo)
$39/month (Pro)
Plus, additional features for content and campaign management are available at an extra cost.
---
5. MeetEdgar
Does posting to social media tend to slip your mind? You need someone who can regularly update your social media accounts for you. You need Edgar.
What Is MeetEdgar Used For?
MeetEdgar is a social media marketing tool designed to refresh your social content automatically. You can upload evergreen content that's perfect for resharing, and MeetEdgar will post your content periodically to keep your timelines fresh.
MeetEdgar can also offer variations on your posts to keep things fresh, then track the variations' success to see which content works best. It's the simple way to perform A/B testing on your social media platforms.
Create posts straight from a browser extension
Automatic re-sharing of evergreen content
Works with Facebook, Twitter, Instagram, Pinterest, and LinkedIn
A/B testing
Bottom line: Meet Edgar saves tons of time and energy coming up with new posts and sharing to all your various platforms. It's a lifesaver for small or one-person social media marketing teams.
How Much Does MeetEdgar Cost?
MeetEdgar has several plan options available:
$19/month (Lite)
$49/month (Full)
Unsure about committing? You can try either plan with a free 7-day trial to make up your mind before purchasing.
---
6. Mention
Along with publishing content across all your social media platforms from a single dashboard, Mention has one killer trick up its sleeve: It can track all mentions of your brand across the internet.
What Is Mention Used For?
Mention is like a brand bloodhound. Once it gets your scent, it will scour over one billion sources across the internet for every utterance, review, and, yes, mention of your products or brand. When someone is talking about your business, you'll know it.
If you find a juicy conversation about your company online, Mention makes it easy to jump in. You can post and respond to your social media platforms right from the Mention dashboard.
Get alerts when your brand or products are mentioned online
Post and respond to various social platforms
Learn more about how your company is perceived online
Bottom line: Mention tracks your brand name across social media and allows you to publish content to all of your social accounts using one dashboard.
How Much Does Mention Cost?
Mention offers a wide range of pricing plans to suit companies both large and small:
Free Plan (Limited)
$25/month (Solo)
$83/month (Pro)
$167/month (ProPlus)
$450/month (Business)
---
Conquer Social Media with the Best Tools Available
With dozens of platforms and hundreds of pieces of content to manage, social media can be a handful for even well-staffed teams. Using social media marketing tools is a great way to streamline and simplify processes to make social media manageable. These tools help even the smallest teams manage social media to drive engagement and promote their brand online.