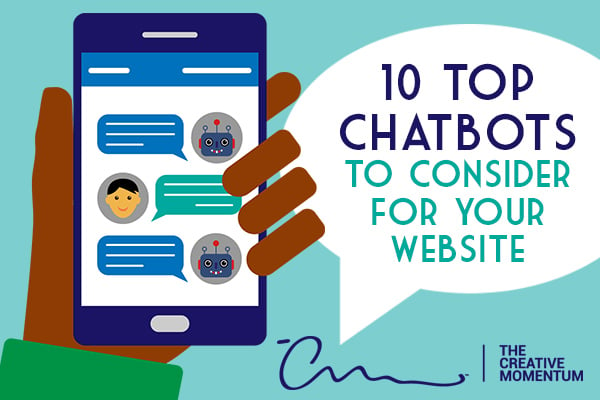 Pop-quiz: How can you create a presence on your website that isn't intrusive?
Answer: Use a high-quality chatbot with intuitive AI.
In a perfect world, you'd always have a manned help desk or customer service representative to respond to customers with burning questions and a lack of time or patience (or both). However, 24/7 live support is costly
Besides being a cost-saving solution, chatbots drive leads and encourage sales. In many cases, your chatbot might be the first meaningful interaction a customer has with your brand. So, with that in mind, we've created a list of the 10 best chatbots on the market today.
---
What to Consider When Choosing a Chatbot
🤖
One of the biggest complaints consumers and end-users have about chatbots is that they can be buggy, unresponsive, and too stilted. People want to interact with bots that are actually helpful to them. Likewise, if your chatbot isn't properly programmed, it can crash when it tries to manage too many tasks at once. So consider the following key features to find the right chatbot for your website.
Can it support multiple tasks simultaneously?

Can you implement multiple bots and have them target specific tasks?

Can the platform support natural speech processing as well as voice support?

Can this chatbot work on SMS, in apps, or on a website — or all of the above?

Does it incorporate machine learning to improve performance?

Does your bot play well with other platforms and support content sharing?

Can you customize the chatbot and build on previous components?

Does it have scalable flexibility?
---
The 5 Top Chatbots for Your Business
The following five chatbots are commonly used chatbots in the marketplace - and for good reasons. They provide the standard features businesses seek when sourcing a chat solution, but we've given them all different category awards to help distinguish them from each other.
1. HubSpot Live Chat - Best for Integration into Multifunction CMS
For existing HubSpot customers or those who want an all-in-one CMS solution, HubSpot is a great choice. HubSpot's ecosystem and tools are integrated and flexible, and its chat features are no exception. The standard HubSpot customer relationship management (CRM) software comes with standard communication tools for live chat, emails, and integration with Facebook Messenger – but HubSpot also offers a handy tool for creating your own chatbot that can be customized to your business goals. Knowing that HubSpot also provides website creation and hosting, email marketing and automation, SEO strategy and monitoring, blogging, analytics and more to create an integrated, comprehensive product demonstrates their name well - a true "hub" for all your digital marketing needs.
The chatbot builder is easy to use and allows you to connect with prospects on your own terms, with personalized messaging and triggers to automate your customer contact. Configure chatbots to connect with customers, create support tickets, add users to lists, and hand off the call to a live agent when it's time to escalate. HubSpot makes it easy.
2. DRIFT - Best for Marketing and Sales Teams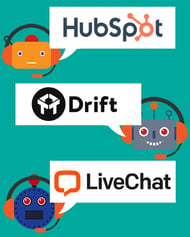 DRIFT bills itself as a "revenue acceleration platform", and a key part of reaching that goal lies in its live chat functionality. DRIFT deserves a spot on our list due to just how comprehensive this functionality is. With the DRIFT platform, businesses can unlock the full power of conversational chatbots:
Build custom "playbooks" that allow for strategic targeting based on a wide variety of triggers
Connect customers to their assigned account manager using automatic routing
Save common replies to reduce time spent answering repeat questions
Use Live View features to see all users on-site – even before they chat in
Create detailed internal notes during conversations to speed up team collaboration
Marketing and sales teams use chatbots to pre-quality and score leads, schedule meetings, and track leads in the tool's sales pipeline. The Drift Insider community also has a wealth of content resources where customers can find webinars, ebooks, blog posts, help articles and more to continue to refine their strategies. Combined with the other features of DRIFT's platform, it's a chatbot well worth considering.
3. LiveChat - Best for Additional Features
LiveChat's platform is full-featured and comprehensive, including a broad range of tools and integrations to support nearly any business need.
LiveChat has many of the standard features you'll find in most platforms, including rich messages, chat routing, transcripts, and personalization tools. It also offers features you don't find as much: cards and carousels, eye-catchers (animations), and the ability to share a wide range of supported file types with visitors. Other important tools that make LiveChat an integrated part of your customer experience include:
Dedicated LiveChat APIs

Sales/eCommerce reporting

Team management tools

Integrations with over 200 platforms, from WordPress to Zendesk to Salesforce.
Whatever tools you currently use, it's a good bet that LiveChat can bring a new dimension to your online user experience.
4. Intercom Inbox - Most Popular

Intercom's Inbox chat solution offers another great way to automate and streamline customer contact. Intercom's chatbot is one of the most widely used chatbots. Inbox's powerful feature set supports multiple phases of your marketing funnel and frees up your team to focus on what matters – focused, direct interactions with your prospects.
Create streamlined ticketing workflows with info collection and conversation routing

Prime customers by sending links and on-site help resources with a single click

Receive in-depth reporting to optimize support and improve team performance

Integrate with hundreds of different tools and platforms to sync data and actions

Leverage a robust rules engine to automate common manual tasks

Whether you need a simple chat solution or a full-fledged customer management platform, Intercom's features offer something for everyone.
5. Olark - Best Simple Solution
Maybe you don't need - or don't have the budget for - a sophisticated, complex product. You're saying, "I just need the basics: lead generation, and sales and customer support chat functionality." You'll be pleased with the next bot on our list, Olark. Olark has easy-to-use configurations for setting up live chat automation, perfect for reducing time needed to handle manual inquiries. Backed by the platform's in-depth chat analytics and a user-friendly interface for searching chat transcript archives, this platform can do a little bit of everything.
Olark features a unique paid service called "PowerUps" that allows members to add new functionalities to the platform on an as-needed basis. These include live chat translations, visitor insights, and a non-branded chat box – perfect for businesses who need a little extra push as they extend more scalable services and support.
---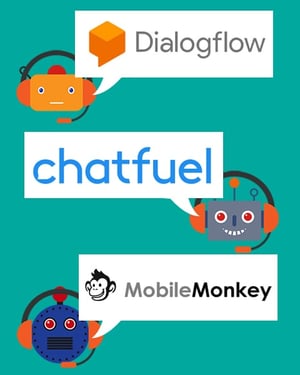 These next five chat solutions are lesser known in the marketplace but don't let that fool you - these tools are powerful in their own right and may be the right chatbot for your business needs.
The type of chatbot you choose depends on your own unique requirements. For example, if most of your business comes through social media referrals, you'll want to focus on a platform that integrates with your preferred social network. Likewise, some businesses are seeking an easy, out-of-the-box solution while others are looking for a customizable chatbot they can build from scratch. The following five chatbot platforms are ideal for a wide range of users, and we've outlined who is best served by each option.
6. Dialogflow: Best Overall
If you want a 360-solution that's designed to scale, Dialogflow is your best bet as this chatbot is owned by Google. Because it's hosted in the Google Cloud Platform, it's incredibly flexible. This means that regardless of how large your business is, this chatbot can help.
Along with the fact that it's optimized for Google Assistant, you'll also get a massive amount of chat support for other platforms including LINE, Slack, and Messenger. The user-friendly interface makes it ideal for people of all skill levels to create a responsive chatbot. And you'll love that it works in over 30 languages and can support both text and voice chatbots. A free base plan exists, and there are premium plans as well.
7. Chatfuel: Easiest to Use
If you're the type who struggles with the tech world, but you know you need a chatbot, Chatfuel is a good option. This pick is user friendly with no coding background needed. This platform is designed to get you up and running in less than 10 minutes. Plus, it plays well with social media — specifically Facebook. This trusted platform is used by a wide array of industries, including retail, restaurant, and even communications giants like T-Mobile.
Along with serving as a communications tool to share updates and new information, Chatfuel can qualify leads or act as an intermediary before handing off warm leads to a live agent. It will also automate FAQs to help improve customer satisfaction. Plus, if you're still on the fence about incorporating a chatbot, you'll like that there's a free pricing plan for smaller businesses to test out before investing in premium plans.
8. Mobile Monkey: Best for Ecommerce
Ecommerce brands that want to integrate inventories and manage payments will like Mobile Monkey. This easy-to-use solution offers a variety of templates to get you started. This pick relies on PayPal and Stripe APIs so that customers can interact seamlessly with your bots. Experienced users will appreciate this buildable platform that allows for flexibility and enhanced functionality—for those comfortable jumping into the deep end.
Mobile Monkey also supports social media integration for Facebook Messenger. Marketing managers will appreciate that it's effective for broadcasting messages and implementing drip campaigns. Access to creating an FAQs database will minimize the need for live support. Plus, there are tiered plans, including a basic free option for unlimited contacts with select features.
9. Manychat: Best for Facebook Messenger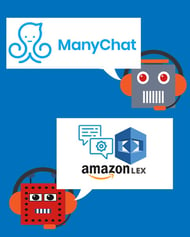 If the majority of your social traffic lives in the Facebook world, then Manychat can be a good option. This is another free chatbot, but it's explicitly designed to support Facebook Messenger outreach and customer interactions. This is another code-free solution that lets you create a bot in as little as two minutes.
The user-friendly drag-and-drop bot builder makes it approachable for people of any tech skill level — or lack thereof. Just note that you'll need a Facebook page for this bot to work since you have to connect the page for the chatbot to function. Along with broadcasting to your Facebook subscribers, you'll get options to automate and schedule marketing across RSS, Twitter, and YouTube. The basic plan is free, and upgraded tiers are priced based on total subscribers.
10. Amazon Lex: Best for Voice
Considering that voice search and speech recognition are crucial for businesses these days, Amazon Lex is a great option for people who want to stay ahead of the curve. As the name suggests, this chat is a spinoff of Amazon's Alexa voice assistant and is designed for a wide range of applications.
With Amazon Lex console, you can integrate with Facebook Messenger, Slack, and Twilio SMS. This pick can work with both voice and text and is designed to create an intuitive, human-like conversational experience for your end-users. While it's billed as an easy-to-use solution for anyone, you might want to have your developer manage this integration. As with other chatbots, the introductory plan is free with 10,000 text requests and 5,000 speech requests per month. After that, billing depends on your usage over those limits.
---
Is a Chatbot Right for Your Business?
The proliferation of chatbots is in response to (of course) evolving consumer expectations - with time always a premium, people want instant responses, rather than waiting for someone to get in touch. We leave you with a list of the positive benefits chatbots provide. Chatbots:
Ensure that someone's always available

Offer tech support in many languages

Can reduce labor costs

Answer frequently asked questions

Pre-qualify leads

Scale with business growth
Find out how The Creative Momentum can help you create a robust chatbot that supports and nurtures your business goals.