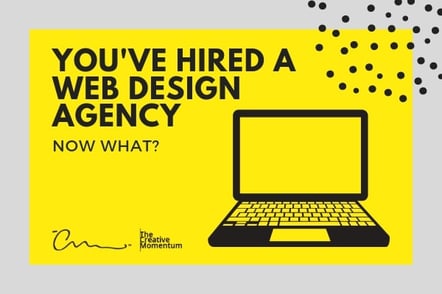 Many business leaders decide to hire a web design agency in order to streamline the design process without sacrificing quality. It's a smart decision, especially when you need to meet brand expectations but you either can't afford to hire an in-house web designer or when doing so, it just doesn't make sense.
There are a number of considerations to keep in mind when searching for the perfect-fit web design agency, and there's also a degree of responsibility you need to own once you've found the best agency or designer to meet your needs.

It's important to be prepared and have a plan of attack to help web designers understand your goals and how they can provide solutions. Here's what you need to know, how you can prepare, and what you can expect after hiring a web design agency.
Establish Clear Web Design Expectations and Goals
Strategic design isn't a new concept, but it's one that's catching on more as a driving force in high-quality UX/UI design circles. It's the notion that every step of the design process should be fueled by an overarching business strategy—expectations, goals, and tactics you define for the future of your business.
Clear expectations coupled with forward-thinking goals help a web design agency determine a design direction and appropriate UX/UI solutions.
The Harvard Business Review shared broad guidelines for strategic design success from a leadership perspective, but the same principles ring true for web design. Strategic design competency boils down to understanding your audience, their needs, and long-term design solutions.
Do the following to establish expectations and goals:
1. Define what you're trying to achieve
Are you using a rebrand to breathe new life into a business that's grown stale? Are you trying to get your foot in the door in a new industry? Are you trying to establish a web presence for the first time with a new website?
Expectations and goals revolve around what you hope/plan to achieve through web design. Remember, a website's UX/UI design isn't just for looks. Design choices serve a purpose, whether that purpose is to sell a product, advertise a service, or share important industry-specific information.
2. Identify your target audience
This is often one of the first steps in any marketing or advertising campaign, and it's equally important for web design. It's difficult to tailor a website's design elements in a way that "works" for your audience if your designer doesn't know who that audience is or why you're targeting them.


3. Determine what your audience wants from you
Rarely has a website, company, or product succeeded in reaching a target audience simply by existing. Great products and services succeed because they provide a solution to a consumer challenge. Again, the same is true for successful web design. What does your target audience need from your design UX/UI in order to connect with the product or service you're offering? How is your web design going to provide a solution to best display that offering?
This is easier defined than implemented. Target audience research is essential if you want to convey what your audience wants to a new web design agency. You're more likely to get what you're looking for in UX/UI design functionality when both you and your web designer(s) know what your audience wants from you.
4. Establish a consistent brand image and voice
It's easy for web designers to fall back on current trends, flashy code snippets, and tried-and-tested design templates when you haven't provided a clear brand image you want to convey. The end result is a cookie-cutter website that makes your business look like every other "modern" company in the industry.
Don't rely on a web design agency to create your brand image. Instead, come to an agency with your brand image and voice already established, and be prepared to show a designer exactly how and why that image and voice need to be incorporated into the UX/UI design.
5. Present key performance indicators for desired results
You can't truly measure success as far as web design is concerned unless you've recognized which key performance indicators are the ones worth impacting. Simply put, how will you know if your goals are being met?
Are you looking to increase traffic, improve sales, or jump-start e-mail sign-ups? What design features can do these things, and how will your web design team work to make sure they happen?
Results-driven web design is strategic design in the sense that the choices you make from a design perspective are done to achieve the results you've defined. Share those desired results with your new web design agency in order to see that your expectations are met and goals are accomplished.
Prepare Your Content for the New Web Design Team
The content you want displayed on your website is an essential piece of the puzzle that you need to provide when on-boarding a new outsourced web design team. Designers can't create a quality, brand-specific UX/UI design without appropriate content (or at least a skeleton to work with).
Ideally, you would prepare and present some kind of content during an initial meeting with your new design team in order to shed light on what you do, why you do it, and how you want to establish your web presence through web design.
Provide Quality Photos
Photos say more than words, or at least that's always been the mantra. Quality photos are a good place to start when conveying your brand/business message to a design agency. They help present a snapshot of who you are both from a company culture perspective and also from an industry perspective.
Photos to provide to a new web design agency:
Exterior location photos

Team photos

Employee headshots

Product and category images
Provide Quality Content
Web designers often use placeholder copy to visualize where copy blocks, headlines, taglines, categories, and menu items all go in relation to one another on the page. You'll need to provide at least some content to take the place of these placeholders at some point during the design process.
The copy you provide can be as barebones or filled out as you like when you're first starting. That said, it's easier to visualize a final product, direction, or brand voice when the designer has more to work with.
Copy to provide a new web design team:
Headlines or slogans

Contact information

Page and category copy – homepage, about, services, etc.

Product copy
Continued Constructive Feedback is Crucial for Improvement
Too many business leaders see web design as a one-and-done investment. In reality, quality web design is a process of designers testing features and design elements and then asking business leaders to provide constructive feedback.
It's your job to recognize patterns, call out discrepancies, and provide actionable feedback that a web design agency can turn into UX/UI solutions. This is an ongoing process that's crucial if you want designers to meet your expectations, help you achieve your goals, and continue to improve your website's quality.