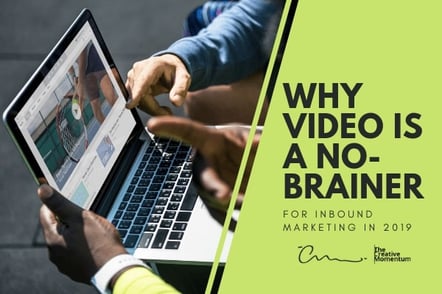 Video content used to be an optional part of inbound marketing. No longer.
Research published in HubSpot shows that 54 percent of consumers actually want to see more video content from marketers, which is why 85 percent of businesses now have in-house staff dedicated to video production. Companies wanting to differentiate themselves in the market need to take a lesson from these brands and embrace video as a strategic marketing initiative.
Videos Drive Engagement
First and foremost, video is a highly engaging medium in your content arsenal.
Viewers are naturally attuned to video. We've become accustomed to seeing it everywhere: Online, in ads, on social media. It's become so prevalent that nearly a third of all online activity is spent watching video these days.
Naturally, you can score big points with your viewers if you incorporate video content throughout your marketing funnel. Do some testing on your website and see what happens when you strategically apply video. Try incorporating brief explainer videos on your home page, product landing pages, and throughout your content, and perform some A/B testing on content performance.
You might be surprised at the results. In one study, adding video to a landing page increased its conversion rate by 80 percent.
Videos Help You Reach Your Audience
Another key benefit of video is visibility. Just think about how many users stick to their video-centric social channels without ever branching out into the world of blogs and articles.
Video content mixes up the media you produce and guarantees that you have the means to reach users who are interested only in video. And given that four times as many consumers would rather watch a video about a product than read about it, we're willing to bet that there's a few of them out there.
Look at your audience and get a feel for which channels they prefer. You may find at least one or two video channels that you've neglected—and according to a survey of marketers in HubSpot's State of Inbound 2018 report, several of these channels will be top priorities for video investment moving forward:
YouTube (45 percent)

Professional networks such as LinkedIn (43 percent)

Facebook Video (41 percent)

Instagram (39 percent)
Video Supports Mobile
Video and mobile go hand-in-hand for inbound marketing. Mobile video rose steadily from 2013 through 2018, with mobile encompassing 62 percent of global digital video plays in 2018.
To look at that another way, consumers are showing a huge preference for mobile browsing across all content types—video included. Making sure your on-site video assets are optimized for mobile browsing is an important part of capturing this audience:
Video players should be responsive and device-agnostic;

Content should be easy to read on small screens;

Make sure the content is understandable on mute—a surprising number of viewers watch video with the sound off;

Keep it short!
Building a Cohesive Video Strategy
The above points underscore a simple fact: Video is inseparable to inbound marketing success.
In fact, one survey of over 50,000 North American brands showed that 73 percent of all websites featured at least one video, and 79 percent of B2B marketers regularly use video as part of their content marketing mix.
But there's more to creating a cohesive video strategy than just tacking them on wherever they fit. Ideally, you'll fold your video content throughout your marketing funnel to create a UX that you can't create elsewhere.
Integrating Video Content
Look at HubSpot's content marketing course for a great example. Rather than simply posting a few blogs about how great content marketing is, HubSpot built an entire series of videos around the concept. Users take the learning process step-by-step, completing each lesson in turn as they learn valuable takeaways to bring back to their business.
Of course, they provide text notes as well, but the real power is in the video. In this way, HubSpot has built a video-centric initiative designed to educate its B2B prospects in a way that's unique, engaging, and effective.
Take a page from HubSpot's book and look for creative ways to integrate video. As stated above, you'll want to start by including video throughout your website's high traffic pages, but this is only the beginning. Your marketing funnel is big, and there are plenty of other ways to put the strategy to work.
For example, research shows that 80 percent of consumers would rather watch a brand's live video than read a blog about the same topic. Why not schedule live videos that demonstrate how certain products work or new industry innovations that might grab a reader's interest? Advertise these events on your social channels, and don't be afraid to offer some type of promotion or benefit for those who tune in.
But don't stop there—even something as simple as adding the word "video" to your email subject lines could boost your email open rates by 19 percent. These simple strategies can yield big results over time.
Get Started With Video
If you haven't begun your foray into video marketing, now's the time to start. You don't have to hire a full production company right out of the gate—you can get by with simple DIY videos shot in-house at first. Then, as your strategy develops and you start seeing the benefits of video, you can upgrade to a dedicated content provider who can help you create high-quality video that supports your brand goals.