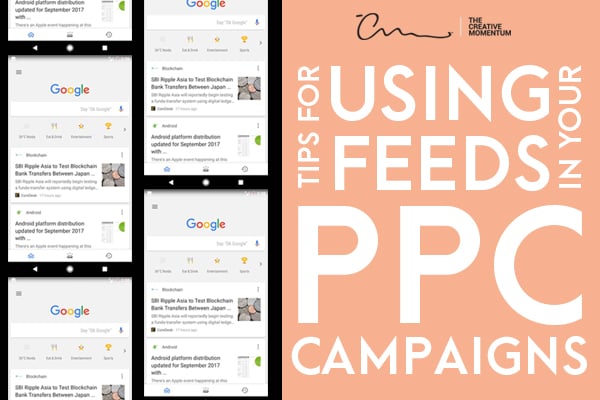 Designing for the digital environment is all about ease of use and creating an intuitive experience. Websites need to be sleeker and faster, copy needs to be scannable for quick reads, and eCommerce businesses need to make it easy for customers to find the products they want and to check out in as few clicks as possible. The longer it takes, the more customers you lose.
One way that retailers can make the sales process a little easier is by using feeds. On the merchant side, feeds make it simple to manage your pay-per-click (PPC) campaigns, apply updates, and target more precise user demographics. On the buyer side, it quickens the sales process and makes purchasing a breeze, which leads to higher conversion rates. Here are a few tips for using feeds in your PPC campaigns.
What Are Feeds?
Feeds are just one way that Google has streamlined the online sales experience. Feeds are product catalogs complete with pictures, descriptions, and pricing that can be managed straight from a Google Merchant account. Using the descriptions, Google can push individual products to match customers' search queries. These products will show up in the Google Shopping tab for a quick and easy purchase.
Retailers can set up PPC campaigns to promote individual products, but while regular PPC ads are text only, shopping ads include an image, text, and a price. When a customer clicks on the product, it takes him or her directly to the product's page on the retailer's website for easy checkout.
Benefits for Online Sellers
Feeds allow sellers to display specific products in front of customers. Instead of searching for furniture, clicking on the most relevant website, then browsing through the hundreds of pages, users can simply go to their favorite search engine and start shopping immediately from hundreds of online retailers at once.
While that might sound like it would increase competition for sellers, it streamlines the entire shopping process. The time it takes to go from search to purchase is cut down by several steps, which leads to higher conversion rates. If you can get your products to the top of the search results (which is where PPC ads are helpful), you'll have exponentially more viewers than if your products were on your website alone. According to an online survey, 35% of Google product searches convert to sales within five days, which is 15% higher than Amazon!
Feeds also make managing your product catalog a breeze. Since everything is in a single location, you can update prices, product descriptions, quantities, and promotions once, and the updates will apply to all your advertisements across Google's partners.
Feeds in App Campaigns
Google recently unveiled its plan to release feeds in app campaigns. App-reliant companies always had trouble converting sales from search results. Customers would find a product, click the link, download the app, and then have to find the product all over again. Most people would get frustrated and abandon the sale.
Now, with Google's deep linking, once customers click on a product and download the app, they're sent straight to the product page inside the app without missing a beat. It encourages app downloads and makes purchasing easier. One company found that deep linking increased mobile purchases by 400% and increased conversions by 300%. When the process is simplified, customers are more apt to act.
Helpful Feed Tips for Your PPC Campaigns
Traditional PPC campaigns promote landing pages on your website. A product PPC campaign can supplement your other marketing efforts by promoting individual products. Here are some helpful feed tips to boost your PPC campaigns.
1. Think Like a Customer
Put yourself in your customers' shoes. Think of a few high-quality keywords related to your products and make descriptions to match—as long as they're accurate. This is true for traditional PPC campaigns too.
2. Prioritize Popular Items
If you have a product that won't stay on the shelves, prioritize it! Popular products make the best PPC ads because they appeal to a broader audience. This is especially helpful for marketers on a budget who want to maximize their ROI.
3. Highlight Important Product Details
Product PPC ads only display a picture, title, price, and retailer, so put important product details in your title. Attributes like size, color, gender or age group will give customers more information about your product without forcing them to click. This reduces the "work" the customer has to do to learn about your product, and leads to more conversions.
4. Include High-Quality Images
Everyone likes looking at pictures. And with high-resolution displays on most smartphones and computers, quality images are more important than ever. They're so important that high-quality images are more likely to rank in searches. The higher resolution, the better.
Make sure to optimize each image's metadata, title tags, and attributions for maximum SEO value.
5. Make Sure Your Product Data Is Accurate and Consistent
If you change the prices on your website but forget to update your feed, customers will be in for a shock when they click the link and travel to your website. If this happens, they're more likely to abandon the purchase. Google will also disapprove your products if they detect a mismatch.
Include as much data as you can. Google product descriptions contain several categories and groups. Fill in everything and be as specific and precise as you can. The more information Google has about your product, the more search queries it'll appear in.
6. Review Policies
Before you start your product PPC campaigns, be sure to look over Google's shopping ads policies. Breaking the rules is a surefire way to get your ads removed. Then, nobody will see your products.
How to Set Up Feeds to Sell Your Products
To start using feeds that will list your products with Google Shopping, follow the onboarding guide to sign up for Google Merchant Center. After you enter your business information, choose your programs, and link/create your Google Ads account, you'll be ready to set up your product feed and start your PPC shopping campaign.