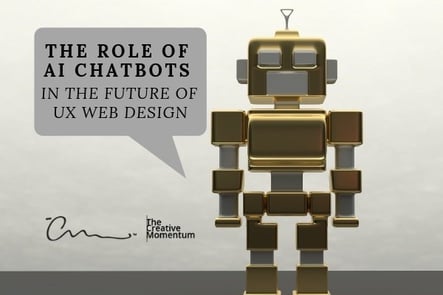 The customer experience is the most important element influencing your business's success, and today's customer experience centers around the company website. Conversion rates improve when a well-crafted user experience is aesthetically pleasing, intuitive, and improves customer loyalty, so it's in your best interests to make sure UX design surpasses customer expectations.
Experienced web designers use smart technologies like AI chatbots to create a better customer experience—one that anticipates user interactions and delivers solutions before challenges arise—and these chatbots will only continue to improve. If you're not taking advantage of AI chatbots to complement your UX design, you should be.
Chatbots Are Never One-Size-Fits-All
The first step to merge UX design and AI chatbot capabilities is to understand that chatbots will never be one-size-fits-all. There are common foundational goals around which you can build your own chatbot(s) (like improving customer service and supporting navigation), but like any great design, automation, or marketing tool, a successful chatbot is personalized and brand-specific. Nuances that set your chatbots apart from others in the industry are what make yours unique and suited to serve your specific customer profile(s).
Usability is a crucial component to successful UX design. Visitors are prone to leave and find solutions elsewhere if using your website becomes a chore. AI chatbots, when customized to intuitively serve your visitors, will help suggest and direct users to relevant website product and service pages. Chatbot solutions will be served quicker, be more intuitive, and become easier to interact with as the AI powering them improves. For now, it's important to incorporate at least a few basic functional must-haves to get your chatbots moving in the right direction.
Five Modern Chatbot UX Design Must-Haves
The ins and outs of how to design a chatbot experience are complex and often intimidating, but they don't need to be. Remember, a few foundational guidelines can go a long way, and once you have a foundation, you can customize and personalize features.
Chatbots Magazine outlined a handful of chatbot UX design must-haves for 2018 worth incorporating:
A welcome message – Design a chatbot welcome message that greets the visitor, establishes its own capabilities, and offers helpful navigational tips. A well-crafted welcome message shapes expectations and provides a noticeable user experience boost.

A failure message – Users know an AI chatbot's capabilities are limited, and a chatbot that lets users know the extent of those limitations provides value. Every user inquiry deserves a response, even if that response is a failure message acknowledging the failure and providing an alternative solution.

Response buttons – Response buttons are a way for AI chatbots to make communication and navigation even easier. Problems are solved quicker when users can communicate a course of action by clicking response buttons rather than typing a message. Typed messages leave room for miscommunication, but response buttons are direct.

Rating buttons – It's important to know if your chatbots are performing as designed, and rating buttons are a great way to let users tell you what's working and what isn't. A simple thumbs up or thumbs down system can help when A/B testing new chatbot features or to insure certain features work like they should.

Typing indicators – Let users know your chatbot is responding with typing indicators. Typing indicators are a way to personalize your chatbot interactions and make conversations between bot and user feel more natural. They are especially useful when your chatbot needs to send multiple responses and you want users to know more information is on the way.

Bonus: An avatar – Attach a friendly avatar (an image or icon next to your chatbot messages) to further focus on personalization and approachability. Your chatbot may be a program, but that doesn't mean it can't have a pleasant face and an inviting smile.
Technology vs. Design: Will the AI Inherit the Earth?
Outlets like Hubspot are writing comprehensive think pieces about why chatbots are the future of marketing, but designers and bot builders can't agree on whether AI or UX will be the driving force that shapes the customer experience.
Intuit's Casey Phillips expects AI to trump UX design in the near future. "The fact that users are still adapting to the concept of using chatbots and AI has opened a window of opportunity for chatbots to excel while lacking what would be considered compelling AI, ML [machine learning], and NLP [natural language processing] capabilities by today's standards," Phillips says, citing as an example chatbots used to order pizza. "Chatbots aimed at driving legitimate business value are far more likely to thrive based on a dynamic AI engine than they are via their UX and visual UI."
The point Phillips makes is that chatbots will become more intuitive and more capable as AI gets smarter. As a result, UX design won't be as important to the user experience.
Writing for Medium, bot builder ItsAlive's Benjamin Merritt challenges the idea that AI will displace UX design. "Most people simply don't know how to communicate with a chatbot or what questions to ask," Merritt begins. "The principles of deciding how your platform acts when your users manipulate it (user experience, or UX) are sometimes overlooked when people engineer robots, focusing more on features, and on AI (Artificial Intelligence)."
Merritt argues that regardless of how smart chatbot AI becomes, there will always be a need for well-crafted UX design to steer the conversation. As a result, AI chatbots will be more "assisted intelligence" than they will be "artificial intelligence."
AI Chatbots and UX Design are Intertwined
One thing is certain: UX design and AI chatbots are intertwined as company websites evolve and adapt to future user expectations. Both are now crucial components to website usability, whether AI capabilities will outpace UX design strategies or UX design continues to drive AI interactions. Your goal should always be to blend the two in a way that works best for your brand, your business, and your visitors.