Here's the question of the day: what is an easy, simple way to increase your business's click through rate (CTR) and ROI on your Google Ads PPC campaigns?

Answer: By using Google ad extensions.
Specific extensions will benefit your business more than others. The first step is to understand what ad extensions are and how to properly utilize them. Properly using ad extensions will generate more clicks and boost the profitability of your ad campaign. So are you ready to dig into the exciting (well, we think it's exciting) world of Google ad extensions? Scroll on. 🤘
---
What are Google Ad Extensions?
Google ad extensions allow businesses to include additional information in their PPC advertisements, which incentivizes potential customers to visit the site. Google data has demonstrated that ad extensions improve click through rate (CTR) by 10-15%. That's a whole lot of extra clicks.
Essentially, Google's ad extensions give potential customers snippets of information about your business on the SERP (search engine results page) before they even click into your site or landing page. This moment is critical because a visitor is much more likely to convert after that initial click.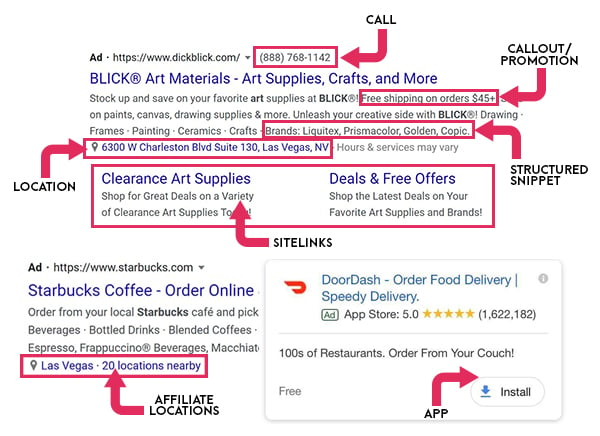 Different Types of Google Ad Extensions
Location Extensions
Add a location and map to encourage people to visit your business's physical location.
Affiliate Location Extensions
Show visitors locations where affiliates sell your products and services.

Callout Extensions
Showcase unique values of your business. 24/7 services and free delivery are two examples of popular callouts.


Call Extensions
Add a call extension that will allow potential customers to easily get in contact with your business.

Sitelink Extensions
Link people directly to pages on your website. This ease of access makes it more likely that people will click your link instead of competitors' links that don't include sitelinks.

Structured Snippet Extensions
List specific examples of your business's products and services, for example "Products: Shoes, Childrens Clothes, Menswear, Sportswear."

Price Extensions
Provides visitors with specific pricing information relative to your products and services.

App Extensions
Incentivize visitors to download and use your app by providing links to a download page.

Lead Form Extensions
Encourage visitors to complete a form (e.g. interest form, contact information form, etc.) directly from your ad.


Promotion Extensions
Highlight ongoing deals and savings opportunities.
Businesses typically utilize only a few of these extensions based on their unique PPC campaign. Google will also generate automated ad extensions based on the content of your website. For instance, it might generate a location extension based on the fact that your address is listed on the webpage. This takes some of the work out of selecting each and every extension. After the automated extensions are generated, you can consider additional extensions to enhance your ad.
How exactly do ad extensions improve the ROI on your PPC campaign?
---
Ad Extensions: What Makes Them Worthwhile to Your PPC campaign?
You may already know that one of the biggest humps to get over in your PPC campaign is increasing your click-through rate (CTR). Just because your webpage appears at the top of the search results doesn't necessarily mean people will click it. This is where ad extensions change the game. Below are some examples of direct benefits your PPC campaign will receive through ad extensions:
One simple, yet extremely important, reason ad extensions help is that they increase the physical size of your ad. This kind of visibility subconsciously draws the attention of potential customers and increases the likelihood that they'll see your ad before one of your competitors' ads.


Another huge benefit of extensions is that they boost the relevancy of your ad. A structured snippet, for example, shows viewers immediately that your website has the products or services that they're looking for.



Ad extensions can also drive conversions directly from the ad itself. Include a phone number or a lead form in the ad to create a conversion before someone even visits your site.


Finally, ad extensions can reduce the cost per click (CPC) on your advertisement by boosting your ad rank.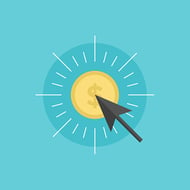 All of these benefits come into play only if you have properly utilized manual ad extensions. Targeting your audience's specific needs is the primary goal of extensions. They will drive the success of your PPC campaign and increase ROI.
Now that you know about the general benefits of Google Ad Extensions, let's take a deeper dive into what popular ad extensions can do and which ones you should be using.
---
Most Beneficial Google Ad Extensions
As stated above, the types of extensions your business should use depends on your offerings and other variables. However, there are a few extensions that apply to a broad array of businesses.
Sitelink Extensions
Links to lead-generating areas of your website is a huge value booster. Site visitors can see immediately that your specific webpage and its content is relevant to what they're searching for and are more inclined to click because of the ease of access; that is, they won't have to navigate your entire website to find what they're seeking.
Additionally, sitelink extensions increase the size of your ad, which, as previously stated, is a great thing for your CTR.
Structured Snippet Extensions
Structured snippets allow viewers to see that you have the specific type of product or service they're searching for. Much like the sitelink extensions, this allows viewers to direct access to a lead-generating area of your webpage. This will boost conversion, CTR, and profits.
Seller Rating Extensions
Seller rating extensions, unlike product rating extensions, show potential customers that purchasing goods or services from your business is a pleasant experience. The visual effect of a 4-5 star rating is powerful and will draw the immediate attention of a viewer.
Automated Extensions
If you're not interested in creating manual ad extensions, automated ads still have the potential to have a positive impact on your ROI. In many cases, the automated extensions that Google selects are not far off the mark from what you would select manually. However, this is not the case for every business, so it's best to double-check Google's work before the ads are published.
---
Maximize your Google Ads ROI with the PPC Experts at the Creative Momentum
If you need more help, maybe its time to bring in professional help. Our team of PPC experts can help you select the right ad extensions and get more bang for your (hard-earned) buck.
Contact us for a quote today!