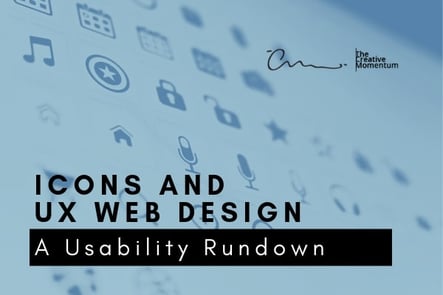 Icon use in UX web design is nothing new. Designers have taken advantage of icons for decades to tailor the user experience to be more intuitive, and the trend continues as popularity for mobile device usage rises. Icons serve an important role in helping experienced mobile designers make the most of on-screen real estate, direct the conversion conversation, and bring important elements into the spotlight. That's why it's essential to understand UX icon design best practices while you avoid common design mistakes that can influence icon success.
The Role of Icon Use in UX Web Design
Different types of icons serve different UX design purposes, from clarifying on-screen information to entertaining and interacting with the user. Think of your icons as different colors in a web design crayon box. The right colors used in the right places make the big picture (your website or mobile site) look that much better.
Icons are a benefit to UX design because:
Icons are recognizable and universal – They stand out on the page, and common icon images are easily understood regardless of what language the user speaks.
Icons are space savers – They eliminate the need for big blocks of text that take up valuable mobile real estate.
Icons are easy to interact with on mobile – Mobile icons are designed with the user's finger in mind, and most icons are perfectly sized to entice the mobile user to give them a tap.
Icons are easy on the eyes – Icons are aesthetically pleasing and help designers break up the monotony of a page's visual design.
Five Best Practices for UX Design Icon Use
Not all icons are created equal, which is why it's the job of smart web designers to use appropriate icons where they'll benefit your brand most. Don't fill your design space with icons, but don't make users dig through text when an icon would be better suited for the job. Your website's UX design should be a mix of great icon placement and complementary content, and it's all right to be a little icon-heavy when designing for mobile devices.
Follow these five icon design best practices:
Take advantage of familiar icon designs. There's no reason to redesign icons that users instantly recognize. Icons for e-mail, messaging, home, search, and social media are best left in their universally-recognized shapes and styles. A great icon should be able to stand (and be recognized) by itself, even if it's common practice to use text labels next to corresponding icons.
Replace text with icons to save space. This one's pretty self-explanatory. Text takes up space, and mobile UX and UI design space is valuable. What you do, or don't do, with that space is crucial to conversion success. Icons are a great way to abbreviate the message of content and UX design intention.
Size icons appropriately. Size matters as far as website and mobile design icons are concerned. "The less obtrusive, the better" is usually the mantra, but go too small and your icons become unusable on mobile devices. Size your mobile icons to at least 1 cm x 1 cm to provide adequate space for mobile interaction.
Establish icon consistency to avoid confusion. Icon design cohesion and consistency are one way a business can continue to create a brand aesthetic. You can also avoid user confusion when all the icons on your site adhere to similar design elements like size, color choice, and artistic style.
Don't forget your white space. How you use the space around an icon is almost as important as the icon itself. Will you use text labels? Will you group certain icons together? If so, where will they sit on the page in relation to the text and media content? It may be subtle and simple, but your white space can say a lot about your company, and it's best to steer the conversation in the right direction with attractive design.
Avoid These Three Common UX Design Mistakes
Common UX design mistakes are universal in the sense that the average user is smart enough to spot them regardless of the avenue they're served through (desktop, mobile, etc.). Your icons won't be perfect when you avoid these common UX design mistakes, but they will be better.
Try to avoid:
Excessive stylization – Keep it simple. Mobile icons don't need to reinvent the wheel, and the less stylization the better in most cases.
Incorrect information – Icon text labels that don't correspond to the appropriate click-through content are an unforgivable UX design faux pas.
Design clutter – On-page elements need to complement each other in a way that's unobtrusive and aesthetically pleasing. Mobile icons should fit on-screen without getting in the way of navigation or content delivery.
Icon Design Should Be Simple and Smart
Icons have to be functional, understandable, and intuitive to serve their purpose both on your website and on a user's mobile device or desktop. It's okay to get a little creative and infuse some of your brand personality into your icon design, but do so with a light touch and only if UX is enriched. Do your icons improve or detract from a well-crafted user experience? Are they easy to use on mobile devices? Is it time to give them a redesign because they're too confusing? Simple is smart, and most successful icons are designed to be simple, subtle, and stress-free.