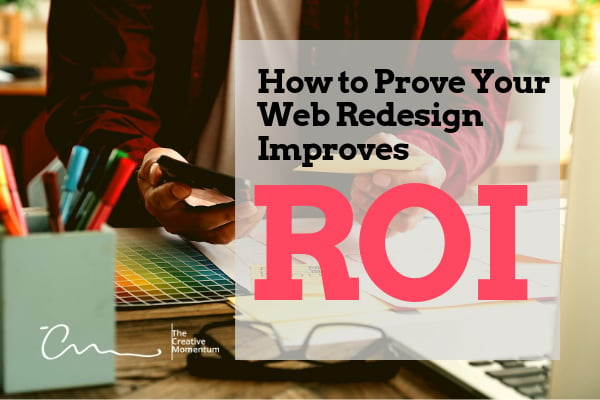 If it's been a couple years since you've last redesigned your website, you might be considering an update. Most website redesign projects produce positive effects, given that designers are able to update site assets with the latest and greatest trends, but it's hard to quantify just how much a redesign will help boost your company goals.
93% of Chief Marketing Officers state that their biggest challenge is proving the ROI of their efforts. And since the website redesign decision is largely a matter of cost/benefit analysis, let's discuss how marketers can assess the effects of their web redesigns and prove that it's producing a measurable ROI.
Start With Costs
Any discussion of ROI must begin with project costs. Every website build is unique, so you'll need to work with your design team to line out expected capital outlay. Go over your goals, expectations, and timelines, keeping in mind that bigger projects tend to produce more drastic results.
Define What ROI Means to You
Of course, "ROI" is a somewhat nebulous term. It means different things to different companies; some quantify ROI through actual dollars, though it could just as easily be applied to web traffic increases, conversion rate boosts, or brand engagements.
Naturally, if you want to prove your ROI to senior executives, shareholders, or anyone else, you'll need to have a concrete idea of what you're measuring. Come up with a few specific goals for the redesign that you can measure and use to justify the cost.
Don't Fix What Isn't Broken
Though not directly related to proving ROI, this tip will help guarantee that you actually achieve an ROI in the first place. For your website redesign, don't fix what isn't broken. Certain aspects of your website, such as your product pages or landing pages, may be significant drivers of traffic already. If so, making changes to these pages would just be moving backward.
This step somewhat depends on how you define ROI. The goals of your redesign project will influence which assets you preserve and which you change. Some companies may want to focus most on SEO improvements, while others might be interested in navigational changes that support lead generation.
Regardless of your goals, you'll need to turn to your metrics to start gathering data. Use Google Analytics (or whatever analytics platform you have) to take stock of your site assets.
Check unique site visitors for each page over a reasonable time period.
Review the ratio of returning visitors vs. new visitors.
Identify which channels draw in the most traffic.
You can even look up the number of referral URLs each page has earned. This is crucial information to know ahead of your redesign, as these backlinks are great for SEO. Fortunately, Google Analytics makes this process easy with its "Most/Least Popular" page sorting tools. Check which site assets are underperforming in your chosen goals, and focus your attention on those areas for the best possible redesign ROI.
Apply Changes—And Continue to Measure
So, with all the above in mind, let's assume that you've gone through with your redesign, and the project is done. What's next?
From here, we can get into the meat of "proving" the efficacy of your changes. This will come back to the metrics and analytics you used to measure your site's initial impact, as detailed above. While the process is a bit more complicated than a simple before/after comparison, on a fundamental level, this is all that proving ROI is.
Keep a running list of the changes you've made and monitor your analytics. Keep tabs on traffic flow to your updated pages and tally your brand engagements. Your goal here is to get as close to a 1:1 comparison of your previous page to your new one.
For example, if you've updated a landing page for a free webinar you're offering, you're probably interested in the change in conversion rate that the redesign offered. Measure this—but make sure you're measuring in the same time period as your initial research.
And while you might have specific goals for your redesign that don't align with the average company's goals of "more traffic, more conversions," it still pays to keep tabs on these crucial performance metrics throughout the process: page traffic, unique site visitors, bounce rates, time spent on-page, and so on. If you have the time and the means, it doesn't hurt to keep track of more metrics than you think you need—any positive data you get can be used to prove the effectiveness of the project.
Another good way to get some data on the efficacy of your changes is to keep tabs on your page's search rankings. Google Analytics is your friend here. Keep watch on how your pages are indexed, how many referral links you get, and your new site's overall position in the SERPs relative to where you started. It might take some time for the crawlers to index any new pages added in your redesign, so be patient with this one.
Defending Design With Data
"Proving" ROI is a question of having concrete, measurable data you can show to assign quantitative value to design choices. It might sound simple, but research into conversion rate optimization shows that a full 61% of companies do fewer than five website tests per month.
Ergo, even if you only do a few different website performance tests throughout the month, you'll still be better off than the majority of your peers. Gather as much information about your site as you can before your redesign and compare your metrics after the fact to get an idea of how your new site performs.