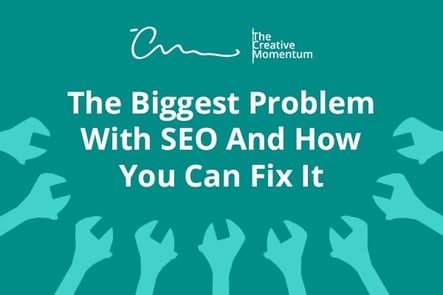 The SEO process is rife with problems. Even the best website owners have a hard time taming it.
Consider the results of a study conducted by Raven Tools regarding on-page SEO problems. Over the course of several years, marketers studied hundreds of thousands of websites and collected information about the most common SEO issues plaguing the internet.
Unsurprisingly, there was no shortage of problems to be found. What did surprise us was the data: According to the research, image optimization was the single biggest culprit of on-page SEO error. And by the numbers, it wasn't even close. The data revealed several sources of error:
442 meta issues
296 link issues
119 page errors
And our first place winner?
That's right—the survey results found that image optimization issues accounted for more errors than everything else combined, comprising 78 percent of the total.
Optimize Those Images
It's well-known that image optimization is essential for quality SEO, but clearly, there's a disconnect somewhere in the current era of SEO web development and image use. If this hits a little too close to home, don't worry—we have your back. Let's review the basics of how to put your images to work for SEO success.
Choose the Right Image
Naturally, you'll want your images to relate to the text they support. You'll be using choice keywords to unlock the SEO potential of your images, and aligning your image keywords with your overall keyword strategy can't happen unless there's some degree of relevance.
Your tip: Don't include images just to have images. Make sure each photo is relevant to its source material.
Scaling
Your image needs to be the right size and scaled to fit comfortably on the page. There are numerous reasons for this, including staying true to principles of web design and keeping your page load times low, but really, it's just good practice if you want to keep readers happy.
Your tip: Size all images to fit neatly on your page and try to keep file sizes low. Doing so will improve the user experience and make pages easier to index.
Alt Attribute
The tips so far are helpful, but the alt attribute is where the money is. The alt attribute (also known as the alt tag or alt text) is how search indexers "read" your image. This is also the text that appears when you hover over photos. This factor can have a big impact on SEO, but don't go too crazy stuffing it with keywords. Like all aspects of search optimization, you must design for users first and computers second.
Your tip: Use natural descriptions of your image in your alt attribute and include keywords with care.
XML Sitemap
Straight from Google's mouth, images should be included in XML sitemaps for maximum SEO value. This can be done through plugins or on your own, but either way, it's an essential part of helping indexers understand what your image is all about.
Your tip: XML sitemaps tell search crawlers which images you want to index. Make sure you host a sitemap on your page or use a plugin to do it for you.
Fixing Sloppy SEO
SEO is a fickle creature on the best of days, and according to the data, many of us struggle with it. Take a look at your current website and make sure your images meet the above criteria. It'll only take a few minutes of tinkering to fix any errant images—and you'll gain powerful SEO exposure in the process.