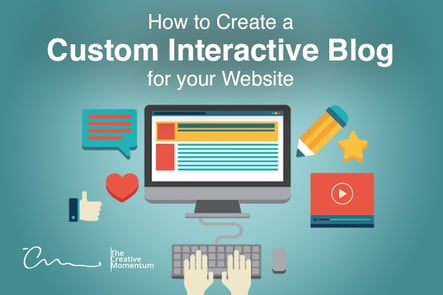 Blogging is a necessary, crucial building block for SEO. The content posted on a blog lets Google know you are an expert in your industry and therefore improves your ranking in the search engine.
The Creative Momentum built a blog for long-time client, VersionOne, incorporating a level of detail most other blogs are missing – customization.
VersionOne's blog is set apart because it is an interactive blog. Like other blogs, users subscribe to receive an update every time a blog is posted. We went a step further and created categories. The user can subscribe to the topic of their choice, or multiple topics, only receiving updates related to their interests. This customization is possible using a tagging structure on the backend, with categories.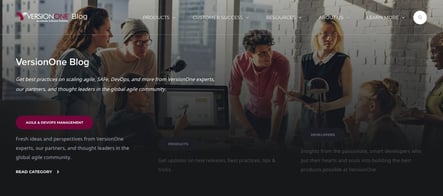 Additionally, when migrating content from an old website, VersionOne wanted the ability to import authors and prior users, without any manual labor. With over 1,000 authors, this process could have been extremely time consuming. The Creative Momentum executed a mass import of all blog posts, users and authors from the old website, without interruption.
It was important for users to have an uninterrupted, seamless experience. Articles they had bookmarked were still accessible and now with an improved UX. Blog topics are also searchable, creating a very usable educational resource.
We integrated the blog with a system called SendGrid, which handles all mass emails to customers, on a scheduled basis. Blog updates are only sent out at certain intervals, eliminating spammy-feeling emails. Along with the email alerts, The Creative Momentum built an RSS feed as an alternative method to blog post updates.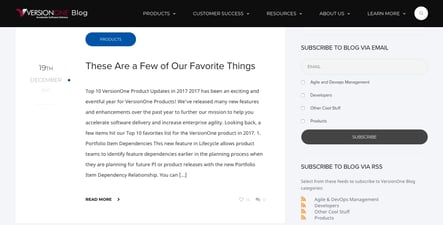 Building a custom, interactive blog has allowed VersionOne's customers to use the website on a more personal level. Additionally, having customers self-identify in categories creates excellent database segmentation for email marketing!
To learn more about website design, website development, customized blog functionality and inbound marketing, contact us today.