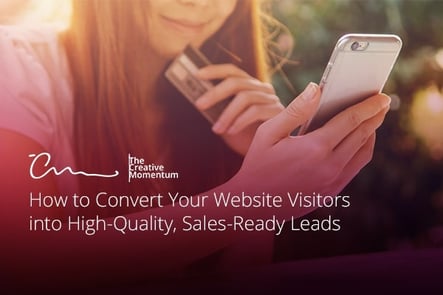 The second phase of the inbound marketing methodology is known as "Convert". Once you've attracted the right kinds of visitors to your website using inbound marketing, you need to decide what action you want them to take next.
What is a Conversion?
A conversion happens when a website visitor provides their contact information in exchange for something of value on your website (like an eBook, white paper, or webinar.). By providing their contact information, they are converted from a "visitor" into a "lead".

So how can you increase the number of conversions on your site? There are a number of elements you need to incorporate on your website to facilitate successful lead conversions.
Landing Pages
Website conversions all start with a landing page. This is a web page designed to house a particular content offer. Landing pages should be free from distractions and focus on a singular topic that is related to the ad, social post, email, or link that brought them to the landing page in the first place.

The power of your landing pages lie in their ability to drive interest in your offer. Here are some best practices when it comes to landing page design:
Use compelling imagery to help convey the value of your offer
Make use of bullets, headings, bolding, and white space to break up lengthy copy
Remove navigation links and other distractions that tempt your visitor to leave the page
Make sure to include social sharing icons so visitors can easily promote the offer for you
Ensure your landing page is optimized for search engines
How do I know what makes a good content offer?
What makes a good content offer varies depending on several factors, including: the nature of your product or service, your industry complexity,the length of your sales cycle, among others. Above all, your offer should be designed with your buyer persona in mind and it should answer a question or address a problem that they have. That's the only way to ensure that you're attracting high-quality leads to your website.
CTAs
Your CTAs should use action-oriented text; something that compels your visitor to take action. Try to think beyond standard CTAs like "download" or "free trial" and get creative.

Check out Netflix's CTA: "Join free for a month" - the text is simple, yet powerful. It prompts action and clearly explains what the offer entails.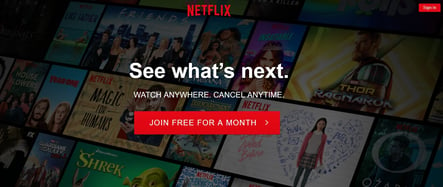 Keep in mind that over half of website visitors are on mobile devices so your CTA's need to be big enough so they can be clicked with a thumb. Apple recommends a minimum tappable area of 44pt x 44pt, and you need to ensure you allow ample white space around the CTA button as well.

Finally, you should use A/B testing to optimize all aspects of your CTAs, including things like placement, size, font and color.
Forms
Let's talk for a minute about forms. (We'll save the debate about whether or not you should be gating your content for another day.) Assuming that you are gating your content, the length of your form should be proportional to the perceived value of your content offer. No one is going to give you their home address, cell phone number, and mother's maiden name for checklist about web design. Ask yourself, what do I really need to know about my prospects to get the conversation started. You can save tougher lead qualification questions for subsequent interactions.

Preferably, you want your form hooked into your CRM system. That way you have a timeline of all of your customer interactions which allows you to analyze and fine-tune your marketing and sales processes. You an also use the lead information that you gather to make subsequent offers "smart". For example, if you know where your visitor is located you could offer subsequent content in the visitor's native language.
Conversion Rate Optimization (CRO)
Optimizing your landing pages for conversions is all about testing. What should you test? Everything! You can experiment with images, CTA placement, CTA color, CTA wording, the list goes on… The one thing you have to remember is to test one thing at a time. And, remember to give yourself enough time to test. (Remember the words statistically significant sample size from school...me neither!) Depending on the amount of traffic your site gets, this could mean a matter of days or even weeks.

You can use tools like Hotjar, Optimizely or Google Optimize. The tools provide features like A/B testing, multivariate testing, heat mapping, and scroll mapping to give you a visual way to understand where visitors are spending time on your site.
Thank You Pages
An often underutilized step in the lead conversion process is the thank you page. The thank you page is the one that's shown immediately after a contact submits their information on your form. It's generally where they can access the link to download your content offer. But what most fail to recognize is that the thank you page presents another opportunity to engage with your lead. You can offer them another piece of content related to your original offer. The second piece of content is likely to be a more in-depth piece of content designed to push them further down the sales funnel. You can even gate the second piece of content in exchange for more qualifying information about your new lead.

For example, your original content offer might have been, "Why Mobile-First Websites Are So Important" which the visitor was able to download in exchange for their name, company name, and phone number. On the thank you page, you could offer the lead the opportunity to download "How to Build a Mobile-First Website: Step by Step" in exchange for their company size, geography, and job title (or whatever relevant qualifiers help you to identify sales-ready leads).

Overall, the goal of converting website visitors into leads, is about keeping your sales pipeline filled. By leveraging inbound marketing, you can drive high-quality leads to your website, engage with them while they're on your site, and provide your sales team a steady stream of high-quality leads.