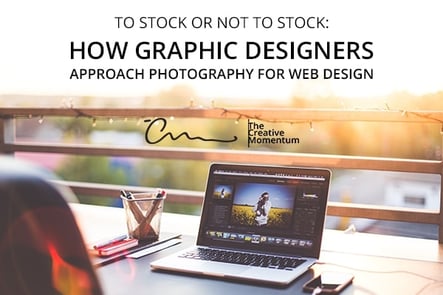 We're long past the days of "stock photos" being shorthand for lazy design. These days, many high-quality stock libraries are produced with care and are vetted by teams of creative professionals to make sure the images are up to par.
There's a lot of work that goes into stock photos, and website owners shouldn't underestimate their potential.
The Artistry of Stock Photos
Stock photos can be just as effective as custom photography for your website. But to understand why we need to examine where this seemingly-endless sea of stock photography actually comes from.
Consider a major stock image provider like Shutterstock. Distributors like these contract with teams of photographers, artists, and graphic designers to fill out content libraries and bring specific image concepts to life. And when a user downloads one an image from Shutterstock, the photographer who created it gets paid.
More work goes into it than you think!
To facilitate this growing stock economy, the distributor may provide its photographers with market research, keywords, or trends to give them ideas of which photos will be popular. Many of these stock distribution arrangements work on a pay-per-download basis, meaning that the better the photos are, the more income the photographer makes.
This is the crux of why stock photos deserve more credit than their reputation suggests. They're not just random images thrown together; they're deliberately crafted works that are vetted by teams of professionals to guarantee quality:
Appropriate subject matter that users are likely to search for
Effective framing
Proper depth of field and sharp focus
White balance adjustment based on the type of lighting
Rich color saturation that pops without appearing "altered"
Most photos you'll see in stock libraries will have these adjustments made. This is great for website owners who just need a quick photo fix—but it's just as great for website owners who want to personalize their images to their own sites.
Customizing Stock Photos
Most graphic designers who submit content or manage stock libraries run each photo through the above alterations, usually via Photoshop or other, similar programs. Just about every photo meant for public consumption should undergo this process—and if you're taking photos on your own, it'll be up to you to do it.
This is one of the key advantages of stock photography that many seem to overlook. They come prepared with value-adding customizations that push each image to its highest level of visual appeal. Many of us without training in photo manipulation lack the "eye" for this type of creative expression. In this way, webmasters are actually receiving a valuable service: built-in enhancements for every image purchased.
Stock Provides Flexibility In Design
Of course, every photo you publish should be customized to your site's specific layout. Often, this means adjusting many of the aforementioned elements to bring your image's properties in line with your site's color scheme, layout, and available space. Clearly, you'll need to bring your own teams to work to make this type of customization.
But when you work from high-quality stock images, graphic designers have already done much of the heavy lifting for you. All you'll need to do is give it a few tweaks, and you'll be ready to go.
If you enjoyed this blog post, you might also enjoy: Why Product Images Are so Important in Ecommerce