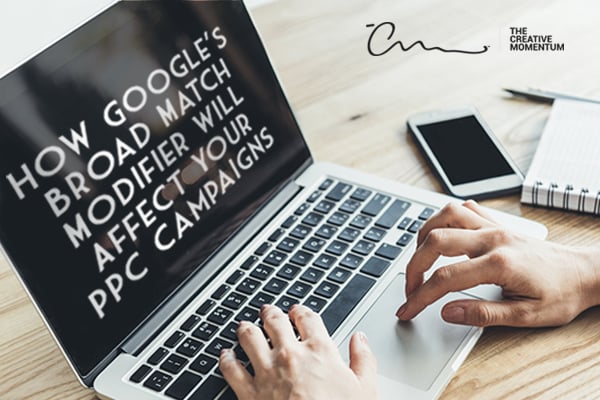 Google makes small changes to its algorithm every day. But every so often, it releases a significant update that rocks the marketing community.
So what's the latest big change you need to know?
Google's is changing the way search engines return paid results for keyword queries.
Why is this important?
Because keywords form the basis of how pay-per-click ads work, this update may lead to drastic changes in pay-per-click (PPC) campaign effectiveness.
Keep reading to learn what you can do to adapt your keyword and PPC strategy accordingly.
---
What Is the Google Broad Match Modifier?
Google introduced broad match modifiers (BMM) roughly a decade ago. It allowed marketers to more closely target their Google ads, and which keywords triggered ads. By adding a "+" sign to keywords, marketers could make sure that specific words were included in the search.
This, in turn, helped marketers to better plan their ad spending budgets and ensure high returns on investment. At first, marketers hailed it as a welcome change from the enhanced broad match, which they believed was too vague.
What is Happening to the Broad Match Modifier?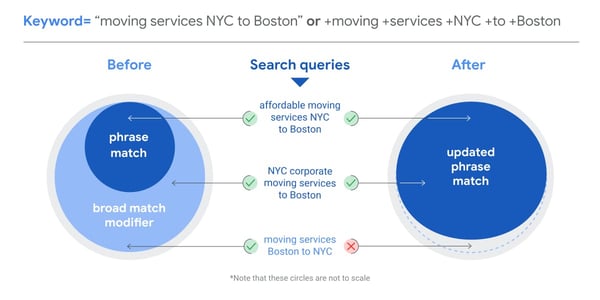 Google's Broad Match Modifier is going to largely be incorporated into the phrase match update. Image source: Google.
In short, the Broad Match Modifier itself is going away, i.e. you won't be able to target your ads using the "+" prior to keywords. However, Google is incorporating "BMM behaviors" into existing phrase match for keywords. In fact, Google says that phrase match keywords will continue to provide the same functionalities as BMM and that negative keywords will not be impacted by the change.
Google also explained that phrase match will continue to respect the relevant order of keywords. For example, if someone searched for corporate moving services from Atlanta to Athens, it would show ads for moving services in Atlanta. It would not, however, show corporate moving services for Athens to Atlanta. In addition, it will also serve ads for other relevant keywords, such as "affordable corporate moving services in Atlanta."
How Will The Loss of Broad Match Modifier Affect PPC Ads?
Google insists that the change will have no major impact on PPC ads and that it might even result in more traffic. The increased traffic stems from the fact that the keywords and keyword phrases using broad match modifiers now also returns results for related phrases. In theory, this will help improve exposure, click-through, and the quality of leads.
While most marketers and business owners can expect slightly better performance in ads, marketers who focus heavily on BMM may need more time to adjust.
The Search Engine Journal suggests that the loss of broad match modifiers will have a marginal impact on PPC advertising. This is because few marketers use partial BMM, which is the only time the modifiers are helpful. For example, if you have a Thai restaurant in Boston, you'd make sure Boston is included in the search query and would enter the keyword as +Boston Thai Restaurant. Instead, marketers began putting "+" ahead of every keyword to make sure it was included in the search. Statistics confirm that marketers rarely use the the board match modifier as it was intended anymore:
95% of all broad match modifiers are actually full BMM because they include the "+" before every word

89% of advertisers relied on the use of BMM

55% of advertisers always use full BMM

Only 5% of keywords illustrate more selective use of BMM by using "+" sparingly
What Can Advertisers Do to Prepare?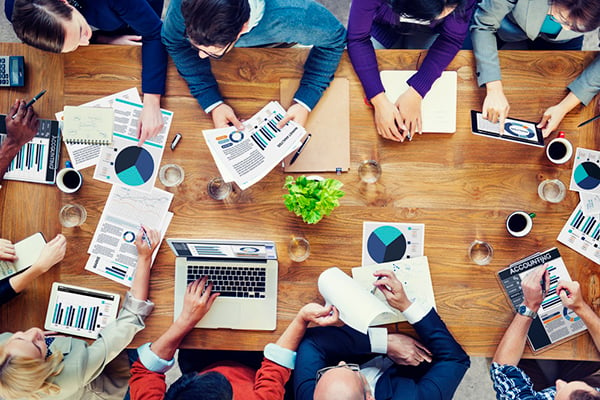 Google does not release details of its algorithms or strict details on what marketers should do to master the new system. Google's goal is to figure out how to return the best search results based on consumer behavior, so showing marketers how to come out on top could skew the results.
Consequently, Google offers four basic recommendations:
Monitor and analyze. Look for variations in behavior and conversions, and make adjustments.
Review recommendations. Google offers their recommendations page as a resource for discovering relevant keywords and removing duplicates.
Use broad match with smart bidding. Only for those concerned with losing significant volume, Google offers this option as a way to target ads to additional relevant searches.
Use negative keywords. Finding and using the best keywords is just as important as removing keywords that aren't relevant.
Marketers will need to keep a close eye on traffic volumes and other key data to determine how the change affects their campaigns. A good starting point is to determine how much traffic comes from Google broad match modifiers. Then, seek alternatives in phrase match to replace this.
Whether marketers prepare ahead of time or after a few weeks of observation might also vary across professionals. Some marketers believe it's better to see what's broken and how broken it is before strategizing and executing a fix. Other marketers might choose a more proactive approach that estimates potential damage and creates a "patch" before the problem manifests.
When Do These Changes Take Effect?
Google made its announcement in February 2021 and has already begun the transition process. However, the new changes will not take full effect until July 2021. This gives marketers and business owners some time to transition into new PPC ad strategies if necessary.
Note that changes begin sooner for advertisers using the major world languages. In fact, Google has already started rolling out changes for the following:
English

French

Spanish

Italian

Portuguese

Dutch

Russian
How Can The Creative Momentum Help?
If you feel overwhelmed by these and other changes Google has made, and you worry that it could affect your traffic, we can help. Our commitment to our clients has made us one of the most highly ranked creative agencies in the United States.
Our team at The Creative Momentum is dedicated to researching and understanding the ways that Google and other search engines work. We then leverage our insights to develop effective ad campaigns that convert casual strollers into clicks and clicks into paying customers.
Are you ready to hire a creative agency to manage your PPC ads? Contact us for a quote today. We look forward to working with you.