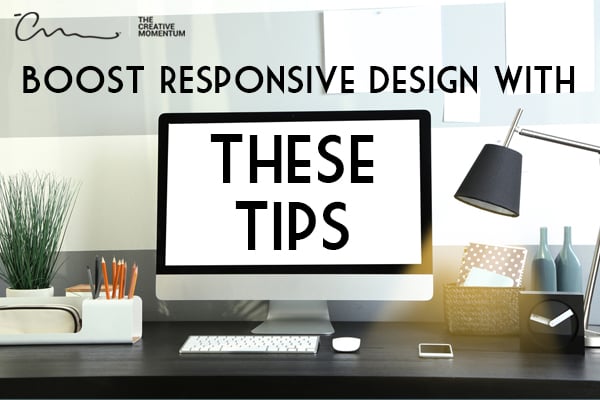 There was a time when responsive website designs were a marketing luxury. As smartphones and tablets became ubiquitous, so did internet searches on those devices, and Google changed its algorithm to support this change in user behavior.
Google, Bing and other search engines began prioritizing responsive websites for mobile searches. These websites adjusted to multiple screen sizes, which made it easier for customers to browse.
So how can you build a more responsive website for your website users?
---
1. Research Your Site Visitors
Every brand draws their own unique audience. These customers may use a wide range of devices or could stick to one or two. Knowing what the predominant devices are will help you design a responsive website to meet their needs. This can help you map out an appropriate timeline for accommodating each device.
Learn how visitors use your website. What pages do they visit first? Which specific page usually converts them into a purchase? The answers to these questions can help you decide how to prioritize items.
2. Prioritize Flexibility
Ethan Marcotte coined the term "responsive design" more than a decade ago. Since then, responsive design has taken on a shape of its own. It has been defined and redefined by thousands of web designers attempting to create their own render of Marcotte's vision.
Even so, when he describes responsive web design, he focuses on flexibility. Instead of creating a rigid or ideal shape for a website, he believes designers should create a website that changes based on different stimuli from users. Elements of this include fluid grids and even fluid images.
3. Clear Navigation
Clear navigation is always important, and this rule doesn't change when reviewing your responsive design. If the home or menu button is hard to spot, you can expect prospects to get frustrated and leave, driving up your bounce rate. And don't forget that navigation is also important for conversion.
Too many businesses lose sales opportunities because potential customers can't figure out how to contact them, ask for a quote, download the app, or access the online store.
4. Optimize Images and Graphics
Content plays a fundamental role in marketing. Text, images and video are all important for SEO. However, image and video content requires more bandwidth to host and load. This can slow down a website. Digital.gov recommends the following tips to make images better for mobile-friendly websites.
Limit Page Size: The bigger the page, the longer it takes to load. Smartphones also set a limit on how much of the downloaded content ends up in the cache for future use. Possible solutions include using JavaScript, gzip compression, or CSS consolidation.


Optimize Images: As picture quality has increased, so has the size of the image. Access to the original quality is important, but downsizing for the website can reduce user load time which is what you want. Your website designer can advise you on the best size or ratio, which will depend on the design.


5. Prompt Specific Keyboards
Touchscreen phones are currently the norm, but there was a time when people typed on physical keyboards built into the phones. Touchscreens improve the viewing experience, but they hinder the ease of typing because users must constantly switch between virtual keyboards to get punctuations, numbers, and letters.
With keyboard triggers, your website prompts specific keyboards to open for typing information in. For example, when typing in monetary values or phone numbers, the site will bring up the numeric pad. Then, it prompts the alphabetic keyboard to type in a name.
6. Design Before Building
Whether you plan to build a new website from scratch or revamp an old one, start with an actual design. Don't just build something and try to tweak it later. This could set you back and even limit the options you have available.
When you start with a design, after considering all the technicalities, you can address these concerns and more:
What colors stand out and contrast well against each other?
What photos will best complement these colors and the general design?
Will seniors and people with visual impairments be able to read the text font and size?
How should the text be formatted to account for how long a paragraph might look on different screens?
Does the website need special add-ons, such as an online store or a chatbot?


7. Keep It Minimalistic

Minimalist website designs have grown in popularity over the past few years. While some people dislike the aesthetic, there's no doubt that minimalism improves functionality. It removes clutter that causes increased loading times. The lightweight design also makes it easier for users to navigate.
When you work with a creative professional, he or she will be able to design a unique, minimalist product that reflects your brand. Minimalism also makes it easy to highlight the specific things on your website or buttons you want users to interact with. Because of this, minimalist website designs often lead to better conversion rates.
8. Complete Periodic Reviews
Proper website design and maintenance can feel like a time-intensive process. It's no wonder that many business owners create a website once and never touch it again for several years. The reality is that algorithms change every day, and in order for your website to remain competitive, it needs periodic reviews.
When professionals review your site, they will look for bugs and check usability using tools like Responsinator. Marketing professionals can also determine how well your website ranks against its competitors, whether making changes could improve the ranking, and what those changes would be. You can then schedule your next upgrade accordingly.
Researchers estimate that by 2025, three-quarters of internet users around the world will use only their smartphones to get online. Use these tips to improve your website's responsive design and meet your visitors where they are.

Need more help than this article provides? Contact The Creative Momentum for a quote today.
---