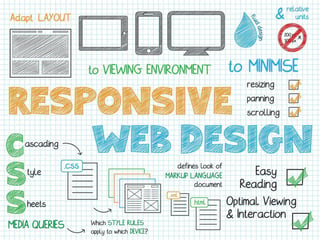 Innovations in user interface are without a doubt one of the most important areas of technological advances in computer usage over the past two decades. From Lyft drivers to CEOs to disinterested dates, smart phones, tablets and laptops have become living extensions of modern human beings. Given the variety and prevalence of mobile devices, the importance of responsive web design is pretty intuitive. Here are five major reasons why responsive web design is a must.
1. Mobile Optimization
The widespread nature of mobile devices doesn't simply mean that users may visit your website through a smart phone or tablet at some point in their browsing history. There is an increasing number of users who browse the internet exclusively through their devices: Twenty-five percent of U.S. Internet users rely on their mobile devices for all of their online activity.
By neglecting mobile, not only are you missing out on users who might have stumbled upon your webpage while away from home, you're completely losing access to many users who have no other way of finding you. Mobile media time has finally surpassed desktop PC use; ignoring mobile means missing out on a big slice of the online pie.
2. Consumer Preference
Tailoring your website to a variety of different users sends a message. It tells your consumers that you value their experience with your brand. Stumbling onto a clumsy website through a smart phone or tablet can send a message that your business is out of date or, more importantly, that you don't care about their user experience. Online commerce is an increasingly competitive environment and responsive design can make the difference between rising above the competition or fading into the crowd. Research gathered by Hubspot shows this impact well: Customers who have a good experience with your mobile site are 67 percent more likely to purchase from you. However, when their experience is bad, there's a 61 percent chance that they'll ditch your site and look elsewhere for solutions.
3. SEO
A major game-changer in search engine optimization took the internet by storm when Google announced that mobile optimization had become a major factor of its sorting algorithm. Organic search priority is now provided to websites with mobile optimization, which means that if search ranking is a consideration at all, you can't afford to skimp over optimizing you website for mobile. Having a single page also reduces the number of pages Google must index on your website and helps the visibility of your material.
4. Marketing
Developing a mobile webpage aside a desktop version can be tempting as a web development shortcut. A single web page means that you have one landing page, making things a lot less complicated after launch. This also applies to your social media campaigns. When you can route all traffic back to a single domain, you save yourself (and your users) the confusion of knowing which is which. Accidentally accessing a mobile site on a desktop PC can be frustrating. Simplify.
5. PPC Support
PPC marketing is a fundamental part of any digital marketing campaign, and responsive web design can enhance the process in several ways.
Take another look at the benefits described above. By adapting your site to a responsive format, you're strengthening your PPC campaign in three important ways:
Better SEO
Mobile integration
Consumer Preference
Each of these three factors (visibility, mobile optimization, and consumer interest) are essential to a healthy PPC campaign. Plus, decreasing the number of landing pages you must worry about means that your PPC budget won't be diluted from spreading yourself too thin. By 2018, experts predict that the amount of money spent on mobile ads will double. Deploying responsive web design as early as possible will help you get the most out of your PPC advertising.
Regardless of your content, industry or target market, responsive web design isn't a consideration. It's a necessity.