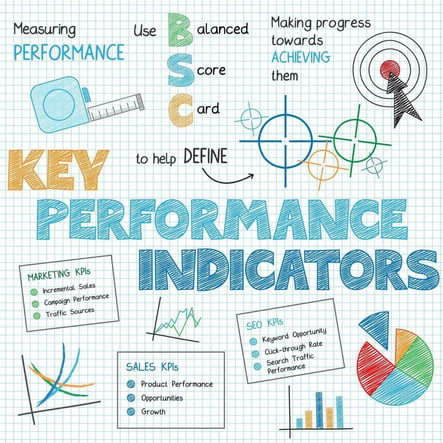 You have a business, and you're looking to assess the areas that you can improve. The next step is to use Key Performance Indicators, or KPIs, to track your strengths and weaknesses.
Before you can assess how your website is doing, you first need to determine what your goals are and build a framework accordingly. Maybe you're looking to increase advertising income, improve user satisfaction, or revamp the content on your site. Utilizing KPIs can help you track your performance in all of these areas by measuring your site's success or shortcomings.
Measure Actionable Metrics
When monitoring your site's data, you want to assess data points that can directly benefit you. Many businesses like to look at Google rankings, the number of hits the site gets, or how many times it's mentioned on Twitter. While these data points aren't useless, they don't translate into conversion rates.
Knowing how much overall traffic your site is receiving is useful, but what you really want to focus on is how much of your traffic is helping you reach your goals. Depending on what services you provide, you will have your own unique set of goals. Every business has a different action plan, but here are some good KPIs to monitor for business sites:
Rate of leads per month
Number of subscribers
Products per order
Content downloads
Number of sales generated
Using Google Analytics
Google Analytics is an excellent tool you can use to measure data and improve your site. You can compare hits by looking at how many unique visits and routine readers access your site; you can see the geographical location of your readers; and you can even view clicking patterns and heat maps.
All of this information is useful when running a web-based business. With this information, you can determine how many new visitors you receive each week or month, where your largest chunk of customers is located, and the best place on the site to add important content or features.
Making KPIs Work for You
There is an endless amount of data out there to analyze, but not all of it pertains to you. Avoid looking at information like visits and top traffic sources. This type of information only touches the surface and doesn't help most businesses improve their marketing campaign.
The best way to use KPIs is to make sure that the data you analyze is always relevant. Whether you are analyzing the metrics on your own site or compiling a portfolio to present to stakeholders, all of your data should directly tie into improving the overall business goals.