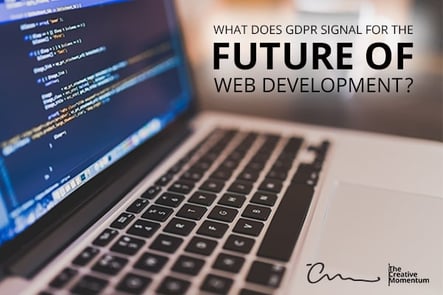 As we recently discussed, the EU-based General Data Protection Regulations (GDPR) are here, taking effect on May 25, 2018. This new regulation came in the wake of growing concerns about consumer privacy, particularly in how businesses handle the storage of personal information.
And while this change could certainly be seen as a step in the right direction in terms of cybersecurity, we developers and website owners are left wondering: How do these new global standards affect my website? What do they mean for the future of web development?
Let's take a look.
The Core Tenets of the GDPR
To understand how the GDPR will affect the web development world, we need to look at the GDPR's rules in more depth:
Users may request data reports on all information a company has collected on them.
Users can request that businesses delete personal data at any time.
If a data breach occurs, businesses must notify affected users within 72 hours.
One of the most pressing issues of the GDPR doesn't involve its data protection policies at all. The real hot-button issue of the GDPR is that its protections extend to all companies who handle EU citizen data—regardless of where they're located or where the data is processed.
Projecting the Impacts of the GDPR
Companies in the EU have been working hard over the past couple of years to implement compliance plans before the GDPR launch, and as it turns out, many other international companies are following suit. Heavy hitters like Microsoft, Facebook, and Apple have all pledged to update their privacy policies and comply with GDPR regulations in some form, even for citizens outside the EU.
Based on the activities of those most affected by these changes, we can make several predictions on how the future of web development may be influenced by the GDPR revolution.
Increased Data Scrutiny
The biggest shift is certainly the increased scrutiny given to how companies handle data. This is clearly a long time coming, given the rash of data breaches and scandals that have plagued the tech world in recent years.
Websites will be held to higher standards of accountability and will need more advanced ways to segment and monitor any data they collect. In fact, the GDPR requires that certain companies assign a dedicated Data Protection Officer to their IT teams for this very reason.
Security—Real Security
With the GDPR raising the stakes for data mismanagement, we expect more companies to take a comprehensive approach to data security:
Increased threat assessment and vulnerability identification tools;

Advanced data encryption for data in rest and in motion;

Increased use of multi-factor authentication;

Improved staff cybersecurity training at every organizational level.
Worldwide Privacy Awareness
The EU is showing a progressive mindset to worldwide data security that few other countries have yet to match. The sweeping protections it offers holds companies accountable even when they're not based in the EU. And with massive companies like Facebook and Microsoft pledging to extend GDPR protections to all users, we expect these types of security policies to become the norm.
Compliance Planning
While any business that handles personal data should have a regulatory compliance plan, the GDPR legislation is forcing many companies to take charge of the process. In a 2016 survey by Dell, 80 percent of global respondents knew virtually nothing about the GDPR, and 97 percent of companies had no compliance plan in place to prepare.
As the impacts of the GDPR continue to unfold, we'll be watching how the world responds. Companies and governments of all kinds are responding differently to these regulations, and new information is coming out every day. Keep an eye out for news in this area and make sure your business is prepared for any changes that may come your way.