What sets quality web design firms apart from the rank and file?
While asking ten different companies will likely give you ten different answers, we've compiled a list of our "must-have" characteristics that no reputable design firm should be without, along with a brief primer on how these firms vary in their service execution: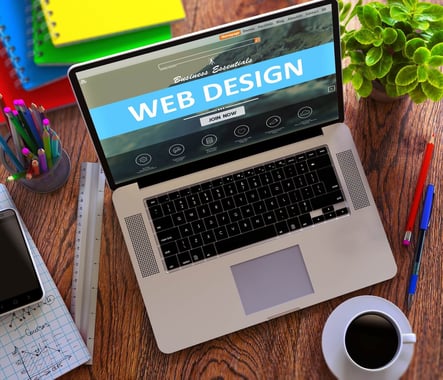 1. Experience
This one should be a given, but the best web design firms will have had years of experience honing their craft. We get that everyone has to start somewhere, but there's no replacement for years of industry insight and experience with client interaction. Those seeking the best web design firms should first look for those with a proven track record of success.
How they vary: The portfolio and work history of each company will demonstrate what each can bring to the table. Each firm may have unique designers that specialize in certain web styles—select a firm that produces work that meshes well with the themes and strengths of your brand.
2. Customized Design
What's another feature found only in the finest web design firms?
That's right—a custom experience you can't find anywhere else.
Many web design firms won't tell you this, but even professionally-done web pages are often created with cookie cutter templates. It's faster, cheaper, and many clients can't tell the difference.
This isn't the case with quality design firms, though. The best web design firms will build a custom site from scratch, guaranteeing that you'll be the only one on the block with that particular style.
How they vary: While customization should be ubiquitous across the board, make sure the firm you choose can offer you a website as unique as your own brand. Coding from scratch is complicated, and the skills of each designer will dictate what they can provide. Do your research and learn about your web design provider to ensure that they can deliver the on-site features that drive the UX (user experience) you want.
3. Communication Skills
But the best web design firms don't just deliver a product; they keep you informed as a partner in the development process.
Outsourcing web design to a firm with poor communication is a recipe for disaster. When communication is lacking, your finished product is sure to suffer. As the liaison between the design team and client, a project manager needs to keep both parties in the loop about challenges, solutions, and new ideas as the project progresses. Without this, a team won't know what the client wants, and the client won't be able to approve or disapprove of a project's direction until it's too far along, causing the client distress and costing the firm in lost productivity.
How they vary: Excellent communication is found in just about every quality design firm out there. Though how each firm chooses to communicate may vary, the best ones use a variety of channels to ensure timely messaging with their clients. Choose a firm that lets you examine the product at specific benchmarks and tests along the way.
4. Programming Language
As we discussed, the best design firms code from scratch. With this in mind, it naturally follows that the best design firms will employ coders proficient in a wide variety of programming languages.
How they vary: There are far more programming languages out there than any single person can learn. Each outsourced web design firm will have different employees who specialize in certain coding languages, like HTML, CSS, PHP, .NET or who specialize in different content management platforms, such as WordPress, Magento, Drupal, etc.
Selecting the Best Web Design
Although website owners might want to know how to find the best web design, a better question is: "how do I find the best web design to meet my specific goals?" The qualities of the best web design firms will always include experience, communication skills, and a solid portfolio. What business owners must ask themselves is what type of UX they're aiming to create, and what technical specifications are necessary to meet these goals. When a client has a clear vision that can be effectively relayed to a quality design firm, powerful and high-impact website design isn't far behind.