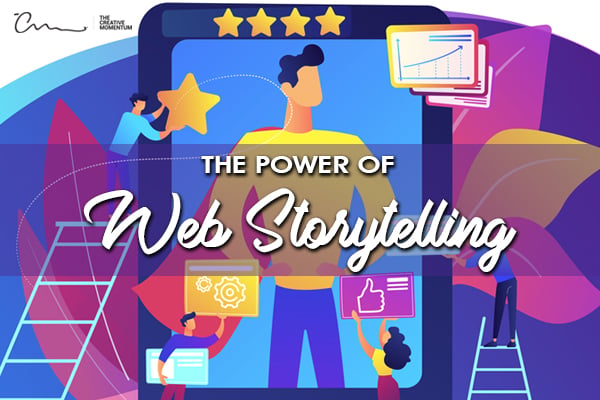 Humans are social beings, and we build our culture around storytelling. Stories define our shared experience, and the narratives we find in novels, on television, and at the movies create the basis for the pop culture machine at the center of modern life.
Consider this when you are designing your landing page. What is your company's story? How can you share it to engage customers and clients? Let's look at some of the different ways you can harness the power of website storytelling to design better websites.
---
How Does Storytelling Enhance a Website?
You may be skeptical about why it's important to incorporate storytelling elements into your website's design. After all, shouldn't a smooth, simple design or utilitarian storefront do the same job? Why invest the time and energy into incorporating a story into something that serves a simple purpose?
Here's the distinction: a website that tells a story becomes more than a place to generate leads or complete sales. It becomes an ambassador for the entire brand that represents not only what your company can do for individual clients but also how it can make them a part of the company's mission to improve the world.
A website that tells a story changes from a simple online store window to an immersive brand experience that leaves an impression.Visitors to the site stay longer and leave with a desire to forge a stronger connection with the company, either by purchasing their services or promoting their brand.
However, telling a story through web design is different than sharing a story around a campfire. Here are some of the tools you have at your disposal to highlight your brand's story.
---
1. Visual Storytelling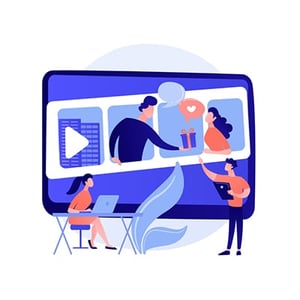 What it is: Strategic use of visual elements to reinforce your branding and create a narrative for readers to follow.

Why it's important: Visual design is one of the first things your viewers notice and sets the tone for your site through the imagery it creates.


One of the main responsibilities of web designers is to create appealing color palettes and images that work with the company's brand and set a tone for the webpage. Visual components are one of the first things a visitor will notice and, as such, are a great place to begin sharing the story of the company. These components include:
Background Colors
Images
Illustrations
Infographics
All of these visuals will elicit a different response from a visitor and establish a framework for storytelling. Take a look at the homepage for the domain hosting service Mailchimp, for example. The company uses a muted color palette with simple illustrations to invite visitors to explore their services. Abstract images guide visitors to their text descriptions and describe how Mailchimp connects businesses to their audience.
2. Content Storytelling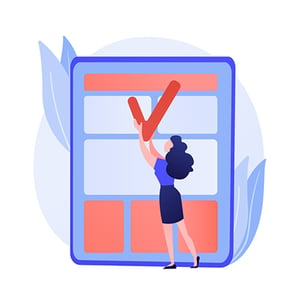 What it is: Use of on-site copy across web pages, articles, and marketing materials to communicate with your audience.

Why it's important: On-site text is one of the primary mediums through which designers communicate with readers. Effective web design relies on clear, focused web copy.


Text is the next tool you should consider when considering the power of storytelling in web design. After all, text is where designers can really communicate the vision and values of a company, alongside the history and choices that brought the business to where it stands today.
Since good websites scale to devices of many different sizes, taking a less is more approach to text on a landing page is often advisable. However, remember that the internet encourages exploration, and taking the time to fill out that story for the visitors who want to learn about it is well worth the effort.
Often, users visit a website because they have a problem that they need to solve, and text is the best place to tell the part of your story that makes you an industry leader. Content such as blogs, white papers and case studies help visitors confirm that they have found the right website and the right business to resolve the issue that led them there in the first place.
3. Video Storytelling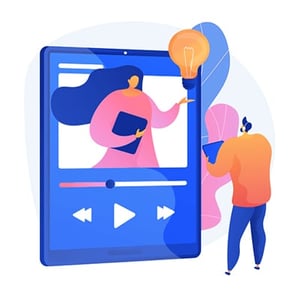 What it is: Leveraging the engaging, high-impact nature of video content to share your brand's story and connect with your market.

Why it's important: Video content is an eye-catching way to connect with readers and capture their attention beyond what simple words or static imagery can manage.


While videos may take a little more time to hook a visitor than simple imagery or text, they are very engaging and help put faces to the story that a website has to tell. Videos help break down complex topics and keep visitors on the site for longer periods of time.
Nike's Until We All Win campaign features short videos from Nike customers who talk about their journeys within their community, their trials as athletes, and efforts as team members. These stories speak to Nike's commitment to providing products that help individuals and groups improve themselves while telling the story of the company's commitment to social change.
Your company doesn't need to have the advertising budget to share heartfelt, meaningful stories from team members about what your company does to help its clients. Even low-cost video can enhance the storytelling of other design elements while delivering a memorable message.
4. Design Storytelling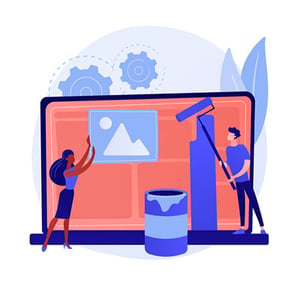 What it is: Use of website design elements such as animations, triggers, and layout to capture a reader's attention and provide implicit information about your brand.

Why it's important: Design relies on the concept of "show, don't tell." Design-based storytelling leverages strategic site elements to engage users and invite them in your brand story.


Another important tool you have at your disposal is the layout of the site itself. Take a look at FullStory, a customer experience data platform provider. The site features a seemingly simple design, with a story that unfolds as the visitor naturally scrolls down, guided by compelling imagery and short, well-spaced blocks of text.
The complex processes that the company advertises to other businesses are quickly laid out in an easy to consume pattern. It invites users at multiple points to dive deeper into whatever aspect of the service is most relevant to their current situation. The interactive elements, such as videos and demo requests, should be frequent and easy to find.
Perhaps most importantly, however, is that FullStory's landing page has an invitation for the visitor to become a part of that story. The call to action invites them to improve the visitor's digital experience and enhance their services by contacting FullStory. This completes the story that the landing page has to tell and helps convert visitors into clients.
---
Embed Storytelling into Webpages for Better Engagement
By weaving a compelling narrative into the many different design elements that go into a webpage, you create a coherent experience for visitors to identify with. When you design your next landing page, start with the story you want to share with the world, and watch engagement soar.