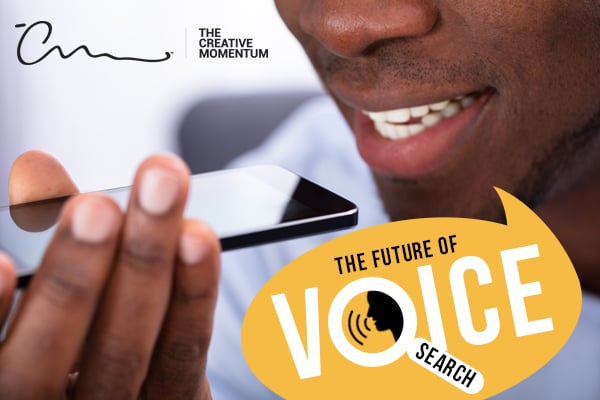 Modern, interconnected smart technology presents a unique challenge for SEO. Smart devices make it seem like The Jetsons have replaced The Joneses, and new Internet of Things technology has search engine optimizers rushing to keep up.
Users don't want Rick Astley to start singing from a smart speaker when they ask for a banana bread recipe. That's where voice search, and proper search engine optimization for voice search, comes into play.
The Growth of Voice Search
A popular marketing statistic surrounding voice search for the past few years has been "50% by 2020," but the legitimacy of the claim is dubious. The original claim came from Baidu's chief scientist Andrew Ng, who predicted in an interview with Fast Company in 2014 that 50% of all searches would be voice OR image queries in the next five years. That particular forecast was fairly accurate.
Voice search has made significant waves since 2014. Statista shows that by the first quarter of 2019, global internet users who utilized voice search in some way got close to 50% in a few countries.
What does this mean for your business? It's important to optimize content for voice search if you want to capture a significant portion of online users.
Voice Search Statistics
The numbers often do the talking when it comes to marketing decisions. Fortunately, almost all the numbers surrounding voice search and smart device usage are trending upwards. It's easy to justify marketing spend for voice search optimization when the statistics support a solid return on investment.
Here are a handful of voice search statistics to convince you that voice search optimization is worth your time:
22% of voice queries are for local content

58% of U.S. consumers have used voice search to find business information

32% of U.S. consumers use voice search daily for something they'd normally type into a search engine

More than 17 million people used a voice command to make a purchase in 2018

45% of millennials in 2019 said they shop using voice search

Voice shopping is predicted to reach $40 billion by 2022

55% of households are expected to have smart speakers by 2022
---

What are the Most Common Devices that Use Voice Search?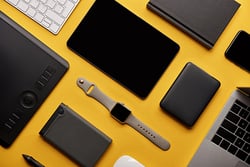 Smart technology is everywhere these days. As a result, many smart home devices, smart speakers, and smartphones can access some kind of voice search function.
There are a few big names in the voice search/smart product game, and you're bound to recognize names like Siri and Alexa. You might even have a smart speaker sitting within arm's reach or a smart watch strapped to your wrist. If not, there's likely a smartphone in your pocket.
Common smart products that use voice search include:
Amazon Echo
Google Nest/Google Home
Apple iPhone
Apple Watch
Android smartphones
Samsung Galaxy Watch
Apple and Android tablets
Samsung smartphones
Some Microsoft devices (Cortana)
Top 5 Voice Search Devices and Platforms
A recent Voice Platform Impact Ranking from industry tracker Voicebot.ai researched which devices and platforms hold the lion's share of the voice search market.
The top five services with the most impact on voice search in 2020 are:
1. Amazon Alexa
Amazon Alexa is Amazon's "cloud-based voice service." It was first introduced in conjunction with Amazon's Echo and Echo Dot smart speakers in 2014. Since launch, Alexa has been integrated with countless Amazon and third-party devices.
2. Google Assistant
Billed as a virtual assistant, Google Assistant connects to a myriad of smart devices and is meant to help users interact with everything from notes and to-dos to reminders, games, household functions and quick Google search answers. Google Assistant launched in 2016.
3. Apple Siri
Apple's Siri is likely the smart search app/software/assistant you're most familiar with because it's been around for almost a decade. Siri was originally a stand-alone app released for iOS platforms in 2010 and was slated for later release on Android and BlackBerry devices. Apple acquired Siri in 2011, and the rest is history.
4. Samsung Bixby
Samsung's answer to Alexa, Assistant and Siri is called Bixby. It's a proprietary service available for Samsung device users and can be accessed through smartphones, watches, and tablets. Bixby is fairly new, only launching in 2017, but it works on most modern Samsung smart products.
5. SoundHound
SoundHound's success is based less on user voice search and more on voice/sound recognition. The service has long been an app store favorite for identifying songs. SoundHound also launched way back in 2005 (rebranded from Midomi to SoundHound in 2009), so it's been around longer than the others.
---
SEO Strategies for Voice Search
Web guru Neil Patel's deep dive into search engine optimization for voice search is a good review of voice search trends and SEO characteristics. He urges marketers to take advantage of voice search in order to leverage their content to meet user expectations.
Here are a few things Patel points out that could improve how you optimize for voice search:
Voice search queries are longer
Traditional searches and search engine optimization focuses on short keywords or phrases—usually two or three words. Voice search queries tend to be much longer and in the form of a question. Think about how customers' questions can be specific to your business or industry. Then, try to tailor your content in a way that answers the who's, what's, and where's users might be asking to optimize for longer, question-oriented searches.
Local voice search is growing
Searches that use the phrase "near me" have grown more than 130% year-over-year. Try incorporating "near me" into your content, meta descriptions, internal links, and anchor text. Local institutions and even landmarks around your business can help voice searchers find you more easily.
Users want immediate results
Your content needs to be optimized in a way that delivers important information immediately. Short-form content works well. Also, voice search users will skip right past your business if they can't see the information they want (phone number, address, hours of operation, etc.) in your business listing. Be sure to claim your Google My Business listing and answer the questions your customers are asking.
Search engine optimization best practices can vary, but these starting points for voice search give you an idea of how users search and how you can optimize content accordingly.
---
The Future of Voice Search is More Intuitive and More Pervasive
Professional web designers and developers understand that the time to optimize for voice search was yesterday. It's never too late to give your content the boost it needs to be successful using voice search. The goal of search optimization is to use the right words, phrases, information, speed and other techniques so that users can find you when they search. Voice search is no different.
Optimizing for voice will only become increasingly important as smart devices and technology become more ubiquitous in our daily lives and behavior.