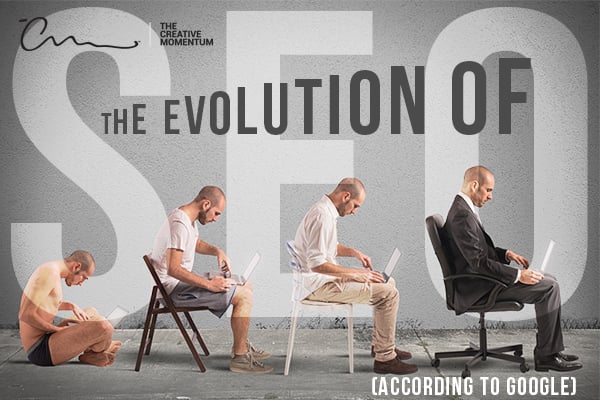 We've come a long, long way from the prehistoric internet days of the early 1970s. The history of the internet is a wild science fiction ride through Cold War scares, university halls, and that weird period that was the '90s.
There was a time when the World Wide Web was more a Wild Wild West than a www.utopia. It wasn't until around 1997 that the term "search engine optimization" was first uttered.
Since then, Google has rolled out dozens of updates to refine search engine results pages (SERPs) and provide users and businesses with an intuitive online search avenue. A broad history of search engine optimization could fill volumes, and trying to keep up with Google algorithm updates is a full-time job.
Why Google Algorithm Updates Matter to SEO
Google is the world's most-used search engine with more than 86% of the market share as of April 2020. As such, what the company chooses to do with its search algorithm weighs heavily on how your website ranks in SERPs.
The hundreds of components used to power Google's search engine algorithm are a notorious mystery. Marketers don't know exactly how each piece of the puzzle contributes to the big picture. As a result, SEOs are constantly playing catch-up and trying to adapt and predict changes to the algorithm.
That's why smart search engine optimizers manage expectations and prepare for algorithm updates and changes before they happen. It's not difficult to edit content and prepare your website to align with new updates, but it does take time. The SEO reward is well worth the resource investment.
Google SEO Updates of the Past
Google releases updates to its algorithm in the form of code patches. These code patches vary in scope, but they all impact how the search algorithm functions, and in turn, can effect current search engine optimization best practices.
Algorithm updates work to refine search results' accuracy and relevance by evaluating how well a website's content aligns with a search query.
Early algorithm updates helped pave the way for how modern search engines operate. Most were early attempts to improve how the search engine evaluated content, tracked and penalized links and improved the user experience.
---
Significant Google algorithm updates from 2003 to 2011
Between 2003 and 2011, Google was focusing on simply trying to index the internet in a way that made the most sense to the end user. Previously, it was harder to find any particular webpage, with most searches requiring multiple queries. Google improved this process through these important algorithm updates:
Personalized search – It was only in 2005 that Google started personalizing search results based on search history.
Nofollow links – The nofollow link was created by Google in 2005 to give websites the ability to exclude certain pages from search indexing.
XML sitemaps – Websites relied heavily on HTML for indexing until XML sitemaps were introduced by Google in June 2005.
Google Maps integration – Integrating Google Maps with Google's Local Business Center revolutionized local search in October 2005.
Universal search – The ability to search different formats (images, news, maps, etc.) rolled out in 2007.
Google suggest – Auto-fill suggestions started completing possible search queries for users way back in August 2008.
Canonical tag – The canonical tag is the method for duplicate content issues these days, first introduced in February 2009.
Real-time search – Real-time indexing of news stories for social media platforms became possible near the end of 2009.
Google, like most tech firms, names each update. Here's a list of their updates during this time for further research:
Boston
Cassandra
Dominic
Esmerelda
Fritz
Florida
Austin
Brandy
Allegra
Bourbon
Gilligan
Jagger
Big Daddy
Buffy
Dewey
Vince
May Day
Caffeine
Instant

---
Google Updates (2012 - 2015)
2011 and 2012 saw the launch of two of the most significant Google algorithm updates to-date: Panda and Penguin. Both saw a number of different iterations as they continued to shape the way search functioned, and both are still relevant to search engine optimization today.
Panda
Google Panda rolled out in February 2011 with a central focus on the way Google's algorithm determined the quality of website content. The update(s) initially affected twelve percent of all search queries. Content farms were heavily penalized for keyword stuffing and creating meaningless "fluff" content, and Panda changed the way SEOs write content to this day.
Penguin
Google Penguin did for link building in 2012 what Panda did for content in 2011. The algorithm update sifted out websites using black hat link building for search ranking, such as purchased links or other skeptical link-building tactics. Subsequent Penguin updates made it so websites could no longer optimize for search at the expense of the user experience without getting penalized in SERPs.
Updates over the next few years continued to improve the relevancy of SERPs, improve local search and accommodate mobile devices.
Hummingbird
Google Hummingbird was a 2013 algorithm update that made it possible for Google to further understand what users meant with search queries. Keywords became less important than the overall intention of the query.
Pigeon
Google Pigeon altered how local search results worked in 2014 and brought local and national search closer together. The update changed the layout of local results and how Google handled location cues. Third-party sites like Yelp were also given more authority in SERPs.
Mobilegeddon
The Mobilegeddon algorithm update in 2015 made "mobile-friendly" a mantra for web marketers. Mobilegeddon favored sites that were optimized for mobile devices while penalizing those that weren't.
---
Google Updates (2016 - Present)
Users never stop searching, so Google never stops updating the algorithm. The last five years have seen increased use of new technology to make the algorithm—and, by extension, search engine results pages—smarter and more intuitive.
RankBrain
Google's RankBrain update launched in April 2015. RankBrain is different from previous updates in that it's an artificial intelligence (AI) technology that uses machine learning to improve search results. RankBrain is used to sort live search results, adapt to words and phrases, and filter never-before-seen search queries and keywords. The purpose is to get closer to a user's query intent than ever before, much like Hummingbird did two years earlier.
Possum
Google Possum was a minor but significant algorithm update in 2016 that further helped differentiate between local search results.
BERT
Google BERT (Bidirectional Encoder Representations from Transformers) is the latest update (2019). This state-of-the-art technology focuses on natural language processing abilities. BERT, once again, continues to refine how well search results and the search algorithms can understand user search queries.
---
How Modern Google Algorithm Updates Influence SEO in 2020
Common perception is that Google algorithm updates are bad for SEO. That's not the case, but you need to be prepared and optimize your website so that it isn't significantly impacted by any one algorithm update.
No one can know how much a new algorithm update will affect search engine optimization, but past algorithms lay a path for good SEO practices in 2020.
Optimize for local
Focus on quality over quantity when it comes to content and keywords
Optimize for mobile
Valuable link-building trumps quick and dirty link-building
Optimize for natural speech and voice search
Intent is just as important as keywords in search queries
Don't let new algorithm updates scare you away from quality content and comprehensive search engine optimization. Do start an office pool to see who can come up with the best name for Google's next algorithm update.