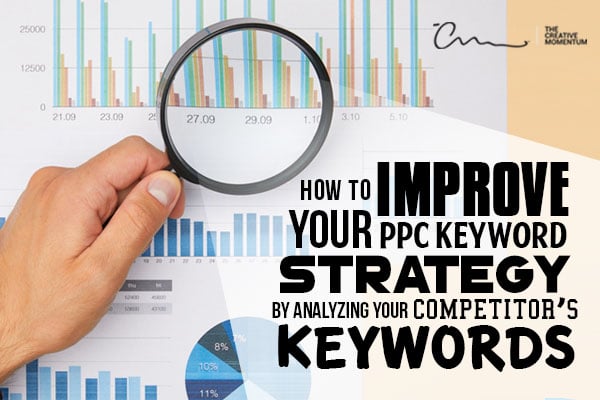 Keyword research is an essential part of SEO, content strategy and pay per click (PPC) campaigns. Essentially, keyword research is the process of identifying the keywords your customers search for the most.
While it may sound simple, keyword research is actually a complicated process. Since any word or phrase can be considered a keyword, there are countless options to choose from. Since no business can afford to pay for PPC ads for all the keywords, you need to narrow the list down considerably.So, how do you choose the best keywords for your brand? In this case, your competitors might be your best friends.
---
Competitor Keyword Analysis
Imagine you run a restaurant. Times are tough, and business is dwindling. Although there aren't any customers sitting at your tables, the restaurant down the street always has a line out the door. What's the best way to discover their secret to success? Pay them a visit to see what they're doing.
It might sound sneaky, but taking a look at what your competitors are doing is a great way to get new ideas. That goes for your keyword research too.
If you're not sure which keywords you should use in your PPC keyword strategy, look to your competitors. See which keywords they're ranking for and use that knowledge to boost your own keyword strategy.
---
Benefits of Competitor Analysis
Snooping on your competitor's keyword strategies can give you a lot of insight into their online marketing strategies. This information can help you build and strengthen your own PPC keyword campaigns in a variety of ways:
Identify new keywords
Find gaps in competitor strategy
Learn who your competitors are targeting
See which products or services they're pushing
When managing a PPC campaign, the more competition there is for a keyword, the more expensive it'll be to rank. Take a peek at your competitor's keywords to reveal gaps in their campaign strategy. If you notice that they overlooked a relevant keyword, that's a great opportunity for you to swoop in and take some online traffic on the cheap.
Competitor keyword analysis will also reveal deeper insights into your competitors' overall marketing strategy, such as who they're targeting and which products or services they're promoting. You can use this knowledge to either take them on or move toward a less competitive niche.
The key to effective competitor keyword analysis is to build upon your competitors' strategies. Don't just copy what they're doing. Look at the overall trends. See what works for them and, more importantly, what isn't working for them. Use this knowledge to improve your own PPC campaigns to make them stronger.
It's good to learn from your own mistakes; it's even better to learn from someone else's.
---
The Best Tools to Analyze Competitor Keywords
Competitor keyword analysis sounds great, but how do you find the keywords your competitors are ranking for? Let's take a look at some keyword analysis tools.
Competitor keyword research tools do the work for you. They're automated software that scour the internet to find all your competitors' paid and unpaid keyword rankings. Here are the best ones in the market right now:
1. BuzzSumo
When it comes to keyword research, it's hard to beat BuzzSumo. Not only does it help you snoop on your competitors' keywords, but it'll help you find competitors you didn't even know existed.
You can type in any keyword or phrase, and BuzzSumo will bring back a Google-like results page that show which sites currently rank the highest for your targeted keyword, their social media engagements, and the total number of shares throughout the internet. Some of the highest-ranking sites might be from brands you didn't realize you were competing against, giving you even more competitors to snoop on.
You can even use the BuzzSumo tool to compare different domains against one another. Just input two URLs, and it'll compare the two sites based on the most popular content on each page. It can even break down content based on length. This will inform you about how your site ranks against the competition and which type of content you should focus on.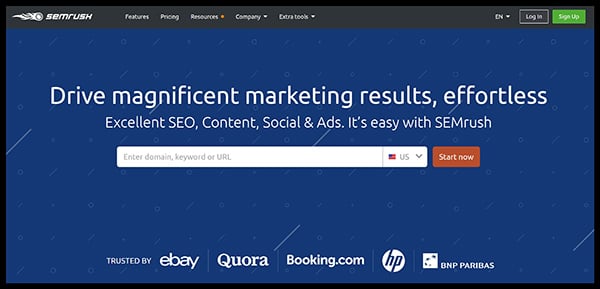 2. SEMrush
SEMrush is another popular keyword research tool used by marketers around the world. While BuzzSumo is mostly for competitor research, SEMrush is a full suite of keyword research tools.
This helpful keyword research tool can help you dig even deeper into your competitors' keyword strategies. Not only can you check out your competition, you can even check out your competition's competition!
Unlike BuzzSumo, you don't need to have the keywords beforehand. Just type in a competitor URL, and SEMrush will provide a list of keywords for which that site is ranking. This will tell you which keywords are most popular and where gaps exist.
SEMrush also lets you filter competitor results based on location. If you're a local flower shop, for example, you don't really care how flower shops in other countries are ranking; you can't compete with them for business. You can filter results to include only businesses in your area to learn about your local competition.
3. SpyFu
As the name might suggest, SpyFu is a keyword research tool entirely dedicated to competitor research. In addition to finding keywords, SpyFu can dig into competitor ad spending, advertising history, and backlinks. It can even go back in time and search the ad and ranking history of your competitors.
Knowing everything about your competitors' PPC strategies and spending history will be an immense help when it comes time to bid on your own PPC campaigns. Since you know how much they're spending, it's easy for you to outrank them. Or, if you notice their budget is much higher than yours, it'll tell you which keywords to avoid altogether.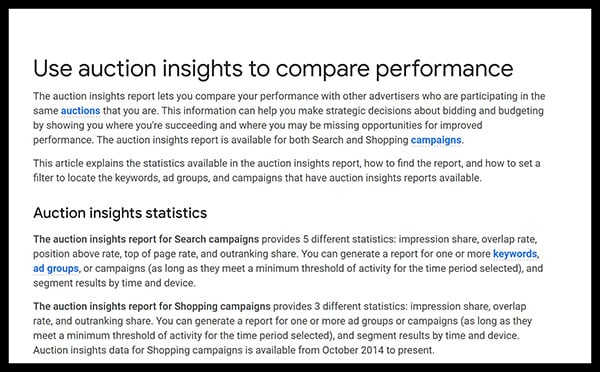 4. AdWords' Auction Insights
Most PPC advertisers use Google AdWords to manage their marketing campaigns. What they might not know is that AdWords comes with some built-in competitor research tools to help with keyword research.
The AdWords Auction insights will show you how you rank against competitors for specific keywords across the internet. While the tool is basic and shows competitor data only for keywords for which you've actively bid on, you won't need additional downloads, third-party software, or subscriptions to use it.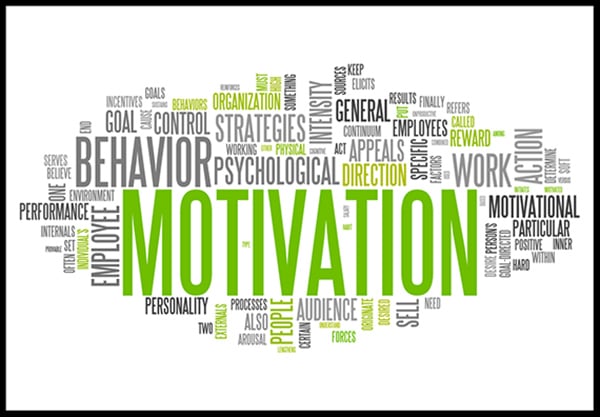 5. Word Clouds
Yes, word clouds are typically reserved for cheesy PowerPoint presentations, but they can also be helpful for competitor keyword research. There are dozens of word cloud websites that analyze the text from an entire website and put the information into a word cloud. The more frequently a word is used, the larger it appears.
If you analyze a competitor's website using a word cloud, you can see the keywords that appear most often. Word clouds are a great way to get new content ideas for your own website. It might not be the most elaborate competitor research tool, but it's cost-effective and gets the job done.
---
Stay Ahead of the Competition with Competitor Keyword Research
Competitor keyword analysis is like pulling back the curtain on the competition's marketing strategy. You can use this invaluable information to update and adapt your own PPC and SEO campaign strategies to make them stronger and help you outrank the competition.
The more you know about your competition, the easier it is for you to beat them.