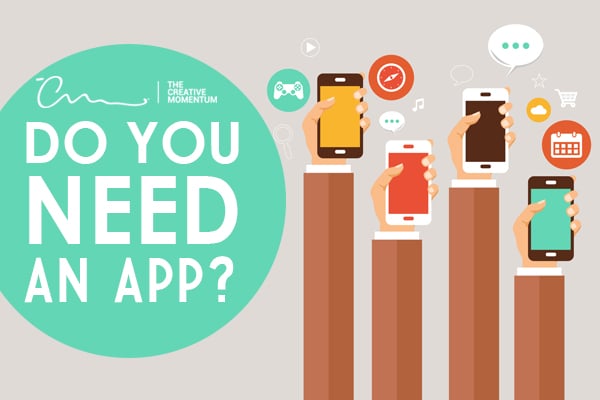 Branded mobile apps seemed like all the rage not long ago. Taco Bell rolled out its own branded mobile app in 2014. Starbucks brought their mobile app to market forever ago and saw huge success. Even pizza joints like Domino's and Pizza Hut jumped on the branded mobile app bandwagon.
Businesses still wrestle over whether or not a proprietary mobile app is a sound business decision. Does your business need a branded mobile app, or is a website enough?

To help you decide, it's a good idea to weigh the pros and cons of a branded app versus a professionally designed website.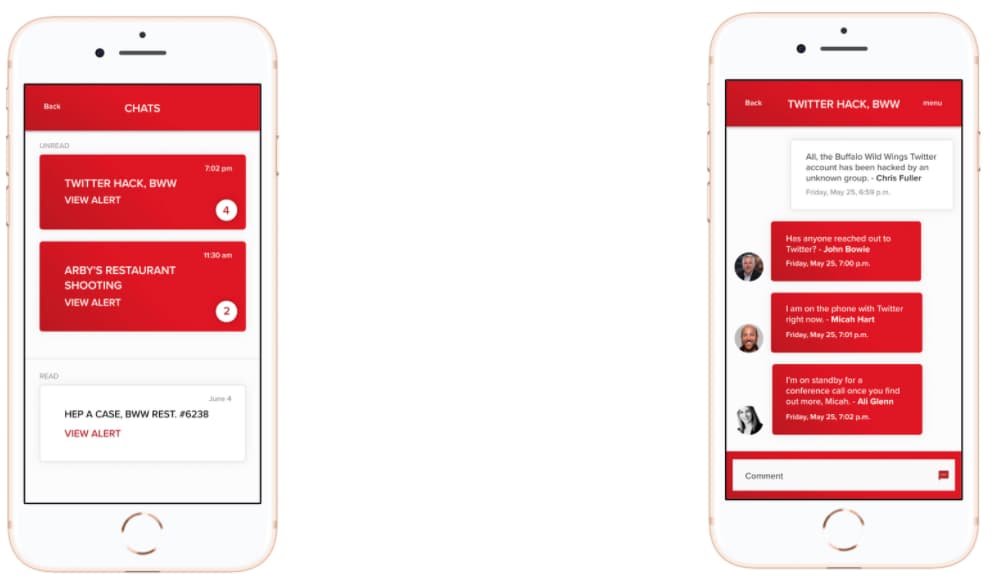 Inspire Brands Alert App - Inspire Brands wanted an app that team members could use to communicate urgent information in case of emergencies. Whereas previously, they called each other or learned information from the media, the app allows key team members to receive critical alerts quickly.
---
Benefits of a Branded Mobile App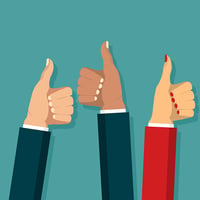 There's a good chance that developing an app might be right for your business if you can afford it and have the right audience. Here are some of the benefits of having your own app.
1. Brand Recognition
The brand recognition alone is enough to make some business leaders jump at the opportunity to slap that logo on a new and modern revenue stream.
2. Increased Visibility
Hand-in-hand with brand recognition comes increased visibility. Your branded mobile app joins thousands of others once it's vetted and approved for popular app stores. If your app is successful, it might even get featured, giving you even more visibility.
3. Direct Marketing Channel
Not only does increased visibility through app stores mean more eyes on your business, but once people have downloaded your app, you have a direct marketing channel through push notifications. You can tailor messaging and sales opportunities to app users for direct interaction and increased conversions.
4. Loyalty Incentives
Loyalty programs and continued app use incentives are a proven way to ensure repeat business while building brand loyalty. You can create unique loyalty incentives that reward users the more they use your app.
5. Customized User Experience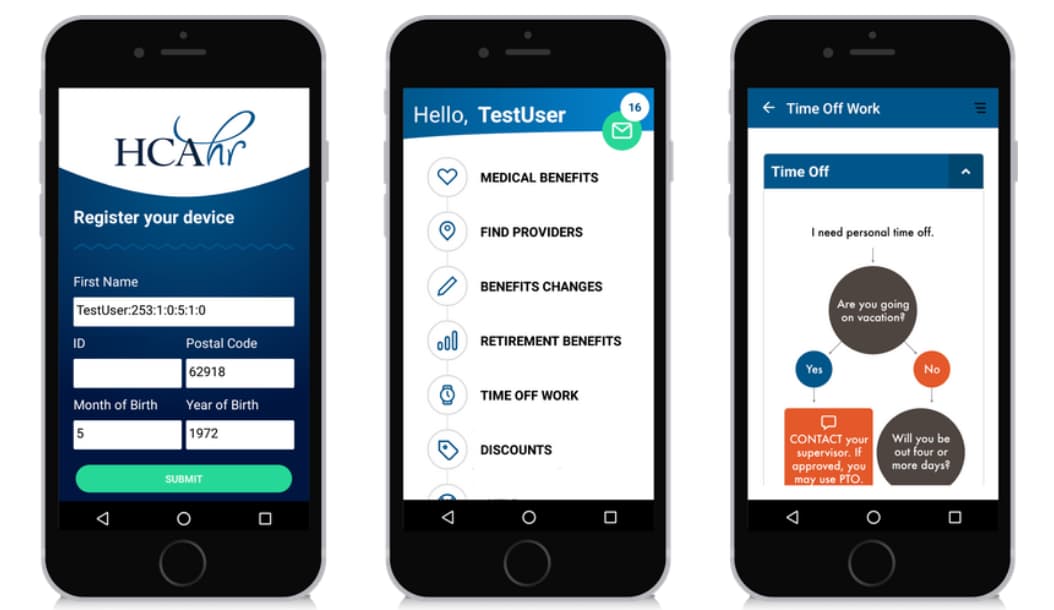 HCA Benefits Mobile App - HCA is one of the nation's leading providers of healthcare services. They came to us to build a benefits app that would provide a smooth user experience for their employees. We delivered a fully-functional, content-rich app that allowed HCA employees to find 401K, vacation, and various other personalized benefit information in an easy-to-navigate format.
It's easier to create a customized user experience when you develop your own branded mobile app. Aesthetic design elements like buttons and calls to action and everything about the user experience is customizable to your liking.
6. Boost Profits
"Will a branded mobile app be a worthwhile return on investment?" Retailers say "yes," branded mobile apps boost sales on multiple levels. It's not a guarantee that you'll go gangbusters as soon as you launch your mobile app, but it's a gamble many businesses are willing to take.
Increased visibility, promised profits and a unique user experience are appealing enough to warrant the investment for some businesses. Sometimes, the juice is worth the squeeze.
---
Cons of a Branded Mobile App
Development costs and sustained maintenance required of mobile apps may also be more than your business bargained for. Here are some of the cons of a branded mobile app that can outweigh the benefits for some businesses.
1. Significant Investment
Branded mobile app costs range from a few thousand dollars to upwards of half a million in 2020. That's right. Bigger companies may spend $500,000 or more for a branded mobile app depending on functionality and industry. Even at $10,000, a mobile app can be a significant investment.
2. Sustained Maintenance Required
All is not said and done once you've launched your mobile app. Sustained maintenance, bug fixes, and software updates cost money and time.
3. Complex Development Process
The mobile app development process can be complex and complicated if you decide to do everything in-house. Bugs need to be fixed prior to launch, design elements must be consistent, and everything behind the scenes needs to work in order for customer-facing features to function properly. There's a lot to manage.
4. Increased Marketing Output
Your marketing team will, naturally, need to extend messaging and content to a mobile platform. That means more work for marketing but also means a need for unique content to directly support your new branded mobile app.
5. User Error
Chances are, if a user can break your app, he or she will. It's your job to ensure everything works flawlessly (when does that ever happen?) to minimize user error. If you cut corners during development, you'll pay for it after launch.
6. Data Tracking and Analysis
More downloads mean more data, which means more tracking and analysis. Branded mobile apps might be an exciting new sales avenue, but you need to analyze and utilize all the data you'll collect through your app.
Cost of development coupled with sustained maintenance and increased user scrutiny are enough to scare some business leaders away.
---
Is A Website Enough?
Professional web design and website development is still a viable option for businesses that don't want to take the mobile app plunge. For starters, a website is a tried-and-tested method to help grow small businesses with limited visibility. A professionally designed website can take your business from local to global overnight.
A website is a natural step in a company's evolution, and it's easier than ever to create and update your website. For medium and enterprise-level businesses, a professional website revitalizes stale branding and showcases your modern solutions for modern challenges.
Almost all websites today manage mobile expectations and adapt to a mobile device. A branded app might be overkill if there's no data-driven justification. For many companies, a website is more than sufficient to maintain an online presence, facilitate sales, and share important information.
---
Is a Branded Mobile App Right for Your Business?
The answer is "maybe."
A branded mobile app could be the solution you need to overcome growing pains and access a new revenue stream while communicating more with customers. Conversely, a branded mobile app could cost too much, underperform, and fail miserably.
Whether or not you need a mobile branded app depends on your goals and resources.
Some companies want a mobile app but can't afford to create it in-house, so they choose to outsource the app development. Others take advantage of "professional software as a service" companies that offer branded mobile app design without the enterprise-level price tag.
Or maybe a branded mobile app just isn't right for your business, regardless of how cool it sounds or how much you want one. Websites are still prime digital real estate for branding and corporate identity. Weigh your options and do your research before you invest in a branded mobile app, or you might regret it in the long run.